Kate Winslet Says 'Steve Jobs' Is Really "About All Of Us"; See A New Poster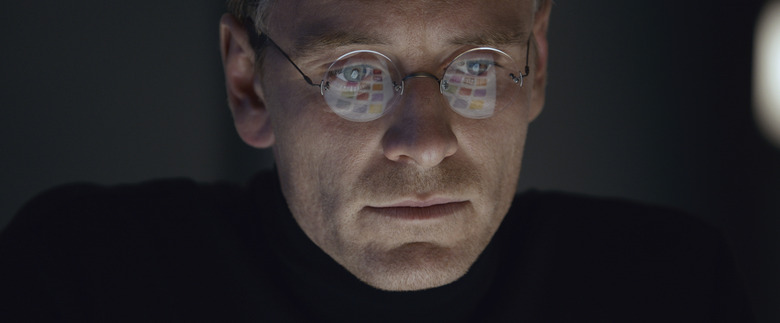 Just because Steve Jobs is called Steve Jobs, doesn't mean it's just about Steve Jobs. In fact, star Kate Winslet says, it's "almost not about Steve Jobs at all." Because really, "The film is about all of us."
She's speaking symbolically, of course, but it does sound like the film has much more on its mind than just the man in the title. In a new interview, Winslet dishes on the themes of the movie, her "extraordinary, feisty" character, and much more. Read her comments, and check out the new Steve Jobs poster, after the jump. 
Winslet ruminated on the themes of Steve Jobs:
[Screenwriter Aaron] Sorkin makes it almost not about Steve Jobs at all. It's about how that man has 100 percent dictated how we all live our lives today and how we function as people. The film is about all of us, and all of us today, not in '84 or '88 or '98. I mean, look at us all — how we function. You look at a lot of toddlers today, they'll pick up any screen of any kind, and they don't push a button, they swipe. It's horrifying but kind of extraordinary, and that is Steve Jobs. As a parent of a small child, it's alarming. I remember the days of rotary phones. I'm 39 years old, so it wasn't that long ago.
It's great to hear Steve Jobs will dig into the man's outsized influence on our current culture, and not just his personal and professional drama. Sorkin accomplished a similar feat with The Social Network, using the story of Facebook's beginnings to reflect on the way we connect and interact today.
Winslet also gushed about her character, a fictionalized version of Macintosh's real-life head of marketing Joanna Hoffman:
She was like his work wife. She was head of marketing for the Macintosh, and then she stayed with him for his working life. She was an extraordinary, feisty Eastern European person who was pretty much the only person who could actually knock sense into Steve, and she was also kind of an emotional compass.
[...] One thing that was unique about her as a figure in Steve's life was that she didn't need anything from him. She just needed for him to be the best version of himself. And that's what really set their relationship apart from any relationship with all his other colleagues.
There's much more from Winslet at Vulture, including her impressions of the real-life Hoffman, the challenges of capturing Hoffman's unique Polish-Armenian accent, her efforts to win the role, and so on. But for now, let's move on to the new poster: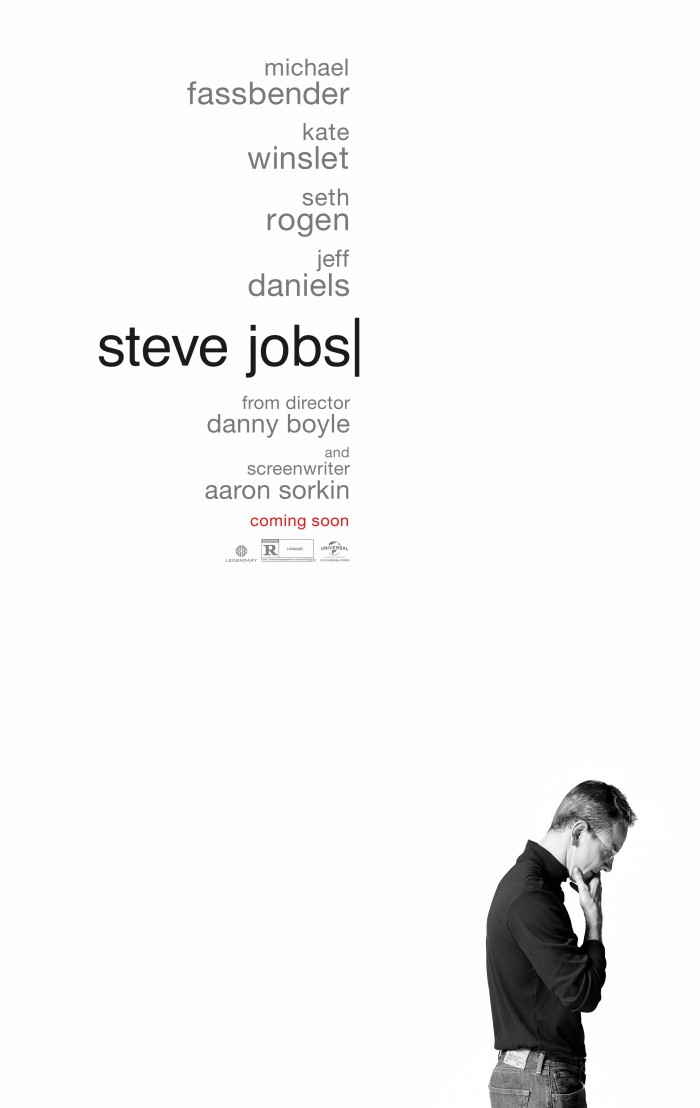 It's stark and simple, in keeping with Jobs' favored aesthetic. The hand-on-chin pose references Albert Watson's iconic portrait of the real Jobs (you may remember it from the cover of Walter Isaacson's bestselling biography, which serves as source material for the movie), while the choice to shoot Michael Fassbender in profile literally shows us Jobs from a different angle.
Directed by Danny Boyle, Steve Jobs opens October 9.
Set backstage at three iconic product launches and ending in 1998 with the unveiling of the iMac, Steve Jobs takes us behind the scenes of the digital revolution to paint an intimate portrait of the brilliant man at its epicenter.
Steve Jobs is directed by Academy Award® winner Danny Boyle and written by Academy Award® winner Aaron Sorkin, working from Walter Isaacson's best-selling biography of the Apple founder. The producers are Mark Gordon, Guymon Casady of Film 360, Scott Rudin, Boyle and Academy Award® winner Christian Colson.
Michael Fassbender plays Steve Jobs, the pioneering founder of Apple, with Academy Award®-winning actress Kate Winslet starring as Joanna Hoffman, former marketing chief of Macintosh. Steve Wozniak, who co-founded Apple, is played by Seth Rogen, and Jeff Daniels stars as former Apple CEO John Sculley. The film also stars Katherine Waterston as Chrisann Brennan, Jobs' ex-girlfriend, and Michael Stuhlbarg as Andy Hertzfeld, one of the original members of the Apple Macintosh development team.