New 'Star Wars: The Force Awakens' Photos; Plus: BB-8 Gets His Own Magazine Cover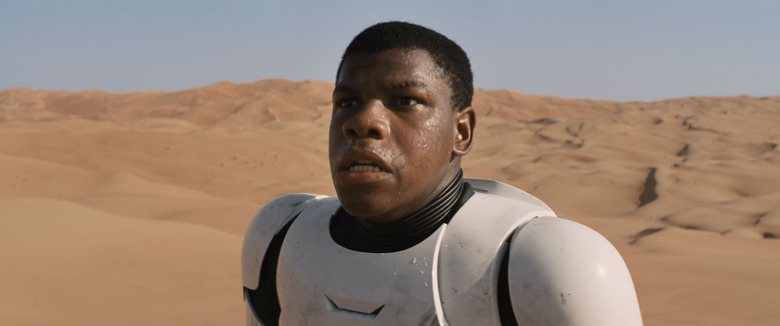 The onslaught of Star Wars: The Force Awakens marketing continues today with another magazine cover and a couple of new stills. What sets this particular magazine cover apart, though, is that it focuses on the most adorable new member of the galaxy: rolling ball droid BB-8. See the BB-8 cover and new images after the jump.
Empire previously revealed two newsstand covers for their Star Wars: The Force Awakens story — one highlighting the dark side, and the other the light. However, subscribers received a third cover featuring BB-8. It's a chance to get up close and personal with what's already become a fan-favorite character. For even more about the droid, be sure to check out our recap of everything you need to know about BB-8.
Inside the magazine itself are two new on-set stills of John Boyega's Finn. In one, he's in full Stormtrooper gear minus the helmet, as director J.J. Abrams looks on. In the other, he's wearing normal clothes while gazing upon the desolate, sandy landscape of the planet Jakku.
The latest issue of Empire hits newsstands today, August 27, in the U.K. Star Wars: The Force Awakens opens December 18.