Kurt Sutter Planning 'Sons Of Anarchy' Spinoff About The Mayans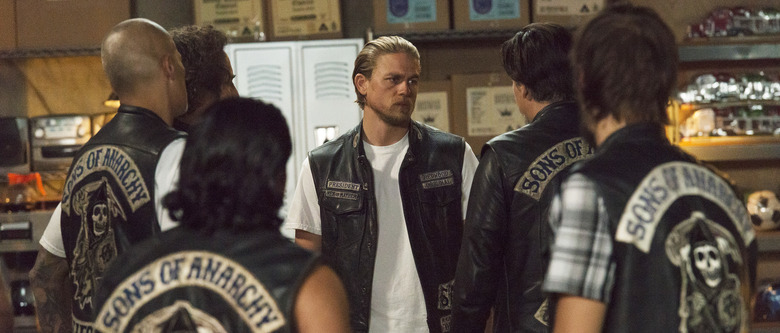 Sons of Anarchy ended its run at FX back in December, but the Mayans may yet ride again. Series creator Kurt Sutter is reportedly working on a Sons of Anarchy spinoff for FX, which would focus on SAMCRO's Hispanic rivals. More details on the possible Sons of Anarchy spinoff after the jump. 
Variety reveals Sutter has just secured a development deal with FX for the new show. Fox 21 Television Studios and FX Productions will produce. Not much has been revealed about the plot of the show, other than that it'll take place in the Northern California motorcycle club scene, with a particular focus on the Mayans.
The Mayans crew tangled with SAMCRO on and off across seven seasons on Sons of Anarchy. The gang ran two heroin factories near Oakland and were involved in prostitution as well. Prominent members included Marcus Alvarez (Emilio Rivera), president of the Mayans' Oakland chapter — but again, we don't know if he or any of the other established characters might return for the spinoff.
That Sutter and FX are eyeing a Sons of Anarchy spinoff doesn't come as a huge surprise. The motorcycle drama remains the most popular series in the network's history, with 9.2 million viewers tuning in for last year's series finale. And Sutter has long talked up the possibility of doing a Sons of Anarchy prequel, though it remains unclear in what time period the new show will be set.
The news comes just as competitor AMC's Walking Dead spinoff Fear the Walking Dead had the biggest series premiere in cable TV history. Back in the spring, AMC also extended its Breaking Bad franchise with Better Call Saul, which concluded its first season as the year's top new cable series.
Sutter is currently seeking a showrunner to take over day-to-day duties on the Sons of Anarchy spinoff, as he remains focused on his other FX show The Bastard Executioner. The medieval drama starring Lee Jones, Stephen Moyer, and Katey Sagal premieres Tuesday, September 15 on the network.