BB-8: Everything You Need To Know About The New Star Wars Droid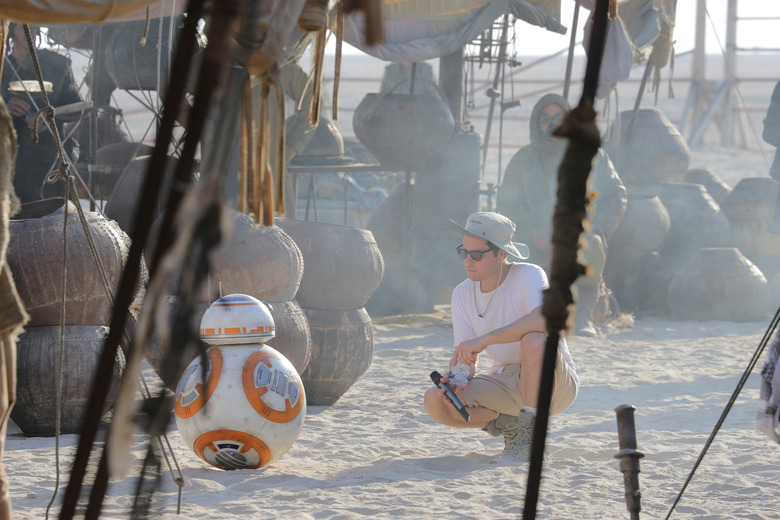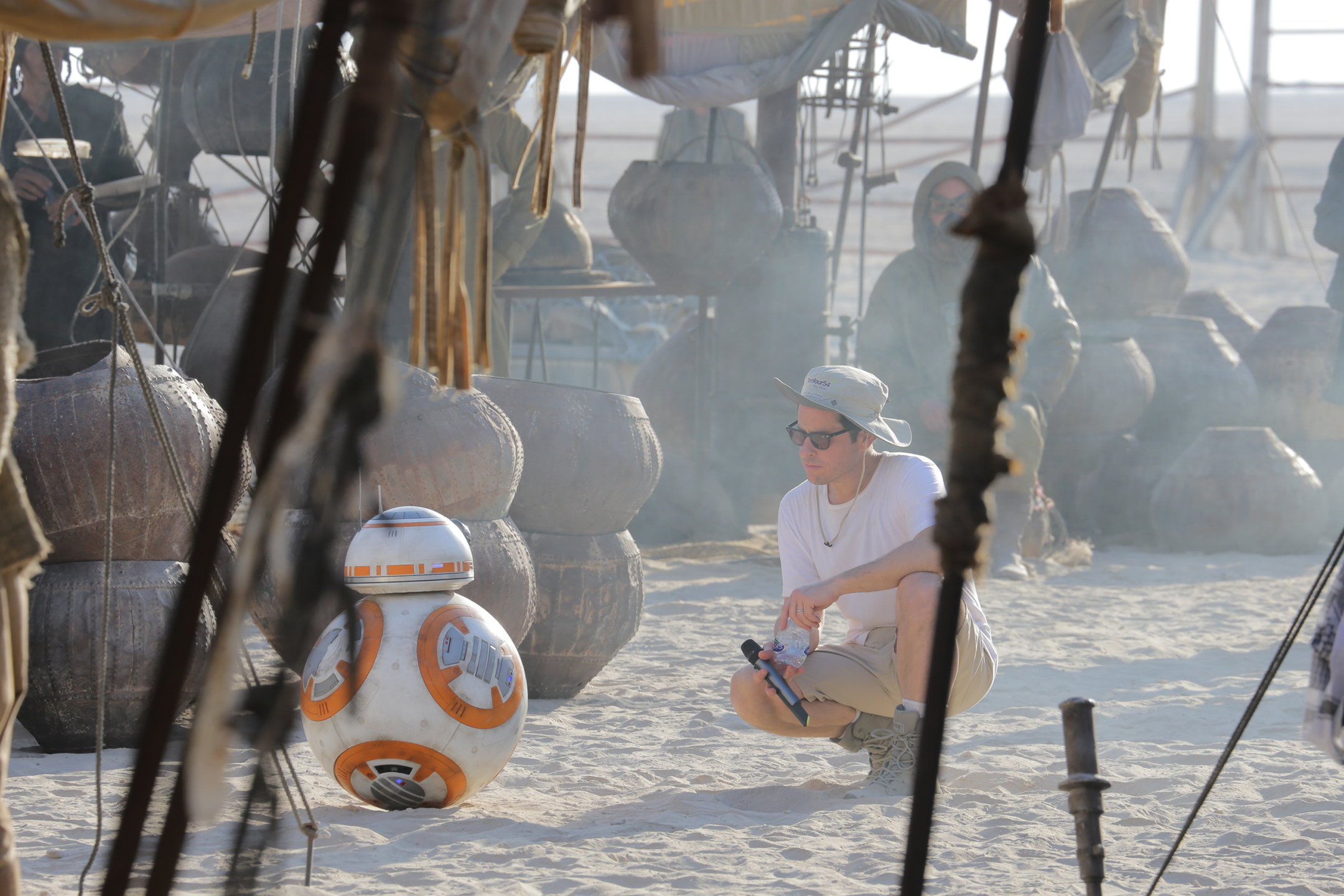 Ever since BB-8 was revealed in the first Star Wars: The Force Awakens teaser trailer, the world has been obsessed with the newest droid in the galaxy. How was BB-8 created? What was the story behind his creation and development? Hit the jump to find out what we learned from a recent longform article about Lucasfilm. For instance, did you know that JJ Abrams was still unsure a practical BB-8 would work right up until a week before filming began?
You can read the entire Creating BB-8 article on StarWars.com, but here is all the cool information we took away plus some added bits from the past:
The article doesn't mention this, but we believe the droid has origins in an old design from legendary Star Wars: A New Hope concept artist Ralph McQuarrie. Many aspects we've seen in the Star Wars: The Force Awakens trailers seem to be inspired by McQuarrie's early work on the series. I know the above concept art doesn't look like an exact match, but you'll want to read this interview excerpt from McQuarrie talking about how his initial design for our favorite droid R2-D2 was very different than the one we eventually saw on screen:
"I think Artoo was just described as a small robot. I thought of him as running on a giant ball bearing — just a sphere, a circle, wheel-like. He had gyros so he could go in any direction on this ball."
Cut to 2013, BB-8 started as a sketch on a napkin drawn by Star Wars: The Force Awakens director J.J. Abrams:
"The sketch was basic — two circles atop one another, with a tiny dot for an eye"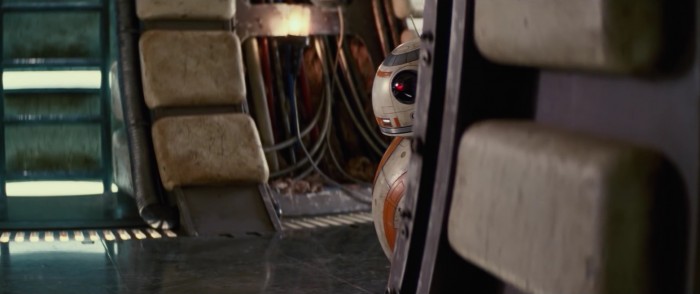 Internally BB-8 was originally called "Ball-Bot". JJ Abrams previous explained why he named the droid BB-8:
"I named him BB-8 because it was almost onomatopoeia. It was sort of how he looked to me, with the 8, obviously, and then the 2 B's."
Lucasfilm concept designer Christian Alzmann (A.I., MIB II, Attack of the Clones) played "with a lot of different designs" developed on Abrams's idea of a droid rolling on a sphere:
"He would give direction on the kinds of shapes to use, and that led to a personality for the droid. Of course, the original sketch had very pleasing, round shapes, so you kind of figured it wasn't going to be a very serious or angry character. Ultimately, BB-8 developed out of a back-and-forth process with J.J. where he gave feedback on each iteration of the design."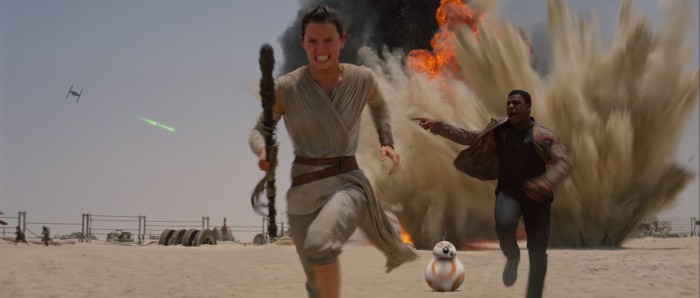 If you think BB-8 looks kind of like a soccer ball, thats no coincidence. Christian referenced "a lot of soccer balls" looking for spherical inspiration: "I think I ran across a soccer ball, and I was just like, 'Oh, it's kind of perfect.'"
Creature Shop Concept designer Jake Lunt Davies developed BB-8 further, "working through many variations of the head and body, with very subtle placement of features to really show a personality."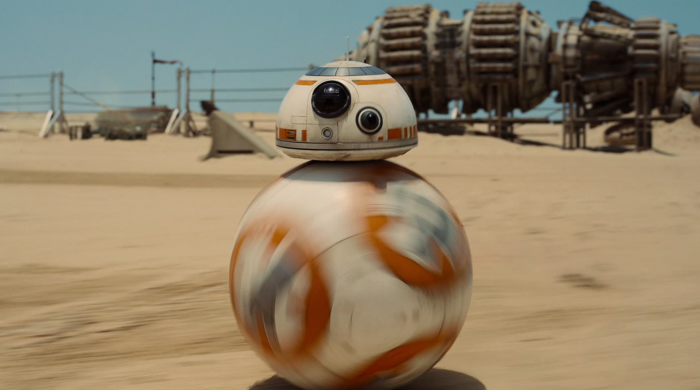 Star Wars: The Force Awakens creature shop head Neal Scanlan (Babe, Prometheus) was tasked to convince the director that BB-8 could look good as a practical effect. They first looked very closely at existing technology and "decided that it was not far enough advanced to be able to" use in the film.
Senior animatronic designer Joshua Lee (Harry Potter films) created a little polystyrene puppet in a half day to prove that BB-8 didn't need "extra parts, like an extending neck. The puppet had "all the head movements and the ball rolling around, and handles on the back." Lee was amazed that there was so much expression and character in the puppet and excitedly ran across the studio to show Neal who was working in a different office.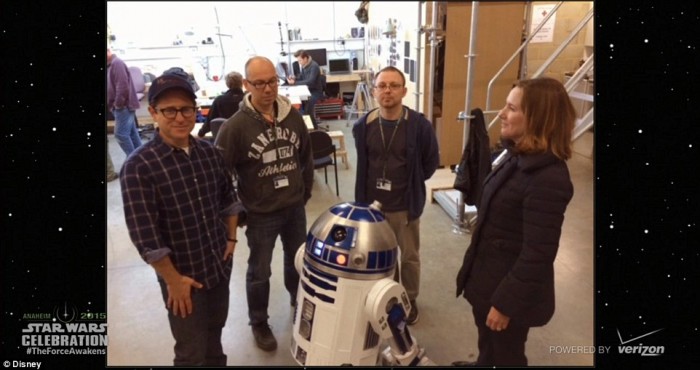 Puppeteers Dave Chapman and Brian Herring (The Hitchhiker's Guide to the Galaxy, Hellboy II, Prometheus) were given two weeks on an empty soundstage to figure out how the character moved. Herring explains that
"BB-8 can cock his head over and look away, he can double take, he can look scared, he can look angry. We managed to find a whole vocabulary of movement for him, if you will. We worked out a whole bunch of stuff. What would he do if you turned him off? What happens to his head if you power him down? Does he go down stairs? Does he go up stairs?"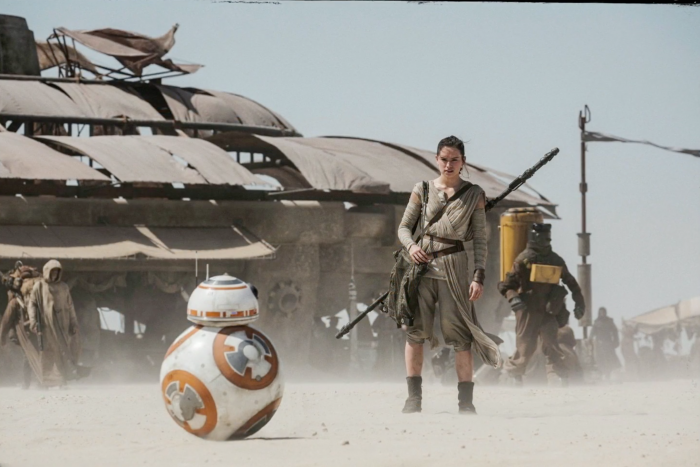 JJ Abrams was unconvinced that the puppeteered BB-8 would work in the film until about a week before filming began. When creature shop head Neal Scanlan on Abrams reaction a week before shooting was set to begin:
"I remember the day that we showed it to him, his first initial response really hit home with me, because he looked at [Lucasfilm president] Kathleen Kennedy and said, 'What a relief.' And I could see the weight of the world lift off his shoulders. I think that was the point at which, I suppose, the decision was made that we could go practical, and we didn't have to go digital. I think up until that point, it was sitting in everybody's mind that unless we were able to deliver something that was actually believable and usable and directorially friendly, the only other option was to go digital."
They came up with the idea of having various different practical versions of BB-8, all with their own specialty, which would involve digitally removing aspects of the rigs. The various BB-8 rigs included:
The "wiggler," which was static, but could twist and turn on the spot and was used for close-ups.
Two trike versions, which had stabilizer wheels, allowing them to be driven by remote control without a puppeteer in the shot.
A version that could be picked up by actors and controlled via remote for specific reactions and movements.
A "bowling ball" version, which could literally be thrown into a shot and never fall down (like a Weeble toy).
A rod-puppet version, which was operated by Chapman and Herring — "one controlling the head, adding nuance and attitude, and the other the body — who would then be digitally erased"
Senior animatronic designer Joshua Lee and electronic design and development supervisor Matthew Denton (who also worked on the Harry Potter films) created the BB-8 animatronic rigs, doing all the engineering without being able to read the script. Instead they were only "told of certain BB-8-has-to-do-this benchmarks they needed to hit."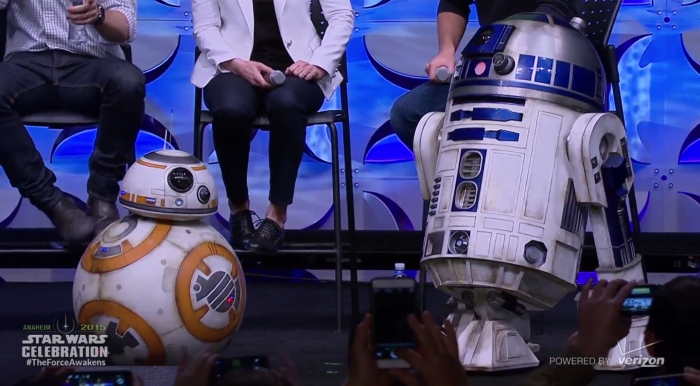 A fully functioning, remote-controlled BB-8 was ruled out for shooting but Lee and Denton continued to work on one that could be shown to Star Wars fans at various events and possibly the theme parks. Lee and Denton finished a working gray-ball prototype and presented it to the higher-ups, securing additional funding. Paint and detailing were then added by the creature shop's paint-finish designer, Henrik Svensson, to make it film-accurate.
The droid made its surprise debut on stage at Star Wars Celebration Anaheim in April 2015.