'Galaxy Quest' TV Series Makes A Deal To Go Into Space With Amazon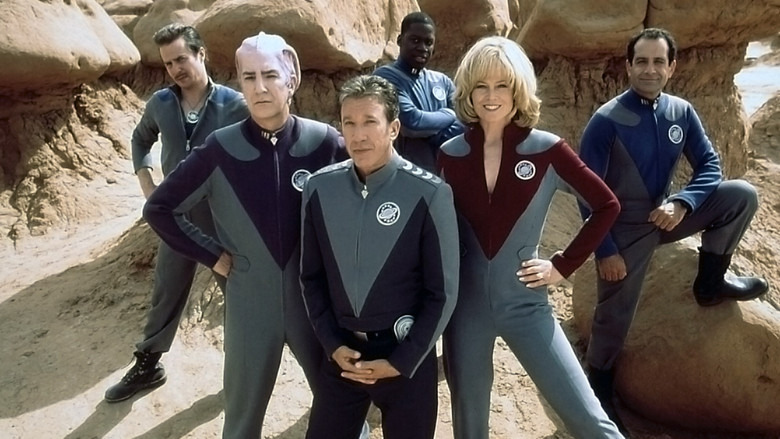 A sequel to Galaxy Quest, the 1999 film comedy that satirized Star Trek and its fandom, has been in development for a while, but things have changed for Galaxy Quest in the past few months. Rather than a film sequel, producers have been working on a deal for a Galaxy Quest TV series, and now the show has a deal with Amazon.
EW has the report. Amazon and Paramount Television have made a deal to produce the TV series, but we don't know about any casting for the show. The film starred Tim Allen, Sigourney Weaver, Alan Rickman, Tony Shalhoub, Sam Rockwell, Enrico Colantoni, Daryl Mitchell, and others, but at this point there are no public details on any of them returning for the series.
Here's the plot of the original film, for those who missed the movie:
The stars of a 1970s sci-fi show – now scraping a living through re-runs and sci-fi conventions – are beamed aboard an alien spacecraft. Believing the cast's heroic on-screen dramas are historical documents of real-life adventures, the band of aliens turn to the ailing celebrities for help in their quest to overcome the oppressive regime in their solar system.
In fact, we don't know if the Galaxy Quest TV series will be a sequel to the film, a reboot, or simply a new incarnation of the same basic idea. Given that the movie was a satire of TV and its fandom, there's a lot of potential in a show that explores similar ideas, especially given the explosion of TV and related fandoms in the past few years.
Original film co-writer Robert Gordon is writing the script, and will also exec produce the pilot. Dean Parisot, who directed the original film, will direct and executive produce. Original executive producers Mark Johnson and Melissa Bernstein are also working on the show.
At this point, there's a deal to write and develop the pilot, and we'll have to see if Amazon green-lights that pilot production. After that, Galaxy Quest may go through the same deal the rest of Amazon's pilots do, with public review process and then potentially an order to series. (Amazon doesn't always make shows go through that process, however, and Galaxy Quest could theoretically get a direct series order based on the pilot development.)
Casting will be the biggest factor in the series, as the cast was key to the success of the film. The show doesn't have to lock in the same cast, but the choices there will do a lot to determine the success or failure of this voyage.