'Fast & Furious' Ride Announced For Universal Studios Orlando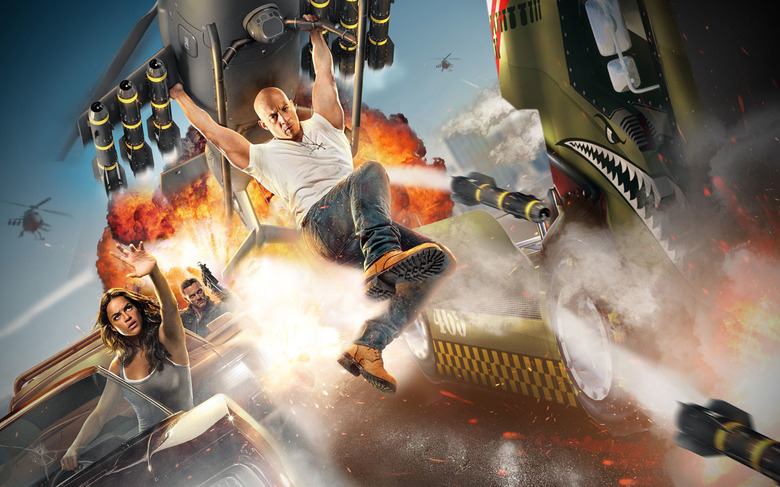 Universal Studios announced today that a ride based on Universal Pictures' huge Fast and the Furious franchise will be coming to Universal Orlando Resort. Hit the jump for details on the Orlando Fast and Furious ride.
As you might know, Fast & Furious: Supercharged opened as part of the famous Tram Tour at Universal Studios Hollywood this Summer. The attraction will be coming to Universal Studios Florida in 2017 as a stand-alone ride which should offer more than the Hollywood version. Universal also released a concept image of what looks to be the queue area for the ride, which will let park guests explore some of the fast cars from the Fast and the Furious film franchise.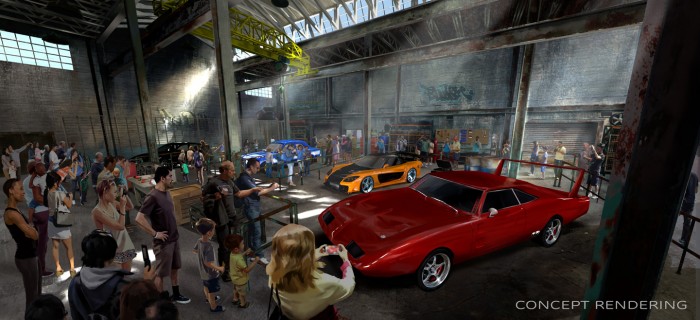 Here is the official information from Universal:
You'll feel like part of the "Fast family" as you embark on a thrilling new Fast & Furious adventure that will put you right in the middle of the action. This ride is going to fuse everything you love about the films with an original storyline and incredible ride technology. You'll get to check out some of the high-speed, supercharged cars you've seen on the big screen. You'll be immersed in the underground racing world made famous in the films and explore the headquarters of Toretto and his team. Then, you'll board specially-designed vehicles for an adrenaline-pumping ride with your favorite stars from the films.
To make space for the new Fast & Furious: Supercharged ride, Disaster: A Major Motion Picture Starring You! will close permanently on September 8, 2015, with Beetlejuice Graveyard Revue closing later this year. Disaster has been in the Florida theme park since 2007, replacing Earthquake: The Big One, one of the park's day one opening attractions.  Both versions of the ride offered a similar experience to what guests see on the Hollywood tram tour, with a big earthquake disaster hitting while you are in the subway of a major city.
Not announced, but I've heard that the Orlando Florida version of Fast & Furious: Supercharged will keep the San Francisco location, so maybe the BART subway area from Earthquake/Disaster will be incorporated into the new attraction? Will the ride offer a new ride film as well? We don't know.
Transformers: The Ride was ported to Universal Orlando from Hollywood, and a Skull Island: King Kong attraction is being built in Islands of Adventure which is a ride version of the Hollywood tram tour attraction. Despicable Me, Simpsons Land and the upcoming Wizarding World of Harry Potter are being ported to Universal Hollywood from Orlando. Its annoying that all of the attractions in Universal Hollywood are being ported to Universal Orlando, and visa versa, making both parks less unique. I'm hoping that Universal will at least make the Supercharged ride a bit of a different experience like they are planning with their ride version of Hollywood's King Kong 360 3-D tram tour segment.
To get an idea of what to expect, you can watch a full video of Universal Hollywood's Fast & Furious: Supercharged tram tour experience embedded below:
And you can see how the Fast & Furious: Supercharged ride was created by watching the video below:
 Fast & Furious: Supercharged will open as a stand-alone attraction in Universal Orlando in 2017.