Wes Ball Will Follow 'The Maze Runner' Films With Norse Mythology Story 'Fall Of Gods'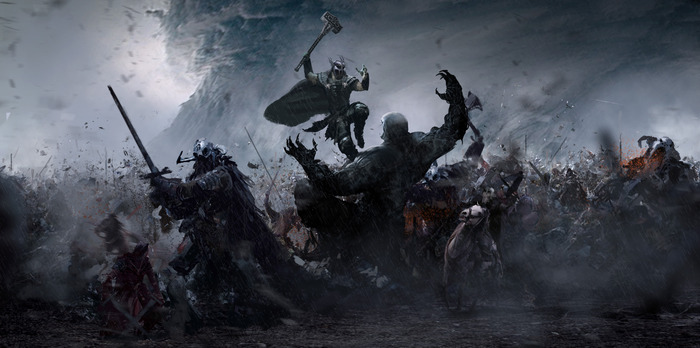 20th Century Fox hired Wes Ball to direct The Maze Runner, and that film did well, with Ball rolling straight into making the sequel to that film, The Scorch Trials. Fox evidently wants to keep Ball around, and has just set him to direct Fall of the Gods, an adventure story based in Norse mythology that first had life as an illustrated fantasy book backed by a successful Kickstarter campaign. 
THR reports that the "epic Norse fantasy" has producers in Ball, Steve Tzirlin (Star Wars: The Clone Wars), and Joe Hartwick Jr.
This tale, in story form, came from Rasmus Berggreen, a concept designer and co-founder of the visual development studio MOOD in Copenhagen Denmark. Berggreen has experience doing film and games concept art, and he started the studio with a collection of other artists.
Fall of Gods, written by Michael Vogt, is described on the book's Kickstarter page:
Fall of Gods is an illustrated book inspired by Norse mythology, following Vali, a warrior haunted by his past, but who has found peace in the arms of a woman. For years he has lived far from society, tending to his farm and trying to forget the battles he fought...and the crimes he committed. But one day his love disappears, and he must set out to find her. He will once again have to face the creatures of Jotunheim and the powerful Aesir. Suddenly, the man he thought he had buried deep down inside has risen to the surface once more...and he comes seeking vengeance.
Fall of Gods is all about love for Norse heritage. It's made with a desire to reinvent the mythology and come up with a new and exiting story that captures the essence of the brutal world within the old north. It unfolds in a fantastic universe inspired by Scandinavian nature, with an epic scale and inherent drama. The book will be anchored by detailed illustrations like the ones you see on this page.
Fox has only recently picked up the film rights to the story. At this point no screenwriter is announced. The concept art released with the Kickstarter campaign was very impressive, and given Ball's increasing success with the Maze Runner films I'm really intrigued by the idea of the project.
The story as recounted above seems pretty basic, with the promise of the visual depiction of mythological Norse elements being a big part of the draw. If there's eventually a script that matches the visual concepts, this could be a terrific project.