Rumor: Marvel Planning New 'Blade' Movie About Blade's Daughter?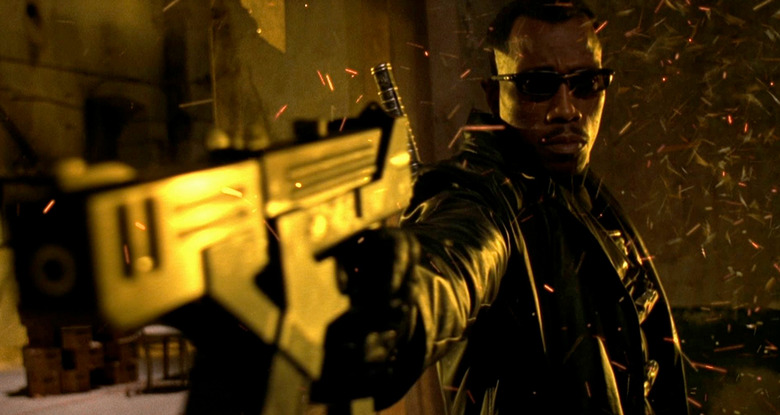 In 2013, Marvel got back the rights to Blade. Since then, there have been on-again, off-again rumblings of a new Blade movie or TV show — some of it coming directly from Blade himself, Wesley Snipes. Now a new report adds an interesting wrinkle to the ongoing speculation.
Rumor has it the next Blade movie won't center around Eric Brooks — the Blade played by Snipes in earlier films — but will be about his daughter, Fallon Grey. More details on the possible female Blade movie after the jump. 
Marvel Comics first announced plans in July to launch a new comic book series about Fallon Grey. However, Blade #1 was recently delayed from its planned October release date. According to Bleeding Cool, that's because higher-ups at Marvel are being extra-careful with the character, so they can make a new movie about her.
That's not to say Snipes' plans to return as Blade are shot. His character plays a prominent role in Fallon Grey's comic book series, and could do the same in a big-screen adaptation of same. It'd actually be a pretty great way to bring the classic character into new territory that hasn't already been exhausted by the earlier trilogy.
Blade comic writer Tim Seeley described 16-year-old Fallon as follows:
She's a sort of '

anti-Peter Parker.

' She's popular, she's well-liked and it seems like the world is her oyster. But, the expectations that come with being so damn perfect are starting to break her down, and that's before she learns she's the heir to a Daywalking-Monster-Stabbing-Empire.
A Blade movie about Fallon Grey would be a change of pace for the Marvel Cinematic Universe, which has tended to stick with the better known iterations of their characters. (There are multiple Spider-Men in the comics, for example, but we're getting the classic Peter Parker version and not Miles Morales.) If true, she could also potentially be the franchise's non-white female lead.
But for now, it's just speculation. Marvel will likely want to see how Blade #1 starring Fallon Grey is actually received before diving in headfirst with a new project announcement of any sort. In the meantime, get your first glimpse at the new comic book heroine in art from Marvel below.