'Guardians Of The Galaxy' Animated Short Reveals Drax The Destroyer's Origin Story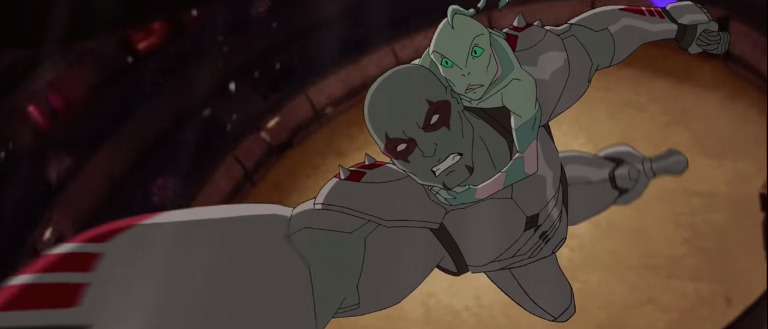 Following Star-Lord, Groot, and Rocket Raccoon, Drax the Destroyer has finally gotten his own prequel short from the Guardians of the Galaxy animated series. The fierce and fearless warrior revealed himself to be a bit of a secret softie in the movie, and judging by this video he's always been that way. See the Drax origin story after the jump.
Marvel revealed the Drax origin story in two parts on YouTube.
As usual, keep in mind that the Guardians of the Galaxy animated series unfolds in a different continuity from the films. The Drax origin story seen here isn't "canon" with in the live-action Marvel Cinematic Universe.
Even so, there's clearly some overlap here. The animated version of Drax also seems to have lost his wife and daughter to Ronan, though the short chooses to simply reference that particular event rather than show it outright. Perhaps it would've been too tragic for the kid audience, or maybe Marvel just figured it didn't need to rehash that tale again.
Disney XD's animated Guardians of the Galaxy series premieres September 26. The voice cast includes Will Friedle (Star-Lord), Trevor Devall (Rocket Raccoon), Kevin Michael Richardson (Groot), Vanessa Marshall (Gamora), David Sobolov (Drax the Destroyer), and James Arnold Taylor (Yondu).
Marvel's Guardians of the Galaxy follows the newly-formed team who finds a strange artifact keyed only to the DNA of Peter Quill. Upon opening it, Quill unleashes a treasure map leading to a powerful weapon known as the Cosmic Seed which is capable of giving birth to the next universe. It's up to the Guardians to find, protect and ultimately destroy the Cosmic Seed in order to keep it out of the hands of those who would abuse its power, from galactic big boss Thanos, to the conniving brothers the Collector and the Grandmaster, to a resurrected Ronan, to the ultimate trickster, Loki, in order to save the universe.