First 'The Walking Dead' Season 6 Clip Promises "Something Big"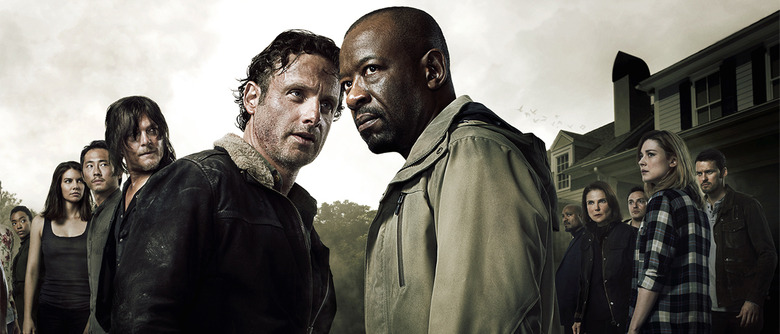 This weekend, Fear the Walking Dead took audiences back to the very first days of the zombie outbreak. But it also afforded fans the opportunity to get a new look at Rick and his gang post-apocalypse, thanks to a new Season 6 promo and the very first Season 6 clip. Watch the new Walking Dead Season 6 clip and spot after the jump. 
First, here's the Walking Dead promo, which has everyone — including Rick (Andrew Lincoln), Daryl (Norman Reedus), Maggie (Lauren Cohan), Glenn (Steve Yeun), Carl (Chandler Riggs), Michonne (Danai Gurira), Carol (Melissa McBride), and Morgan (Lennie James) emerging from the shadows while looking bummed out. The music is "We Carry On" by the Phantoms featuring Amy Stroup; you can listen to the whole song here.
The Walking Dead Season 6 promo gets points for artsy intensity and angst, but none for informativeness. It doesn't reveal anything we didn't already know about the new season, though it's always nice to see familiar faces again.
The first The Walking Dead Season 6 clip, which debuted during last night's episode of The Talking Dead, is a bit more revealing. In it, Abraham (Michael Cudlitz) and Sasha (Sonequa Martin-Green) go for a drive, on which he voices some concerns about her emotional state. She doesn't seem to thrilled about his questions, and he doesn't seem terribly convinced by her reassurances.
While the scene offers a nice little taste of Season 6, it still leaves a lot for us to discover once the season actually kicks off. It's not clear where they're going or what they're doing, with the dialogue simply hinting at "something big." Feel free to guess what that "something big" might be in the comments.
We can reasonably expect Season 6 to send our scraggly survivors to ever-darker places, as evidenced by the lengthy Comic-Con trailer. (And, you know, the fact that every season of the series does that). Among the new elements in play are a trio of characters played by Ethan Embry, Merritt Weaver, and Corey Hawkins. They aren't mentioned in the latest promotional materials, but you can get the rundown on them here.
The Walking Dead Season 6 kicks off Sunday, October 11 on AMC.