Get A First Look At Michael Chiklis In 'Gotham'

When Gotham returns to Fox on Monday, September 21 the show will have a major new player as part of the second season. Michael Chiklis (The Shield, American Horror Story) is on board to play Gotham City Police Department Captain Nathaniel Barnes, who is both a mentor to and a potential enemy for James Gordon (Ben McKenzie). Check out the first look at Michael Chiklis in Gotham below.
EW has the image.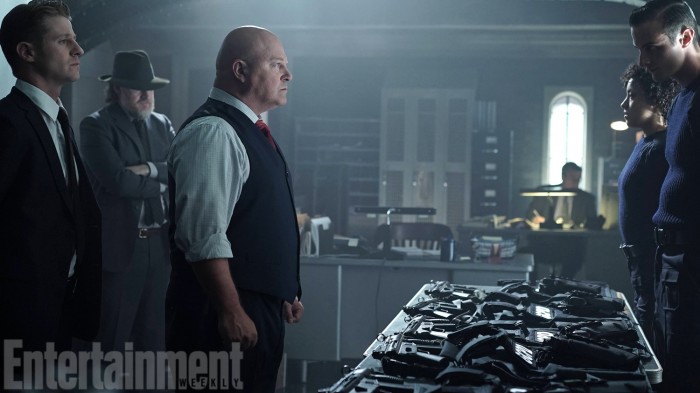 Here's how the Chiklis character is described:
[Barnes] lands on the GCPD like a tornado, ripping out the dead wood of Gotham's police force. He is a law and order zealot; unafraid of making enemies – on either side of the law. For Gordon, Barnes is a hero and a mentor, someone with whom he can share the burden of heroism. Captain Barnes proves himself to be a strong ally to Gordon... but one day he will make an equally powerful enemy.
We know there are other new characters coming to the show. Michelle Veintimilla will play Firefly, a woman who is "enslaved by her brothers, a notorious gang of arsonists," and who ultimately becomes a "vengeful supervillain, hell bent on destroying those who have wronged her."
And James Frain and Jessica Lucas will play villains Theo Galavant, "a billionaire industrialist hell-bent on taking over Gotham," and his "sexy, violent enforcer" Tabitha Galavan, aka the show's version of Tigress.
An origin story of the great DC Comics super villains and vigilantes, "Gotham" reveals an entirely new chapter that has never been told. From executive producer/writer Bruno Heller ("The Mentalist," "Rome"), "Gotham" follows one cop's rise through a dangerously corrupt city teetering on the edge of evil and chronicles the birth of one of the most popular super heroes of our time. The series stars Ben McKenzie, Donal Logue, Sean Pertwee, Robin Lord Taylor, Erin Richards, David Mazouz, Camren Bicondova, Zabryna Guevara, Cory Michael Smith, Victoria Cartagena, Andrew Stewart Jones, and John Doman.