'The Final Girls' Trailer: Taissa Farmiga And Nina Dobrev Try To Survive A Slasher Film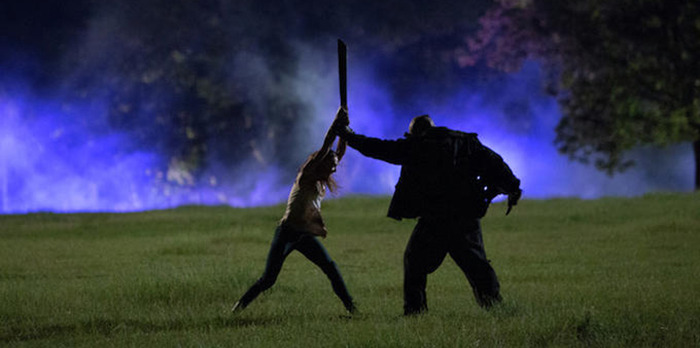 I went into The Final Girls at SXSW this year having no idea what to expect from the horror/comedy Todd Strauss-Schulson. What I saw was a very funny comedy that has a good take on the tropes of slasher films, but also a movie that has a really effective core about dealing with difficult family trauma. The cast is led by Taissa Farmiga, Malin Akerman, and Nina Dobrev, with Alexander Ludwig, Alia Shawkat, Thomas Middleditch, and Adam Devine in major roles. Check out The Final Girls trailer here.
We'll have an interview soon with Todd Strauss-Schulson about how he put the film together, but in the meantime this trailer gives you a good look at the blend of horror and comedy; what it doesn't show much of is the character drama behind it all, which is perhaps the most effective part of the film. There are hints, clearly, but that's where the real pleasure of the film lies.
The Final Girls opens on October 9. Trailer via Apple. Joshua John Miller and M.A. Fortin scripted. The cast also features Angela Trimbur, Chloe Bridges, and Tory N. Thompson.
When Max (Taissa Farmiga) and her friends reluctantly attend a screening of "Camp Bloodbath," an infamous '80s cult horror film that starred Max's late mother (Malin Akerman), they are accidentally sucked into the silver screen. They soon realize they're trapped inside the movie and must team up with the horny, regan-era idiot "Camp Bloodbath" counselors — including Max's mom as the shy scream queen — to battle the film's machete-wielding killer, Billy Murphy. Face to face with her mother for the first time in years, Max has a second chance not only to see her, but to save her, and with the help of her friends, get back home before Billy kills them all. Also starring Adam DeVine, Thomas Middleditch, Alia Shawkat, Angela Trimbur, with Alexander Ludwig and Nina Dobrev.