Alfre Woodard Joins Marvel's 'Luke Cage' [Updated]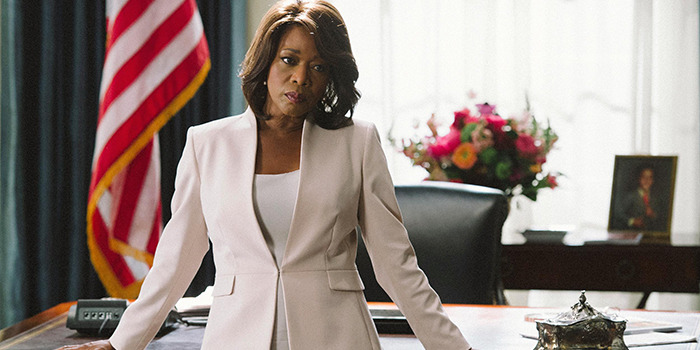 Mike Colter (The Good Wife) will be Luke Cage for Netflix and Marvel, with his gig beginning in the new Jessica Jones series that premieres later this year, and continuing into his own show. But Luke Cage won't be a one man show, of course, and now we know that Alfre Woodard (State of Affairs, True Blood) will play a significant role in the thirteen-episode series. We've got some details on the Alfre Woodard Luke Cage deal below.Update: Marvel has some new official info, which we've presented below.Deadline had the original casting info.
Woodard will play a character called Minetta, described as "a powerful woman in local politics who will have an impact on Luke Cage's life." That could mean a whole lot of things, but Deadline has more info that makes Woodard's role sound like it could be one of the major villains in the series. The site says Woodard is likely playing a version of the character Black Mariah, "a nemesis to Luke Cage as well as Iron Fist. In the comics, she is a professional criminal and a drug dealer."
Update: Marvel announces more legit into on Woodard's character:
Woodard will play Mariah Dillard, a local Harlem politician–and cousin to recently announced Cornell "Cottonmouth" Stokes (Mahershala Ali)–who is looking to bring a new era of change to the streets she grew up on. Her personal life and professional career are thrown into turmoil by both Harlem's newest hero Luke Cage as well as her cousin Cottonmouth's nefarious acts.
Jeph Loeb, Executive Producer and Head of Marvel Television, says,
Alfre has an incredible, unique, and intimidating presence on screen that makes her perfect as a leader of the Harlem community. We couldn't be more excited that an actress as celebrated and talented as Alfre has decided to join us on this adventure
Black Mariah isn't exactly a major character in Marvel Comics history, with just a few appearances in comics featuring Luke Cage and Iron Fist. So there's a lot of room to change her to fit the needs of this show. In comics appearances, the character led a gang which ran a scam stealing the bodies of people killed in street violence in order to rob them, before eventually moving on to distribution of a dangerous new street drug.
We don't know anything at this point about how Marvel and Netflix are handling Iron Fist for his series, so this is not only a big development for Luke Cage, but potentially an indication of a possible story leading up to Iron Fist.
Cheo Hodari Coker (NCIS: LA, Southland) will serve as the Luke Cage exec producer and showrunner.Marvel's Luke Cage will arrive on Netflix in 2016.
After a sabotaged experiment leaves him with super strength and unbreakable skin, Luke Cage (Mike Colter) becomes a fugitive trying to rebuild his life in modern day Harlem, New York City. But he is soon pulled out of the shadows and must fight a battle for the heart of his city–forcing him to confront a past he had tried to bury.