Scouts Guide To The Zombie Apocalypse Red Band Trailer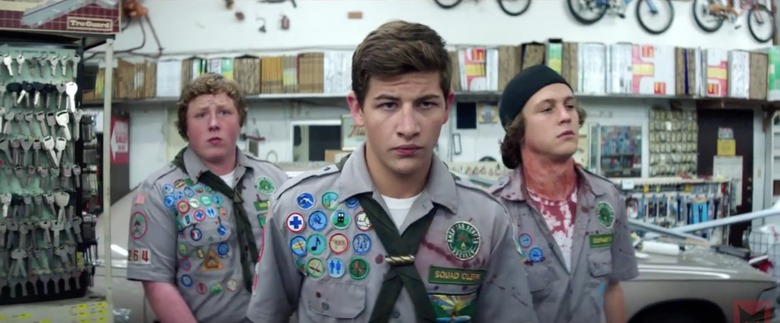 Paramount Pictures has released a red band (i.e. uncensored or R-rated) trailer for their upcoming Halloween release Scouts Guide To The Zombie Apocalypse. Directed by Christopher Landon, the writer of the Paranormal Activity sequels and director of Paranormal Activity: The Marked Ones, comes a modern Amblin-esque story of a bunch of Boy Scouts who go on an overnight adventure on the same night of the zombie apocalypse. Watch the Scouts Guide To The Zombie Apocalypse red band trailer now embedded after the jump. Leave your thoughts in the comments below.
Scouts Guide To The Zombie Apocalypse Trailer
When I first heard about this script, co-written by College Road Trip screenwriters Emi Mochizuki and Carrie Lee Wilson, I was expecting something fun but a lot less graphic.  The movie seems like its going for a Superbad meets The Lost Boys kind of feel. The premise seems fun, and very different than most of the other Zombie films out there.  And it seems like Zombieland 2 isn't going to happen any time soon.
Scouts Guide To The Zombie Apocalypse stars Tye Sheridan, David Koechner, Cloris Leachman, Halston Sage, Logan Miller, Joey Morgan, and Sarah Dumont. The film features music from Dillon Francis (Money Sucks, Friends Rule and This Mixtape Is Fire). Here is the film's official synopsis:
Three scouts and lifelong friends join forces with one badass cocktail waitress to become the world's most unlikely team of heroes. When their peaceful town is ravaged by a zombie invasion, they'll fight for the badge of a lifetime and put their scouting skills to the test to save mankind from the undead.
Scouts Guide To The Zombie Apocalypse, directed by Christopher Landon will hit theaters on October 30th 2015. You can also check out some boy scout merit bagde-themed clips that were previously released from the film: