Warner Bros. Plan For 'Dante's Inferno' Will Turn It Into An Adventure For Love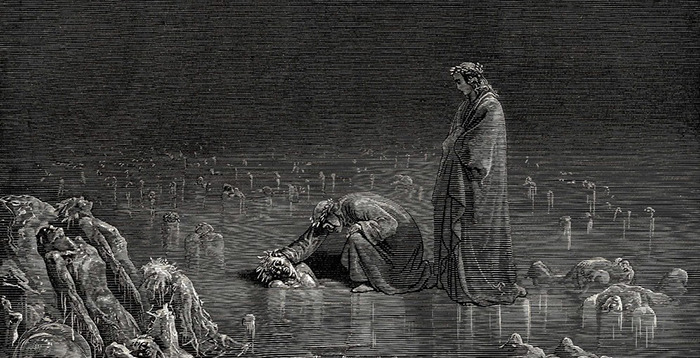 Inferno, the first of three books of Dante Alighieri's epic 14th century poem The Divine Comedy, in which a fictionalized Dante passes through Hell, Purgatory, and finally Heaven, isn't really a romance. It's a social and political critique, almost a satire in places, and part of a giant allegory about a personal journey to achieve an understanding of God.
But, sure, for a movie, make it a love story. The latest attempt to make a Dante's Inferno movie at a major studio just landed at Warner Bros. thanks to a pitch that structures the story as Dante's quest to save his love Beatrice.  
Deadline says that Warners picked up a pitch from screenwriter Dwain Worrell (Walking the Dead).Inferno, as written by Dante, features a fictionalized version of Dante, who finds himself lost, mourning the death of his love Beatrice. Soon he meets the shade of the dead poet Virgil, who ultimately guides Dante through nine circles of Hell and into Purgatory.
This version sounds as if it might make Dante's journey into Hell more of a purposeful stroll, as he will journey "through the nine circles of hell to save the woman he loves." Warner Bros. is said to be excited by the story's "scale and franchise potential."
Spoiler: In the Divine Comedy, Beatrice is dead and can't be saved. Another spoiler: as a representation of beatific love, actually does more to "save" Dante than anything else, as she takes over Virgil's guide role and leads Dante through Paradise.
There have been other attempts to make a film based on the Inferno in the past few years, and Universal is still reportedly working on a film based on the 2010 Electronic Arts video game called Dante's Inferno which, surprise, is also not a very accurate adaptation of the poem.