Clive Owen Joins Luc Besson's 'Valerian'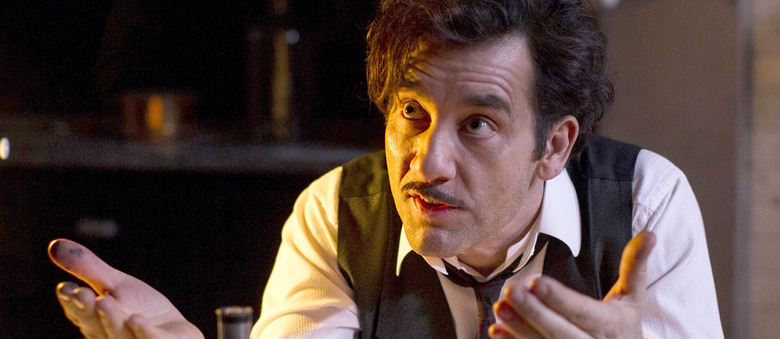 Clive Owen is going from early 20th century New York to futuristic outer space, thanks to director Luc Besson. The Knick star has joined Dane DeHaan and Cara Delevingne in Valerian, a sci-fi epic based on a long-running comic series by Pierre Christin and Jean-Claude Mézières. Get all the details details on the Clive Owen Valerian casting after the jump. 
Deadline broke the Clive Owen Valerian news. Here's the premise of the movie, which is actually titled Valerian and the City of a Thousand Planets:
The intrepid Valerian and his beautiful, sharp-witted and sharp-tounged partner, Laureline, are two of the greatest agents for the vast Galaxity organization. Their missions have taken them across space and time. But now the Galaxity and their home earth have vanished as if they never existed. Along, and totally dependent on their own resources, they struggle to carve out a new life and a new future against intergalactic dangers form the past, present and future.
DeHaan and Delevingne star as Valerian and Laureline, respectively. They're two of just five human characters in the movie. Owen will play a character named Commander Arün Filitt. It's unclear whether Filitt is a human, or one of the many crazy-looking creatures that'll also populate the movie.
Valerian promises to be a big, ambitious movie. It's reportedly budgeted at around $180 million, and the visuals are described as "Star Wars meets Blade Runner meets Besson's The Fifth Element." Mézières actually worked with Besson on The Fifth Element, so that part is very promising and not at all surprising.
Owen's The Knick returns to Cinemax for its second season this fall. On the big screen, Owen was last seen in the romantic comedy Words and Pictures and the action-adventure Last Knights.
Shooting on Valerian and the City of a Thousand Planets begins early next year, for release around 2017.