Sequel Bits: 'Creed', 'Star Trek Beyond', 'The X-Files', 'Maze Runner: The Scorch Trials', 'Can't Hardly Wait'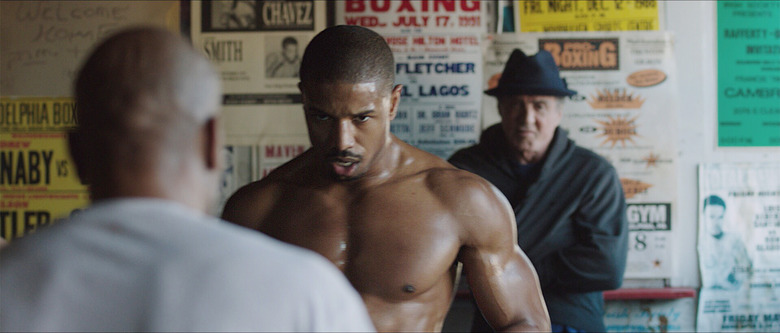 After the jump:
Jennifer Love Hewitt and Ethan Embry want a Can't Hardly Wait reunion
Jason Bateman admits Horrible Bosses 2 was a paycheck gig
Jonathan Ames is still working on that Bored to Death movie
See more pics of Michael B. Jordan and Sylvester Stallone in Creed
Zachary Quinto on returning to Star Trek without J.J. Abrams
President Obama (or rather a portrait of him) photobombs an X-Files set pic
The Maze Runner shares an informative viral video and a new poster
Ansel Elgort and Theo James celebrate the end of Allegiant Part 1 shooting
***
Here's a thought to make you feel ancient: Can't Hardly Wait turned 17 this year, meaning a kid born while the original film was in theaters would be entering its own senior year right now. Still, time apparently hasn't diminished Jennifer Love Hewitt's affection for the movie, as she's taken to Twitter to call for a sequel.
Can't Hardly Wait reunion movie anyone? Let's get them to make it! pic.twitter.com/rI3XzLbzqD

— Jennifer Love Hewitt (@TheReal_Jlh) August 16, 2015
Her co-star Ethan Embry says he's in as well:
Of course, I would be thrilled to work with any of the players involved again. Jennifer, Peter [Facinelli], Seth [Green], working with them back then, we were so young — it was a tremendous experience at such a wonderful time in my career, that if all the stars aligned, I would be happy to entertain that possibility.
However, he cautioned, "Right now it is just a hypothetical, so here's to dreaming." [Huffington Post]
***
Horrible Bosses was a hit. Horrible Bosses 2, not so much. In a recent conversation, Jason Bateman got real about what went wrong. "A lot of people saw the first one, but there are plenty of films that made a lot of money where no one is interested in seeing another one," he told Marc Maron.
Bateman was also brutally honest about why he came back: "That's a paycheck for everyone. Everyone's gettin' paid. It's a freebie." And he knows just who to blame. "It's the audience's fault," he joked. "Don't go out and buy a bunch of tickets for the first one unless you want a second one, cause we don't have any discipline in this town." [WTF via Uproxx]
***
Jonathan Ames knows you want a Bored to Death movie, and he'd like you to know he's working on it.
What I like is that, in some ways, it's still very much alive, people keep asking me about it, which is great. I've written two drafts of a Bored to Death movie, but I don't know that they're quite right so I'm going to take a third crack at it at some point.
In the meantime, you can try and make do with a Bored to Death reunion of sorts, as he's got several of the series' actors lined up for his new show Blunt Talk.
But we do have Jason Schwartzman in this first season of Blunt Talk. Again, that was a very memorable scene. I don't want to give too much away but Jason has always reminded me of a young Al Pacino, so we have an homage to Dog Day Afternoon with [him] and Patrick. So, for fans of Bored to Death, you'll have a little bit of Jason Schwartzman, and other characters that were on that show. I had the actors – Brett Gelman, John Hodgman – different characters, wonderful characters in Blunt Talk.
Blunt Talk premieres August 22 on Starz. [Collider]
***
Michael B. Jordan is coming out swinging from under the steaming pile of rubble that turned out to be Fantastic Four. The latest Creed pics (above and below) show him getting into fighting shape with a bit of help from an old family friend / rival.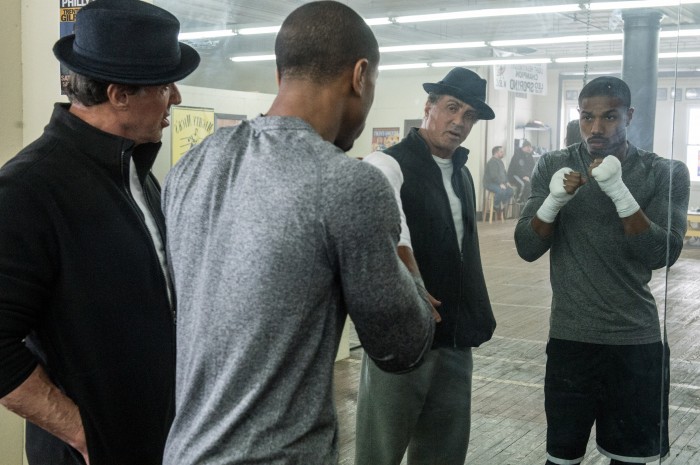 Creed opens November 25, 2015.
***
On the next page: Zachary Quinto talks Star Trek, The X-Files gets a famous photobomber, and more.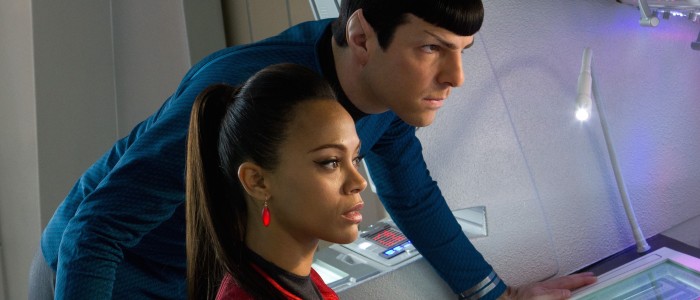 The Enterprise crew has reassembled for Star Trek Beyond, with one glaring omission: director J.J. Abrams, who's been replaced by Justin Lin. Star Zachary Quinto discussed the "different vibe" between the two filmmakers:
Invariably there's going to be a different vibe when you remove someone as gregarious and outgoing and talented as J.J. But Justin has come in with this really interesting and confident energy that's a little bit more reserved and a little bit quieter, but also very powerful and really sure-handed. He knows exactly what he wants this movie to look like and that's really exciting.
Meanwhile, Quinto loves having his co-star Simon Pegg as a co-writer:
It's been incredible to have Simon be so integrally involved in the story because he knows us all so well and he knows our characters all so well. We don't have to walk very far if we have any questions or concerns about stuff in the script!
Star Trek Beyond opens July 8, 2016. [Trek Movie]
***
What is this "Flare virus" people keep talking about in The Maze Runner franchise? An adorable viral video explains.
The tl;dr version: It turns people into zombies. Sorry, I mean Cranks.
Meanwhile, the French poster seems to be taking the "Scorch Trials" part of Maze Runner: The Scorch Trials quite literally.
Love this French poster for #scorch. pic.twitter.com/8B5GKtznVe

— Wes Ball (@wesball) August 15, 2015


Maze Runner: The Scorch Trials opens September 18, 2015. [YouTube, Twitter]
***
Ansel Elgort celebrated the end of shooting on Allegiant – Part 1 by taking off his shirt, for some reason. Meanwhile, his co-star Theo James marked the occasion by lighting up a cigarette.
With Allegiant – Part 1 wrapped, Elgort will jump next into Edgar Wright's Baby Driver. The Divergent sequel opens March 18, 2016. [Instagram]
***
The cast of The X-Files got photobombed by a very famous and powerful man, or rather a photograph of one.
Best photo bomb in @thexfiles history! @davidduchovny @MitchPileggi1 @BarackObama pic.twitter.com/1tZAdAgtR1

— Gillian Anderson (@GillianA) August 19, 2015
This will be President Barack Obama('s portrait)'s first appearance on the show, as the last installment of the franchise, 2008's The X-Files: I Want to Believe, opened while George W. Bush was still in office. The X-Files revival premieres January 24, 2016 on Fox. [Twitter]