Lupita Nyong'o Says Her 'Force Awakens' Character Won't Be Seen Until The Movie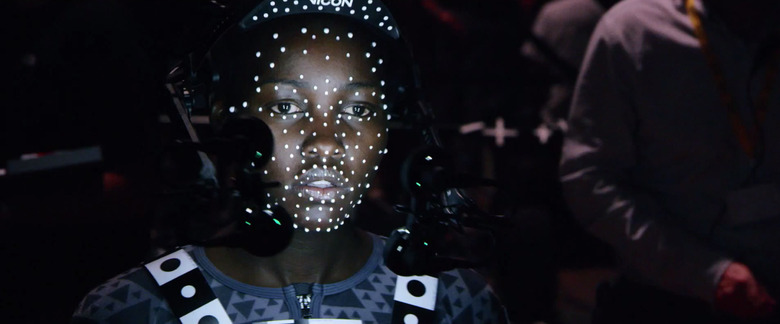 We don't know much about Lupita Nyong'o's character in Star Wars: The Force Awakens. And we might not learn anymore about her role until we see the movie. Even with "Force Friday" quickly approaching, the actress believes we won't see Maz Kanata until we see the character on the big screen in the film.
Fandango talked to Lupita Nyong'o at D23 Expo 2015, and asked her about her role in Star Wars: The Force Awakens and if it is difficult to keep this stuff secretive. The actor who is playing Maz Kanata has this to say about her character:
"Well, the easy part is you don't get to see me until you see the film. All you get is dots on my face."
Of course, Nyong'o could be over-exaggerating to some extent. Who knows if Lupita even knows what will be revealed in the film's toy and merchandise reveals, and eventual marketing (we still haven't gotten a full-lenth movie trailer yet).
The only confirmed details we have about Lupita Nyong'o's role are that she plays a computer generated character named "Maz Kanata" who she performed using performance capture technology, and that the character is a female pirate who "owned a castle which played host to travelers, smugglers and other riff raff."
You can watch the full interview with Lupita Nyong'o below, which also includes bits from director JJ Abrams and stars John Boyega and Daisy Ridley, not that they reveal much (or anything for that matter):
Star Wars: The Force Awakens, the seventh chapter of the Skywalker saga, is directed by J. J. Abrams. The Star Wars sequel stars John Boyega, Daisy Ridley, Adam Driver, Oscar Isaac, Andy Serkis, Domhnall Gleeson, and Max von Sydow, with original trilogy stars Harrison Ford, Carrie Fisher, Mark Hamill, Anthony Daniels, Peter Mayhew, and Kenny Baker reprising their roles from the previous films. Star Wars: The Force Awakens hits theaters on December 18th 2015.