'Hell And Back' Red-Band Trailer: A R-Rated, Stop-Motion Journey Through The Underworld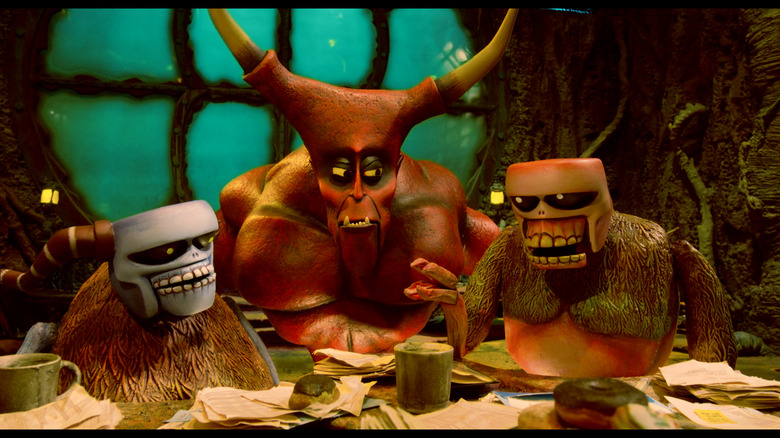 In a world of kid-friendly CG animations, Hell and Back stands out as an R-rated, stop-motion endeavor. T.J. Miller and Nick Swardson lead the irreverent voice cast as Augie and Remy, who must journey into the underworld to rescue their buddy Curt (Rob Riggle).
Once there, they encounter all manner of colorful characters including a devious demon voiced by Mila Kunis, a sexy angel voiced by Susan Sarandon, and the Devil himself, voiced by Bob Odenkirk. Danny McBride, Michael Peña, and Jennifer Coolidge also lend their voices to the project. Watch the Hell and Back red-band trailer after the jump.
Yahoo debuted the first Hell and Back red-band trailer. The film comes from Shadow Machine, the animation studio that also makes Triptank, Bojack Horseman, and Robot Chicken.
As with a lot of R-rated humor, Hell and Back won't be for everyone. Fortunately, you'll know pretty quickly whether you're the kind of person this movie is for. Either that masturbation / rape joke strikes you as hilariously edgy, or it comes across as trying way too hard to seem hilariously edgy. (I'm in the latter camp, but I'll readily acknowledge that humor is very subjective.)
But hey, at least the animation looks fun. And Rocky Horror Picture Show alum Sarandon reportedly gets to perform a "devilish ditty" in the movie, so that's something. And if none of that helps draw you in, you can just go back to waiting for that other upcoming R-rated animated movie, Seth Rogen's Sausage Party.
Hell and Back opens October 2.
In the outrageous R rated animated comedy from the Animation studio that brought you "Robot Chicken," "Triptank" and "Bojack Horseman," three friends embark on a wayward journey into the deepest, darkest depths of hell to rescue one of their own. While navigating their escape, they provoke a slew of misfit demons, a super sexy angel, infamous Greek legends, and the Devil himself; Hell has never been hotter!