'Goonies' House Shut Down By Angry Owner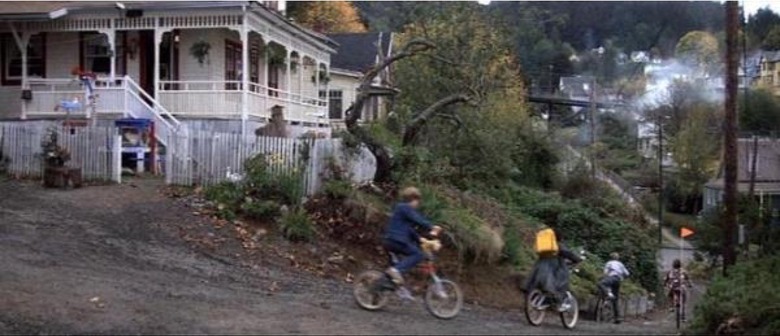 The house from the 1980's Richard Donner-directed Steven Spielberg-produced classic The Goonies has been shut down by the property owner after she was sent over the edge by movie fans.
The Goonies house, located in Astoria Oregon, the exterior of which can be seen in the classic "Truffle Shuffle" sequence, had been attracting up to 1,500 visitors a day. Some visitors to the movie location apparently were not respectful, leaving cigarette butts and beer bottles all over the property.
The Independent reports that the house, seen above, has been covered with a blue tarp and a sign has been erected in front of the building warning people to stay away from the premises. A second sign offers the full explanation:
"Imagine that you buy a house, fix it up, spend money, time and love. Then the city of Astoria encourages 100,000's of people to come and stand in front and view it ... This driveway (maintained by homeowners) sees 1,000+ people every day. Most are kind, fun and welcome, but many are not."
Astoria City Councilman told KGW News: "I'm surprised that she waited this long." The house owner had been fine with fans visiting the property for years. She even allowed some fans to tour the inside of the house (which you can see below) so it is not like she didn't appreciate fans of the film that visited her home.
It's a shame that fans could not be respectful, leading to the home-owner to have to cover their house with a blue tarp. This is why we can't have nice things, right?
Recently, The Goonies 30th Anniversary Celebration was held in Astoria and Cannon Beach, Oregon from June 4th to 7th 2015 drawing an estimated 12,000-15,000 fans.  Film fans took part in a number of activities including: a Shot in Astoria film location tour, a Goonies outdoor screening at Warren Field, a Treasure Hunt and much more.Special guests included Jeff Cohen (Chunk), Curt Hanson (Mr. Perkins), Randell Widner (Sloth stunt double), Mark Marshall (P.A. at Amblin Entertainment), Jack Johnson (illustrator) Patrick Lines (Location Liaison for Oregon State Parks), Paul Gillum (Liaison for City of Astoria), and Mick Alderman (Intern for Richard Donner).
Sadly, I don't believe covering the house with a blue tarp will present fans of the film from making the pilgrimage. Goonies fans make the trip to Astoria Oregon to visit a variety of other locations featured in the film, including the various houses, jail house and Canon Beach which features the iconic rock from the pirate ship ending to the movie.
If I were the home owner of The Goonies house, I would sell the property to someone who can deal with the madness. I would think that the home owner's actions and subsequent publicizing of the problems posed by visiting fans can only hurt the property value.