'Hellions' Trailer: New Demons Haunt Halloween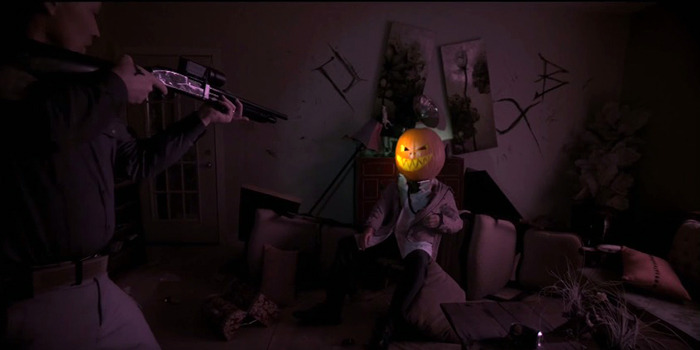 Canadian director Bruce McDonald has been making weird movies and TV shows for a long time; his 1991 film Highway 61 is a personal fave, as are the 1998 series Twitch City and the 2008 thriller Pontypool. His latest film is Hellions, in which a few people have probably their worst-ever Halloween night when demonic little trick-or-treaters show up on their doorstep. The Hellions trailer has some very odd Halloween sights; have a look below. 
The cast features Chloe Rose (Degrassi: The Next Generation), Rossif Sutherland (Reign), Rachel Wilson (The Kennedys), Peter DaCunha (Reign), Luke Bilyk (Degrassi: The Next Generation), and Robert Patrick (True Blood) and there's a vibe here, thanks to the evil little guys, that is somewhere between The Brood and Trick R Treat.
Hellions hits theaters and VOD on September 18. Trailer via IFC Midnight.
A teenager's Halloween night turns into a terrifying fight to survive when trick-or-treaters from Hell show up at her doorstep. After getting the unwelcome news that she's pregnant, seventeen-year-old Dora (Chloe Rose) just wants to stay in on Halloween. But then a knock at the door delivers a gaggle of pint-sized demons after one thing: Dora's baby. Director Bruce McDonald unleashes a hallucinatory visual and auditory assault that propels Hellions to increasingly disturbing realms of terror. Robert Patrick (Terminator 2: Judgment Day) co-stars.