Star Wars Bits: Force Awakens Opening Crawl? BB-8 Plane, Disneyland Casting Call, JJ Abrams And More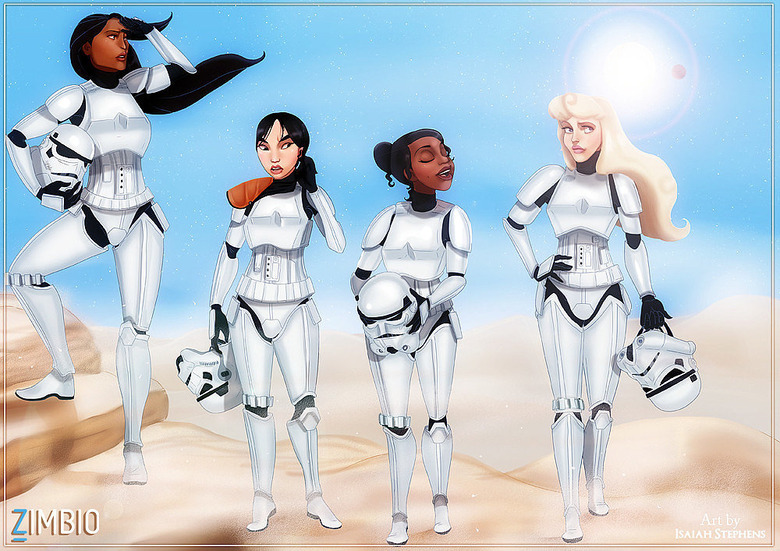 In today's edition of Star Wars Bits we will take a look at:
A sneak preview of the possible opening crawl for Star Wars: The Force Awakens
JJ Abrams remembers the first time he saw Star Wars.
Disneyland is casting for performers for Star Wars Launch Bay opening in October or November 2015
New Star Wars credit cards that will give cardholders exclusive access to Star Wars meet-and-greets in Disney theme parks.
See two new Star Wars comic book variant covers.
Japan All Nippon Airways reveals a new plane which will be themed like BB-8 from The Force Awakens.
The Star Wars: Uprising mobile game will have promotions at PAX Prime.
Set photos from Star Wars: Rogue One at Cardington, which could be another recreation of an Original Trilogy location.
Disney Interactive's announcements from D23 Expo, including Force Awakens Disney Infinity figures and a look at the Battle of Jakku DLC level in Star Wars Battlefront which serves as a Force Awakens prequel.
Another possible Star Wars Land location for the Disneyland version.
And the header image is one of the illustrations created by Isaiah Stephens for Zimbio featuring Disney princesses and Star Wars mixed together
All that and more in today's Star Wars Bits. Hit the jump to get to it.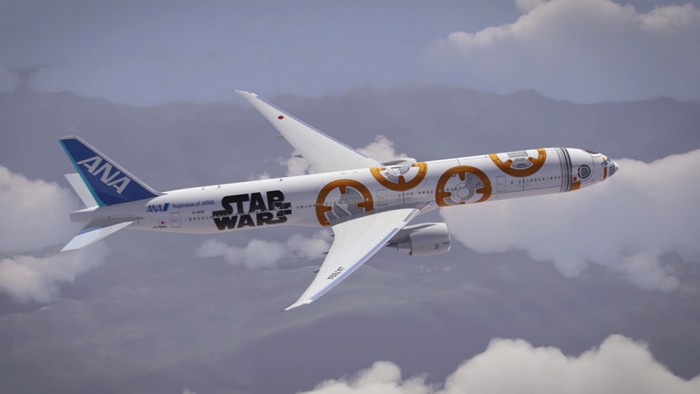 Japan All Nippon Airways announced at Star Wars Celebration that they would be putting R2-D2 on the side of an airliner, and it now looks like his Star Wars: The Force Awakens astromech brother is getting the same honor. Some new images and video which have appeared on the ANA website showing a BB-8 themed plane. The planes will also serve drinks and food with Star Wars-themed napkins and cups, and the airline's in-flight entertainment options will include all six Star Wars movies this November.
Entertainment Weekly have posted a video with Star Wars: The Force Awakens director JJ Abrams sharing his memory of the first time he watched Star Wars.
"It didn't look like anything I had ever seen. It looked real, and it was a combination of everything great: It was really funny; it was romantic; it was sweeping and epic; it was incredibly intimate; it had an amazing message and impact. So it was an incredibly powerful experience."
Watch the brief interview clip above.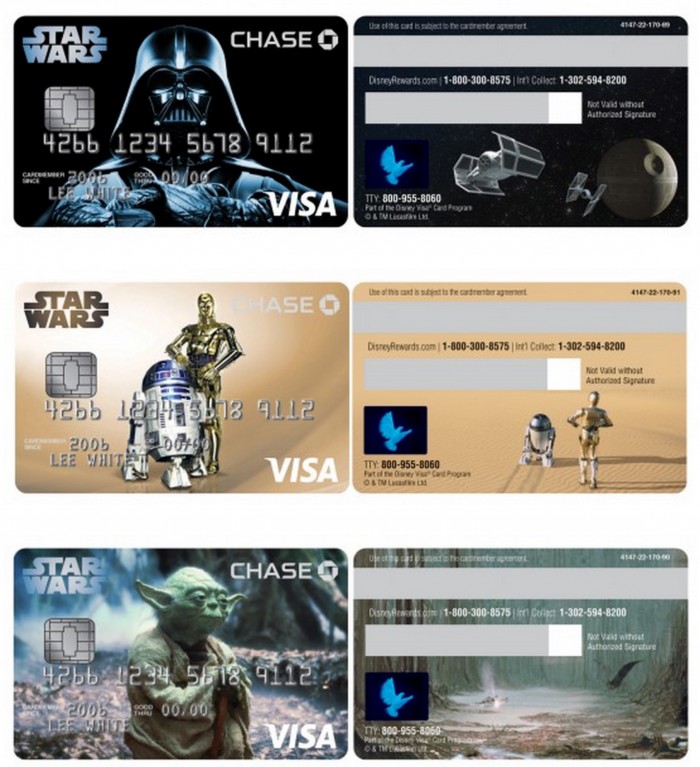 Chase Card Services and Disney have announced they are teaming up to offer new credit cards with Star Wars images and with some interesting exclusive Star Wars bonuses. Three new Star Wars card designs have been revealed featuring Darth Vader, Yoda or R2-D2 with C-3PO. Members with these special Star Wars cards will "enjoy savings on select Star Wars merchandise purchases at Disney Store and select locations at Walt Disney World and the Disneyland Resorts and can have the opportunity to take advantage of upcoming Star Wars-related limited-time offers." According to InsideTheMagic:
A new exclusive Star Wars Imperial Meet 'N' Greet, featuring the Supreme Commander of Imperial Forces, Darth Vader will also be available for Chase Disney Visa card members at Disneyland Park at the Disneyland Resort and Disney's Hollywood Studios at Walt Disney World Resort. The new meet and greet experience is set to open in fall 2015 for Disneyland and early 2016 for Disney World.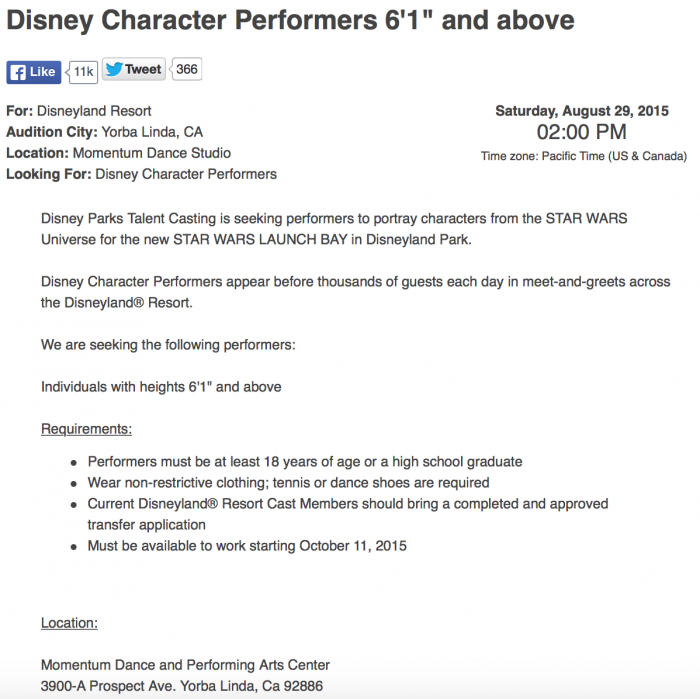 At D23 Epo 2015, Disney Parks and Resorts announced that they would be bringing Star Wars Launch Bay to Disneyland. We've previously seen rumors that the exhibit and meet-and-greet would be located inside the newly redesigned Innoventions building in Tomorrowland. Now Disneyland has posted a casting call for "Cast Members" to populate the new Star Wars Launch Bay location.
The casting call, which you can see screen captured above, is looking for "performers to portray characters from the STAR WARS Universe for the new STAR WARS LAUNCH BAY in Disneyland Park." They are particularly looking for "individuals with heights 6'1" and above" who will be "available to work starting October 11, 2015" which gives us some idea of when to expect Star Wars Launch Bay to open.
And speaking of Disneyland, we've been theorizing where Star Wars Land will fit into Disneyland. Someone has another theory of which 14 acres will be reserved for Star Wars Land. While this is a little bit odd in shape, it might make sense because it would connect Critter Country to Fantasyland, which has always been kind of a a problem.
I don't know enough about the Disneyland backstage areas to have any assessment of if this would be possible or not. The area highlighted on the map right to left: stables, Circle D Ranch, Enviromental Center, Horticulture, Transportation Facility, Uniform Issue, Cycle Shop, Paint Shop, Sign Shop, Staff Annex and Staff Shop. What might pose a problem in this design is that behind Critter Country is apparently the shipping and receiving entrance.
Two new Star Wars variant comic book covers have been revealed, Montreal Comic Con had a variant for #6, and Kansas City Comic Con had a variant for #7.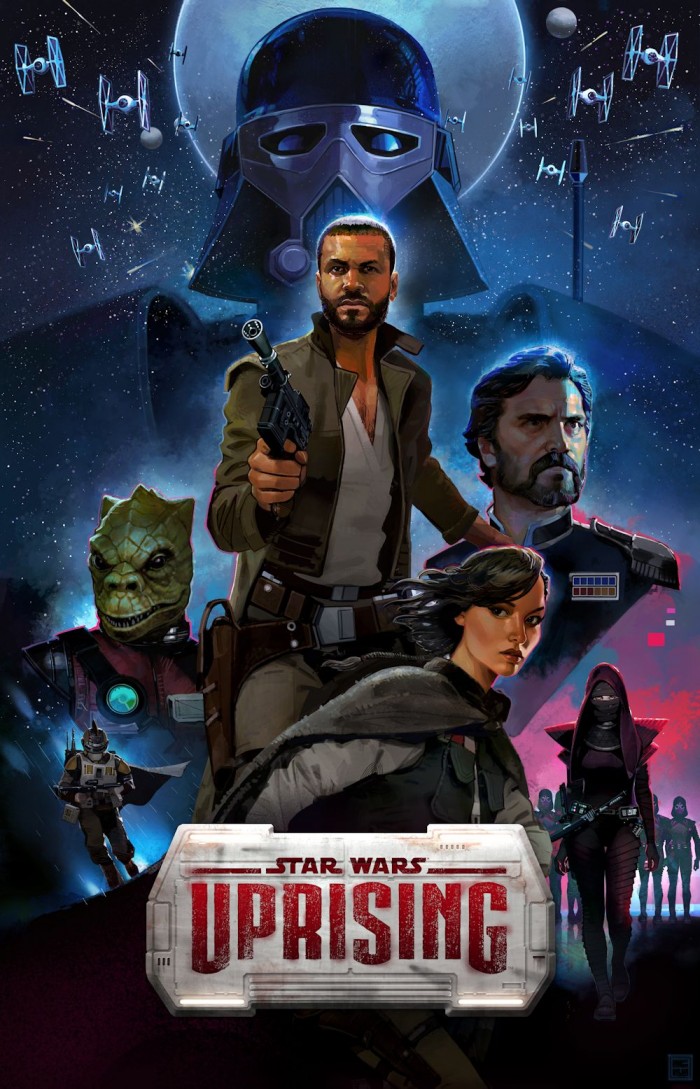 Kabam will be promoting the upcoming Star Wars: Uprising mobile video game at PAX Prime in Seattle later this month. The company will hold a series of events and giveaways (pins, lanyards and t-shirts), including photo opportunities and a chance to speak with game developers.  T-Shirts will be given out to those who can do one of the following:
Stream Star Wars: Uprising and get more than 3000 concurrent viewers (at any given time, starting Day 1 of PAX. Must provide proof that viewership numbers were achieved.)
YouTubers who showcase the game and receive more than 100,000 views on a single video with Star Wars: Uprising content.
Cosplayers who come to the booth in Star Wars cosplay — bonus if it is Star Wars: Uprising cosplay
Are randomly selected among PAX attendees wearing Star Wars: Uprising lanyards and PAX Pins
Billy Dee Williams, who played Lando Calrissian in the original films, will be on hand signing autographs and doing meet and greets from 1:00pm to 3:00pm on Saturday August 29th 2015.
Star Wars: The Force Awakens Disney Infinity figures revealed #D23Expo pic.twitter.com/Aw6JfJnGdY

— /Film (@slashfilm) August 16, 2015
And some things I forgot to mention from D23 Expo 2015 this weekend. Disney Interactive revealed the Disney Infinity Figures for Rey and Finn from the upcoming Star Wars: The Force Awakens playset. Finn's rifle is apparently the most powerful weapon on the game.
New Disney Infinity figures will include Star Wars light effect collectible figures that have light up lightsabers pic.twitter.com/sbKXPqWcB9

— /Film (@slashfilm) August 16, 2015
Disney Interactive will also release more expensive versions of the Star Wars Disney Infinity figures which will have lightsabers that glow when you put them on the Disney Infinity dock.
The Star Wars Battlefront developers were on the set of Force Awakens to help capture the new Star Wars planet pic.twitter.com/3PCLNhxXVs

— /Film (@slashfilm) August 16, 2015
Here is a new photo from the Jakku set of Star Wars: The Force Awakens, showing EA's Dice Studios on location capturing the sand for their upcoming Star Wars Battlefront DLC level The Battle Of Jakku, which will serve as a Force Awakens prequel. Here is a first look at concept art for that level:
Star Wars battlefront DLC will have Star Wars: The Force Awakens prequel Battle of Jakku. Here is a first look image pic.twitter.com/hEMZ9Gof2H

— /Film (@slashfilm) August 16, 2015
After the jump there might be possible spoilers, like the possible (yet very vague) first paragraph text from the Star Wars: The Force Awakens opening crawl and set photos from Star Wars: Rogue One at Cardington.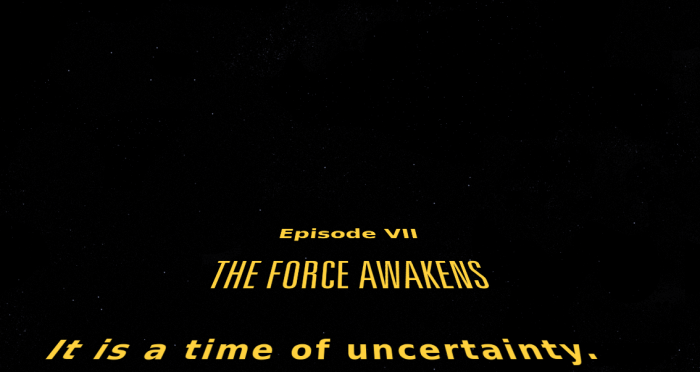 One of Fantasy Flight Games' most selling games is the Star Wars X-Wing Miniatures Game, a tactical ship-to-ship miniature combat game. At GenCon 2015, the company hinted that they might have some games or expansions based on the upcoming film Star Wars: The Force Awakens hitting stores on Force Friday.
Well the first of such games has leaked online, a new edition of the Star Wars X-Wing Miniatures Game featuring Force Awakens era repaints of the TIE Fighters and X-Wings. The game also features new ship upgrade cards like BB-8. But the biggest thing Star Wars blogs are focusing on is the synopsis found on the back of the box, which very well could be the beginning of the crawl for Star Wars: The Force Awakens. Here is what the box says:
It's a time of uncertainty. Unrest grips the galaxy as the influence of
the First Order spreads, but a glimmer of hope remains in the heroic
forces of the Resistance. As they struggle against the dark might of
the enemy, these brave heroes may yet awaken the skill and strength
needed to forge a new future...
Of course, the synopsis is very vague and could have just been created for the miniature game, or maybe it is the beginning of Episode 7's crawl? What do you think?
@MakingStarWars today at Cardington pic.twitter.com/Pg7ixybTmx

— ℂ𝔸ℝ𝔻𝕀ℕ𝔾𝕋𝕆ℕ 𝕊ℍ𝔼𝔻𝕊 (@CardingtonSheds) August 18, 2015
"It's a Tarp" what's under the tarp at Shed 2 Cardington on the #starwars #rogueone set pic.twitter.com/m6Nx3rjPws

— ℂ𝔸ℝ𝔻𝕀ℕ𝔾𝕋𝕆ℕ 𝕊ℍ𝔼𝔻𝕊 (@CardingtonSheds) August 18, 2015
#starwars #rogueone set shots today. 18/08/2015 #bedford #cardington Shortstown pic.twitter.com/CYPbFXEjTj

— ℂ𝔸ℝ𝔻𝕀ℕ𝔾𝕋𝕆ℕ 𝕊ℍ𝔼𝔻𝕊 (@CardingtonSheds) August 18, 2015
#bedshour #bedfordshirehour #starwars #rogueone pic.twitter.com/5GTodhabNe

— ℂ𝔸ℝ𝔻𝕀ℕ𝔾𝕋𝕆ℕ 𝕊ℍ𝔼𝔻𝕊 (@CardingtonSheds) August 17, 2015
A scooper at MakingStarWars sent over the above set photos from Star Wars: Rogue One at Cardington. It looks like some vehicles are being built or are under cover — is that a New Hope era X-Wing? The vines on the stone walls call back to Yavin 4. Could this be a recreation of that location or something else?