First 'Daily Show With Trevor Noah' Promo: "Same Chair, Different A**"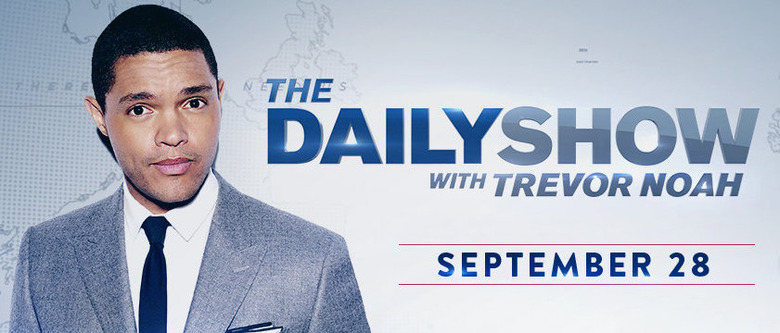 August 6 was the end of an era, as Jon Stewart aired his last-ever episode as host of The Daily Show. But as they say, the show must go on. And so, after waiting several days to let us finish drying our tears, Comedy Central is pressing onward with the first teaser for the next chapter in the series: The Daily Show with Trevor Noah. Watch the Daily Show with Trevor Noah promo after the jump.
Comedy Central unveiled the first Daily Show with Trevor Noah promo on YouTube.
By the sounds of it, Comedy Central's putting a lot into the new series. Kanye West doesn't come cheap. Speaking of which... wasn't there another recent TV spot heavily featuring "Power"? What was that one for again?
Oh, right. Well, let's just hope the song proves more helpful for Trevor Noah than it did Reed Richards.
The teaser doesn't offer much of a clue as to what we can expect from Noah's reign as the new Daily Show host. It's more just a reminder that The Daily Show is continuing onward with a new host who happens to have a killer smile and a nice butt. Did you notice the butt? They really want you to notice the butt.
While several Daily Show regulars left the show in advance of Stewart's departure, the remaining correspondents and contributors (Jessica Williams, Jordan Klepper, Hasan Minhaj, Al Madrigal, Aasif Mandvi, Lewis Black, Kristen Schaal, and John Hodgman) will stick around for Noah's tenure.
For those who still aren't quite sure what to make of Noah, here's an officially Comedy Central-approved rundown of the young host:
Noah joined The Daily Show in 2014 as a contributor. He made his U.S. television debut in 2012 on "The Tonight Show with Jay Leno" and has also appeared on "Late Show with David Letterman," becoming the first South African stand-up comedian to appear on either late-night show. Noah has hosted numerous television shows, including his own late-night talk show in his native country, "Tonight with Trevor Noah."
He was featured on the October 2014 cover of GQ South Africa and has been profiled in Rolling Stone, Newsweek and The Wall Street Journal, and by CNN and NPR's Talk of the Nation, among others. He continues to tour all over the world and has performed in front of sold-out crowds at the Hammersmith Apollo in London and the Sydney Opera House in Australia.
Here's his first-ever appearance as a contributor under Stewart:
And here he is giving that old chair a spin:
The Daily Show with Trevor Noah premieres September 28.