'Narcos' Trailer: Netflix Tells Pablo Escobar's Bloody Story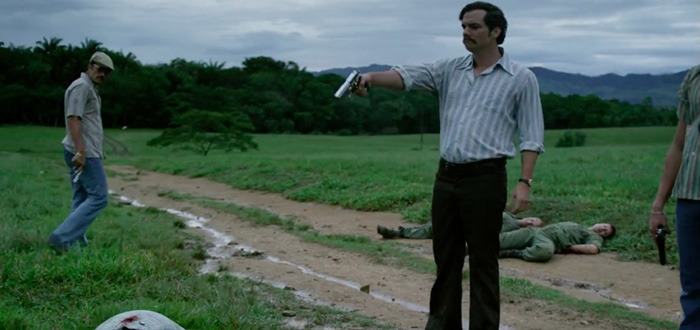 Narcos is the Netflix series that tells the bloody story of Pablo Escobar, the Medellin cartel, and the law agents who sought to control the flow of cocaine and money in and out of Escobar's organization. This new Narcos trailer features voiceover from Boyd Holbrook, who plays one of the feds on Escobar's trail, explaining just how messed up the situation was. It also shows off Wagner Moura as Escobar, and Pedro Pascal as the partner of Holbrook's agent.
There are big cues from gangster epics such as Goodfellas, and a couple staggering shots, like the image of a man escaping from a trench filled with bodies. Check out the Narcos trailer to see how Netflix is telling this story.
Trailer via Netflix; Narcos premieres on Friday, August 28 at 12:01am Pacific Time.
"Narcos" chronicles the gripping real-life stories of the drug kingpins of the late 1980s and the corroborative efforts of law enforcement to meet them head on in brutal, bloody conflict. It details the conflicting forces – legal, political, police, military and civilian – that clash in an effort to control the world's most powerful commodity: cocaine.
The 10-episode series re-partners creator and executive producer José Padilha (Elite Squad, RoboCop) with Brazilian actor Wagner Moura (Elite Squad, Elysium) as a captivating Pablo Escobar alongside Boyd Holbrook (Gone Girl) and Pedro Pascal ("Game of Thrones") as real-life DEA agents Steve Murphy and Javier Peña. The series also features performances by Colombia's Juan Pablo Raba ("El corazón del océano"), British theater star Joanna Christie (Once), Mexican sensation Stephanie Sigman (also seen later this year in the next Bond installment, SPECTRE), Colombian actor Manolo Cardona (Covert Affairs), Brazil's renowned André Mattos (Elite Squad), beloved Puerto Rican actor Luis Guzman (Boogie Nights) and the stunning Ana de la Reguera ("Eastbound & Down," Nacho Libre) from Mexico.
Eric Newman (Children of Men), the team of Doug Miro and Carlos Bernard (Sorcerer's Apprentice) and Chris Brancato ("Hannibal") also serve as executive producers on the series. "Narcos" is produced by Gaumont Television for Netflix.