Firefly Is Coming To 'Gotham' - With A Twist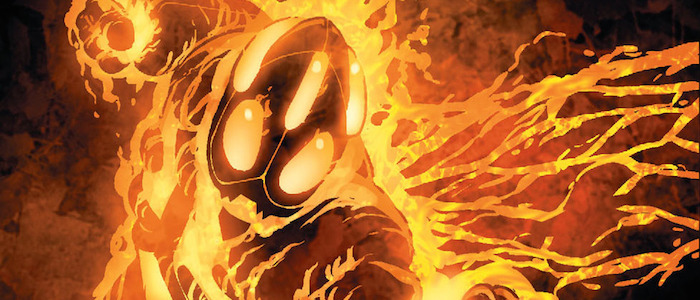 Jim Gordon will be feeling the heat when Gotham returns this fall. Classic Batman baddie Firefly is slated to join Season 2's "rise of the villains," but with a cool twist: This Firefly will be female, played by Michelle Veintimilla. Get all the details on the Gotham Firefly character after the jump. 
Here's the official description of the Gotham Firefly character, per TVLine:
Enslaved by her brothers, a notorious gang of arsonists, Bridgit Pike is forced into the family business. When she catches the eye of Selina Kyle, the young Cat Woman and the soon-to-be-Firefly team up to put Bridgit's firestarting skills to good use. But after a deadly encounter with the Pike Brothers, the meek Cinderella is transformed into a vengeful supervillain, hell bent on destroying those who have wronged her.
Firefly has been the codename of two male superheroes in the DC universe. The first Firefly, introduced in 1952, is Garfield Lynns, a movie pyrotechnics expert who becomes an arsonist when his career falls on hard times. (A version of Garfield Lynns' Firefly appeared in Arrow Season 1.) The other is Ted Carson, a gold heir who turns to crime after gambling away his fortune.
Based on the description above, the Gotham Firefly sounds like a total departure from previous iterations of the character. She'll be one of a long, long, long, long list of supervillains featured in Gotham, along with the Penguin, the Riddler, Poison Ivy, Two-Face, Scarecrow, Victor Zsasz, and the Joker. Hugo Strange and Mr. Freeze will also make their way into Season 2.
Veintimilla is a relative newcomer whose previous TV guest credits include The Good Wife, Those Who Kill, and One Life to Live. Her upcoming film credits include the family drama Fathers and Daughters and the family comedy Love the Coopers. She recently had a role in Broadway's The Visit as the younger version of Chita Rivera's character.
Gotham Season 2 premieres 8 PM Monday, September 21 on Fox. Veintimilla is scheduled to appear in Episodes 4 and 5, putting her debut around mid to late October.