'Victor Frankenstein' Trailer: Daniel Radcliffe And James McAvoy Create A Monster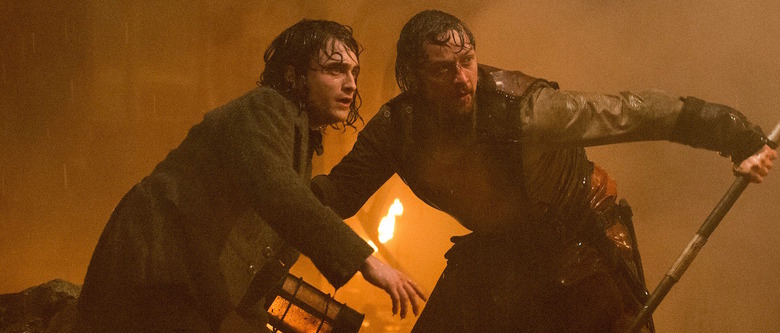 20th Century Fox has dropped the first trailer for Victor Frankenstein, starring James McAvoy as the mad doctor and Daniel Radcliffe as his faithful (and so far non-hunchbacked) protege Igor.
If you've seen really any version of the Mary Shelley classic, you know how it goes: Frankenstein engages in some crazy science and creates a literal monster, with predictably disastrous results. What's different this time is a playful buddy comedy dynamic between Frankenstein and Igor, a la Guy Ritchie's Sherlock Holmes movies. Watch the Victor Frankenstein trailer after the jump.
Fox debuted the Victor Frankenstein trailer on YouTube. Paul McGuigan (Lucky Number Slevin, Push) directed from a script by Max Landis (Chronicle, American Ultra), and Andrew Scott, Jessica Brown Findlay, and Freddie Fox also star.
There's also a U.K. version below.
This film was originally slated for fall 2014, then early 2015, and now it's coming November 25 (Thanksgiving weekend). It's been months since we saw the very first images. It's nice to finally get a sense of what this thing looks like in motion. The whole thing feels kind of cheeseball, but not necessarily in a bad way.
The big selling point of this particular Frankenstein adaptation seems to be the bromance between Frankenstein and Igor, and McAvoy and Radcliffe were leaning on that particular angle at Comic-Con this year. If nothing else, it should be an interesting spin on the classic pairing (which doesn't actually exist in Shelley's original novel, because Igor doesn't actually exist in Shelley's original novel).
James McAvoy and Daniel Radcliffe star in a dynamic and thrilling twist on a legendary tale. Radical scientist Victor Frankenstein (McAvoy) and his equally brilliant protégé Igor Strausman (Radcliffe) share a noble vision of aiding humanity through their groundbreaking research into immortality. But Victor's experiments go too far, and his obsession has horrifying consequences. Only Igor can bring his friend back from the brink of madness and save him from his monstrous creation.