'Ant-Man' Actress Evangeline Lilly Teases Phase Three Wasp Plans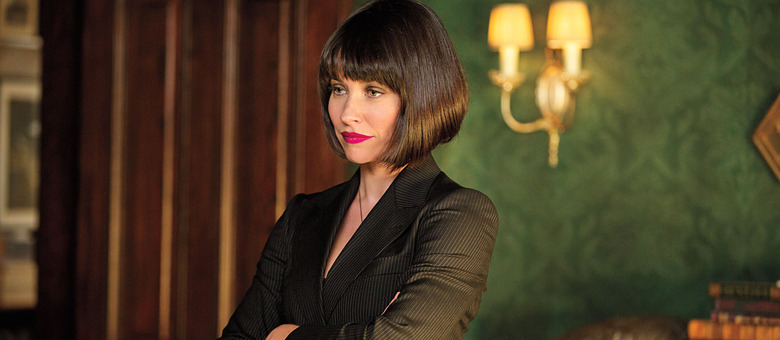 (Spoilers for Ant-Man follow.)
The Wasp was conspicuously absent from this summer's Ant-Man, but the ending of the film suggested a new Wasp might be coming to the MCU in the not-too-distant future. Now Ant-Man actress Evangeline Lilly suggests plans for the superhero's MCU introduction are well underway, revealing she's already been fitted for the suit. Read the Evangeline Lilly Wasp suit comments after the jump.
The ending of Ant-Man set up Hope van Dyne's transformation into the Wasp. In a post-credits scene, Hank Pym (Michael Douglas) brings his daughter to a secret chamber where he reveals a Wasp suit that he'd been working on with Hope's mother Janet at the time of her death.
So far, we've yet to see Lilly actually suit up as the Wasp. But during a recent Facebook Q&A, Lilly indicated Marvel has already gone as far as measuring her for the costume.

However, Lilly revealed, she hasn't actually had the pleasure of wearing it yet.

Originally, Lilly's debut as the Wasp was originally planned for Captain America: Civil War. But Marvel head Kevin Feige has since confirmed she's been written out. "[T]here are so many characters in Civil War that we didn't want to do her a disservice," he said. But, he added, "it's going to be in Phase Three for sure."
So which Phase Three film will it be? An Ant-Man sequel seems like the obvious choice, but Marvel hasn't announced one yet. There's also the possibility she'll report for a future Avengers team-up like Infinity War, coming in 2018 and 2019. Less likely, though not impossible, is an appearance in one of the other standalone films planned for the next few years, like Spider-Man or Captain Marvel.
For her part, Lilly definitely sounds eager to come back.

And she's got some ideas about what Wasp should do in future films.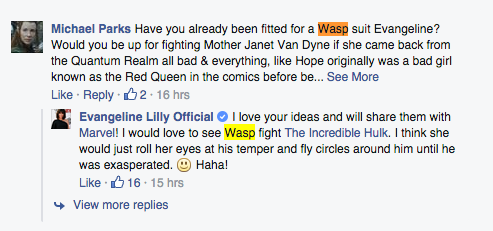 Do you want to see Lilly suit up as the Wasp? Where do you think we'll see her first?