'Minority Report' Featurette Teases Fox's Slightly Revamped New Series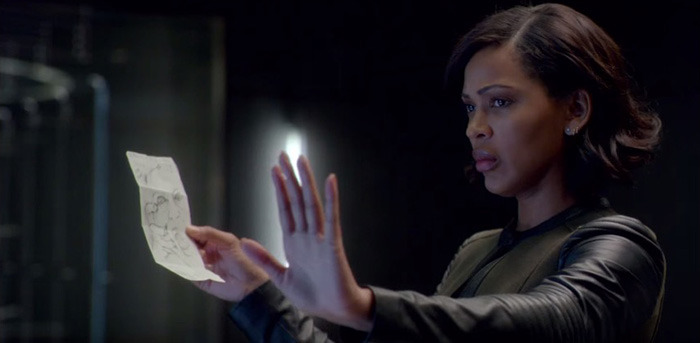 A few months ago we saw the first Minority Report promo, showing off Fox's new series that picks up the story of Steven Spielberg's feature film. Now there's a new one, which has more details on the sci-fi crime series.
Ten years after the events of the film, cops still use high-tech tools to fight crime and solve cases, but the predictive precog program is gone. One detective, Lara Vega, played by Meagan Good, runs across the mysterious Dash (Stark Sands) while trying to solve a case. Dash is one of the three former precogs, now living as far off the grid as he can manage. His twin brother, Arthur, now played by Nick Zano, is missing, and Dash is having distressingly incomplete precognitive visions without him.
Fox is still keeping Arthur in hiding, even after adding Zano to the cast. (Sands had previously played both precog brothers.) But this new Minority Report featurette reveals a bit more of the show's approach to science fiction, crime, and adventure.
Trailer via Fox. Minority Report premieres on September 21.
"Minority Report" follows the unlikely partnership between a man haunted by the future and a cop haunted by her past, as they race to stop the worst crimes of the year 2065 before they happen. Set in Washington, D.C., it is 10 years after the demise of Precrime, a law enforcement agency tasked with identifying and eliminating criminals...before their crimes were committed. To carry out this brand of justice, the agency used three precogs – "precognitives" Dash, Arthur and Agatha – who were able to see the future.
Now, crime-solving is different, and justice leans more on sophisticated and trusted technology than on the instincts of the precogs. Precog Dash (Stark Sands, Inside Llewyn Davis) – driven by his terrifying, but fragmented visions – now has returned in secret to help a brash, but shrewd, police detective, Lara Vega (Meagan Good, Think Like a Man, "Californication"), attempt to stop the murders that he predicts. As they navigate this future America, they will search for Dash's missing twin brother, Arthur, and elude others who will stop at nothing to exploit their precog abilities. Also complicating matters is Dash and Arthur's ingenious, but reclusive, foster sister, Agatha (Laura Regan, "Mad Men," Unbreakable), who just wants Dash to return home. A drama of crime and conspiracy, this is a timeless story of connection: two lost souls, Dash and Vega, who find friendship, purpose and redemption in each other.