Ronda Rousey Campaigns To Play 'Captain Marvel'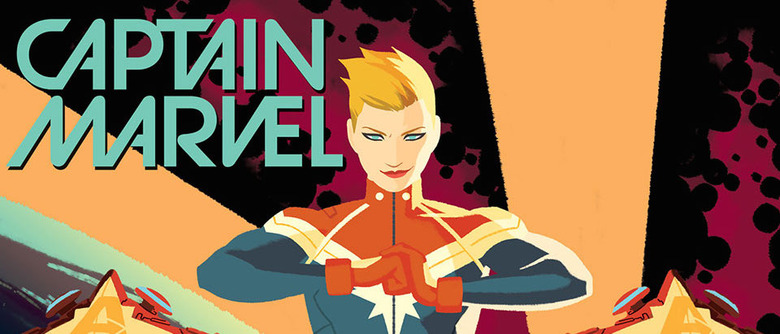 Last week, MMA fighter Ronda Rousey let slip that she wanted to play Captain Marvel* in a movie. Now she's lobbying even harder for her dream role, using the power of fan art and social media. If nothing else, they prove she certainly looks the part. See the Ronda Rousey Captain Marvel campaign after the jump. 
(* Well — her exact quote was "I'd like to vie for Miss Marvel." But it's probably a safe bet she meant Carol Danvers, formerly Ms. Marvel and now called Captain Marvel, rather than Kamala Khan, the current Ms. Marvel in the comics. It's an understandable mistake that she probably could have avoided altogether by reading our Captain Marvel primer.)
Like wannabe Green Lantern Tyrese Gibson before her, Rousey has been posting fan art of herself in the superhero role on Instagram. Gibson's efforts led to a meeting with Warner Bros., but have not yet yielded any official casting. Will Rousey's campaign be more successful?
On the one hand, Rousey definitely looks the part of badass blonde Carol Danvers. As a seasoned MMA fighter, she's got the physical prowess to pull off the character's stunts – not to mention her very own own built-in fanbase. Plus, at 28, she's right within the rumored age range for the role.
The biggest argument against Rousey, however, is her lack of acting experience. She's been working to change that, with supporting parts in The Expendables 3, Furious 7, and Entourage behind her, and meatier roles in Mile 22 and her own autobiographical movie coming up. But so far she hasn't proven she can carry her own movie, and that's bound to make any filmmakers or studio execs nervous.
Other comic book fans have taken issue with Rousey's confusion between Captain Marvel and Ms. Marvel, but in my opinion that's hardly a dealbreaker. Some superhero movie stars are huge fans of the source material when they sign on, and some aren't. The ability to recite comic book trivia is far less important than the ability to play the character as conceived for the movie.
Marvel Studios has Captain Marvel scheduled for November 2, 2018, with Nicole Perlman (Guardians of the Galaxy) and Meg LeFauve (Inside Out) set to write. No director has been set, and we've barely even heard any casting rumors so far. Should Marvel want some options besides Rousey to fill out the role, we've got some ideas right here.