Chris Evans To Lead Marc Webb's 'Gifted'; Rosamund Pike And Jeff Bridges Join 'The Only Living Boy In New York'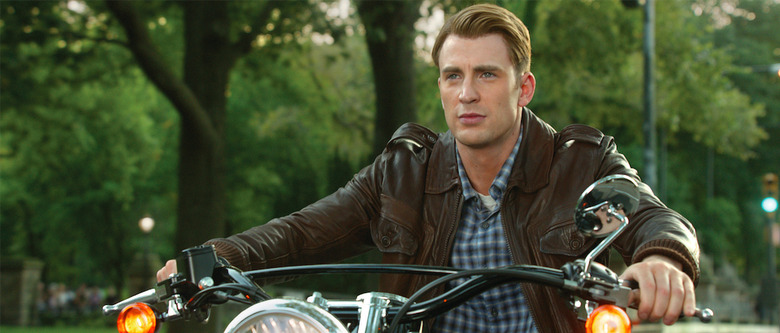 Having left behind one Marvel superhero, The Amazing Spider-Man director Marc Webb is preparing to team up with another. Captain America star Chris Evans is set for Webb's new movie Gifted, a Black List drama set up at Fox Searchlight.
Meanwhile, Webb's other upcoming project The Only Living Boy in New York is also making some progress. Jeff Bridges and Rosamund Pike have just signed on for the Allan Loeb-scripted romance, joining Miles Teller. Get details on the Chris Evans Gifted casting and more after the jump. 
Deadline broke news of the Chris Evans Gifted casting. Evans will play a man who, following the death of his sister, sues his own mother for custody of his gifted 7-year-old niece. Tom Flynn wrote the script, and Andy Cohen is producing with FilmNation. Shooting is slated to begin this fall, making Gifted Webb's next movie.
In addition, Webb has been working for years on The Only Living Boy in New York, which has just moved from Fox Searchlight to Fox 2000. Shooting is expected to begin next year, which suggests it'll be Webb's next film after Gifted. Albert Berger and Ron Yerxa are producing, with John Fogel serving as executive producer.
Teller signed on last year to play a recent college grad who discovers his father is having an affair. He tries to put an end to the romance, only to fall for the other woman himself. Bridges and Pike are now in talks to round out the offbeat love triangle. One key role remaining to be cast is that of a quirky neighbor who offers the son romantic advice.
Webb made a huge splash with his debut feature, the indie romcom (500) Days of Summer. Its success helped Webb snare the director's chair for The Amazing Spider-Man and The Amazing Spider-Man 2. But now that that iteration of the franchise has ended, it looks like he's swinging back to indie films.
Evans has been busy as one of Marvel's marquee stars, and in fact is shooting Captain America: Civil War right now. But he hasn't let that stop him from tackling interesting non-Cap projects. He was seen last summer in the acclaimed Snowpiercer, and he's just about to release his feature directorial debut Before We Go.