Rocket Raccoon's Origin Story Revealed In 'Guardians Of The Galaxy' Animated Series Short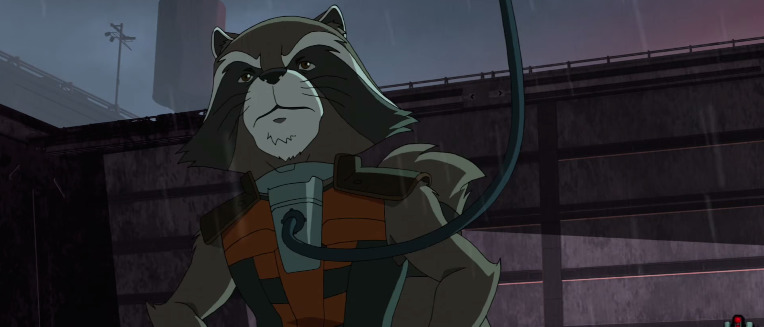 You've seen Groot's origin story, and Star-Lord's. Now find out how Rocket Raccoon became the irascible scamp we know and love — and how exactly he came to hook up with gentle giant Groot — in the latest Guardians of the Galaxy animated series short. Watch the Rocket Raccoon origin story after the jump. 
Marvel unveiled the Rocket Raccoon origin story in two parts on YouTube. The earlier Groot origin story revealed what appeared to be the duo's first meeting, but the new videos show us how they became partners.
The procedures undergone by Rocket makes him stronger and smarter, and gives him the ability talk and walk on two legs. But as it turns out, the "irascible scamp" part was always part of his DNA. Even before the experiments, he was the kind of feisty underdog who'd attack a machine threatening his family.
It's worth noting that the Guardians of the Galaxy animated series does not take place in the same continuity as the Guardians of the Galaxy movie. But the show is definitely capitalizing on the film's popularity, so it makes sense they'd establish a similar relationship between their versions of Rocket and Groot.
Disney XD's animated Guardians of the Galaxy series premieres September 26. The voice cast includes Will Friedle (Star-Lord), Trevor Devall (Rocket Raccoon), Kevin Michael Richardson (Groot), Vanessa Marshall (Gamora), David Sobolov (Drax the Destroyer), and James Arnold Taylor (Yondu).
Marvel's Guardians of the Galaxy follows the newly-formed team who finds a strange artifact keyed only to the DNA of Peter Quill. Upon opening it, Quill unleashes a treasure map leading to a powerful weapon known as the Cosmic Seed which is capable of giving birth to the next universe. It's up to the Guardians to find, protect and ultimately destroy the Cosmic Seed in order to keep it out of the hands of those who would abuse its power, from galactic big boss Thanos, to the conniving brothers the Collector and the Grandmaster, to a resurrected Ronan, to the ultimate trickster, Loki, in order to save the universe.