'Carol' Teaser Trailer: Cate Blanchett And Rooney Mara Fall In Love In 1950s New York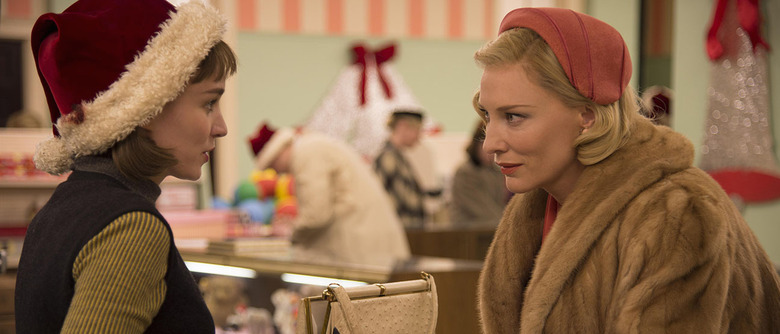 Todd Haynes returns this fall with his first feature in eight years, Carol. The midcentury romance stars Cate Blanchett as Carol a married woman who risks everything when she embarks on a romance with the a younger shop clerk named Therese, played by Rooney Mara. Watch the Carol teaser trailer after the jump.
Studiocanal UK debuted the first Carol teaser trailer on YouTube.
This is very much a tease — aside from a brief exchange of names at the beginning, there's no dialogue whatsoever. But that's okay, because instead we get "My Foolish Heart" (from the 1949 film My Foolish Heart) over some stunning imagery showing us how Carol and Therese's tentative flirting leads to genuine friendship, passionate love, and heartbreak.
The film looks like a companion of sorts to Haynes' Far From Heaven, which similarly explored repressed sexuality in 1950s America. And Carol's got a good literary pedigree behind it. It's based on the novel The Price of Salt by Patricia Highsmith, who also penned the source material for Strangers on a Train, The Talented Mr. Ripley, and The Two Faces of January.
Carol arrives November 20 in the U.S. and November 27 in the U.K., after premiering this past spring to rave reviews at Cannes. Rounding out the cast are Kyle Chandler as Carol's husband, who's suspicious of her relationship with Therese, and Jake Lacy as Therese's clueless boyfriend.
Starring Cate Blanchett and Rooney Mara & set against the glamourous backdrop of 1950s New York, Carol is an achingly beautiful depiction of love against the odds. From the author of The Talented Mr. Ripley and acclaimed director Todd Haynes (Far From Heaven, I'm Not There, Mildred Pierce) comes a powerful drama about a married woman who risks everything when she embarks on a romance with a younger department store worker.