Star Wars Land: All Your Questions Answered And Everything We Know So Far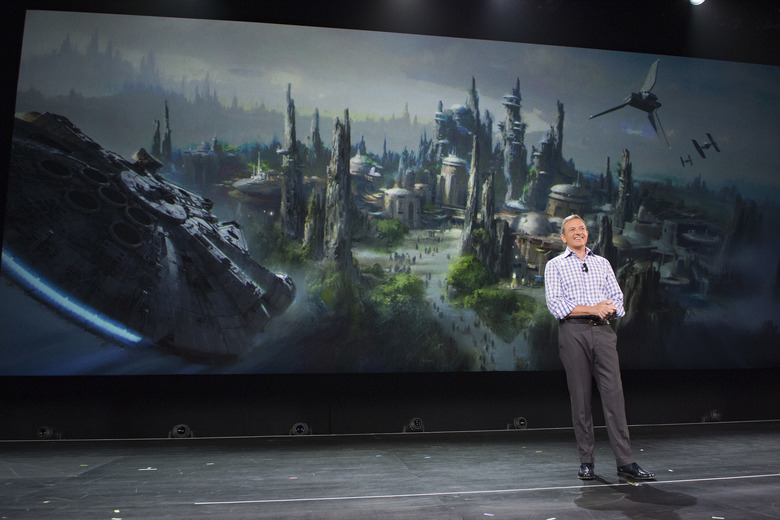 Over the weekend at D23 Expo 2015 in Anaheim, Bob Iger made the huge announcement that Star Wars Land would be coming to Disneyland in California and Disney's Hollywood Studios in Orlando Florida. The announcement was filled with a bunch of juicy details, but raised just as many questions.
Where will these Star Wars-themed lands be located in the existing theme parks? Is Disneyland's Toontown set to be demolished? When will both Star Wars Lands open to the public? Will Star Wars Land offer any alcoholic beverages? Lets explore these questions and much more, after the jump.
First of all, yes, the "all your questions answered" headline might be a bit deceptive as we don't have the exact answers to all of your questions (especially since Disney isn't confirming much at this point). But we have done the research and have some educated responses that might give us a good idea of what to expect.
What can we expect from Star Wars Land?
Here is a list of things that Disney officially announced during Saturday's D23 Expo presentations: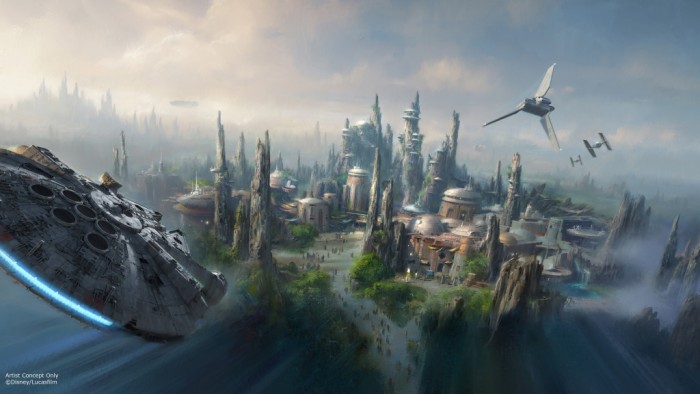 A Whole New World: The land will be themed as "a whole new planet" we've never seen before in the Star Wars movies, described as "a gateway planet" and "a remote frontier town, one of the last stops before wild space." The world will be full of places and characters both familiar and not so familiar.How Big and Where? Star Wars Land will take up 14 acres. This will be the largest single land expansion in Disneyland history. They are building two Star Wars Lands, one in Disney's Hollywood Studios in Orlando Florida and the other in Disneyland park in Anaheim California.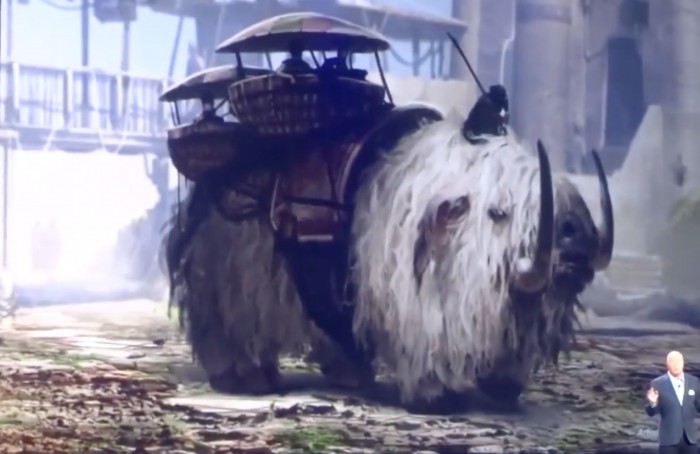 The World's Inhabitants: The world will be inhabited by aliens, humanoids and droids. This likely means the world will have a variety of costumed characters, puppeteered alien creatures and remote controlled droids walking the streets. You can see above a piece of concept art showing a huge white Bantha-looking creature that was teased as one of the creatures we could encounter in this land.There Will Be No Castmemebers, Only Star Wars Aliens: "Every store and restaurant will be operated by local inhabitants making each experience deeply immersive." This will be a fully themed land where everyone is in character. While there will be humanoid-looking shop workers, I would also expect we'll get some puppeted or animatronic shopkeepers.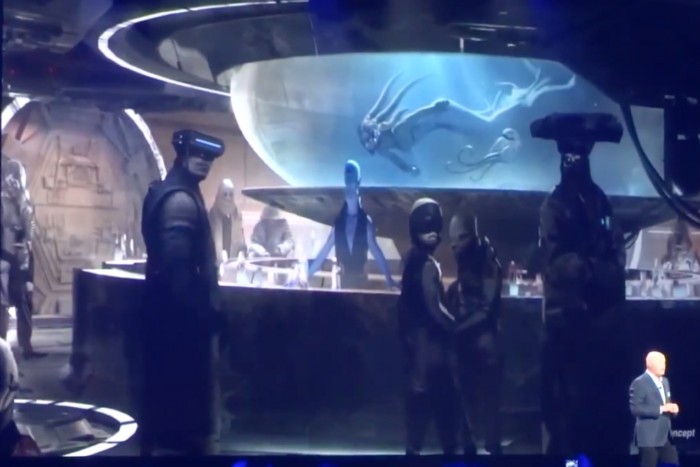 Every Single Thing Will Be In Story: "Nothing in the land will be out of character or stray from mythology." Later Walt Disney Parks & Resorts chairman Bob Chapek reiterated that "every single thing will be in story." We can maybe expect this to mean that everything from merchandise to food options will be set within the world, kind of like Universal Studios has tried to do with The Wizarding World of Harry Potter.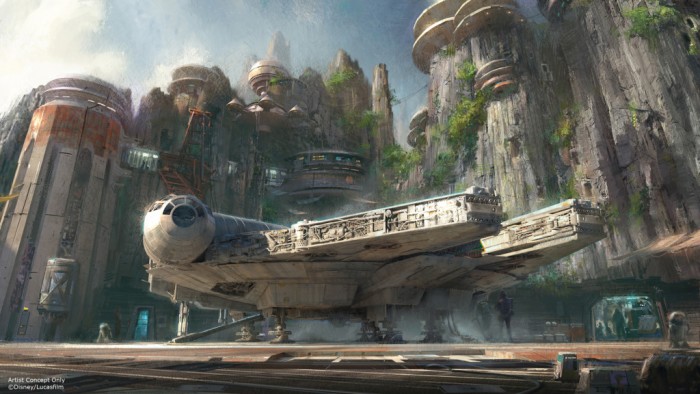 The new land will feature "two fantastic signature attractions."
Millennium Falcon Secret Mission: One attraction will give you the ability to take the controls of the Millennium Falcon on a "customized secret mission." I think a lot of reports are not focusing on Bob Iger's use of the word "customized." We have already seen with the Star Tours redo Star Tours: The Adventures Continue that Disney is able to create a variety of different ride experiences through randomized branching of ride experiences. Here the word "customized" makes it sound like you, the park visitor, will have a choice in where you take Han Solo's famous ship. This ride sounds like some kind of motion simulator like Star Tours.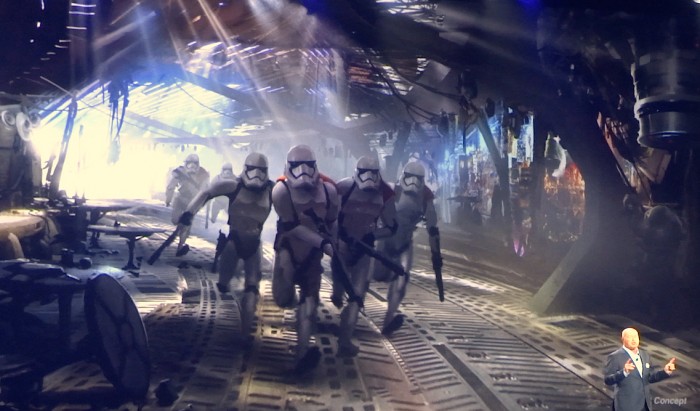 New Era Battle: The other will be "an the epic Star Wars adventure that puts you right in the middle of a climactic battle between the First Order and The Resistance." This tells us the world of the land will be set in a Post-Return of the Jedi timeline, and that the new rides could tie in to the upcoming films. I expect this ride will be more of a dark ride experience, but who knows what kind. The concept art above seems to be from this Star Wars attraction, but what does it tell us?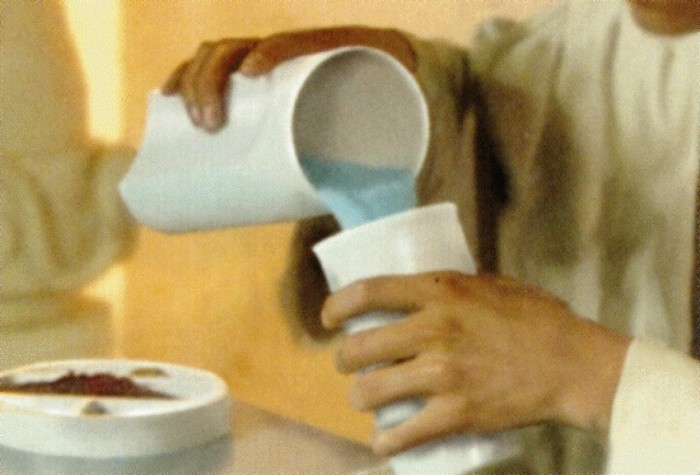 Blue Milk:  Guests' experiences will include a taste of blue milk, just like Luke Skywalker had on his home planet of Tatooine.
After the jump, find out where Star Wars Land will be located in Disneyland and Hollywood Studios. When will they open to the public? How big is 14 acres? Will they both open at the same time? Will the serve adult beverages? And more.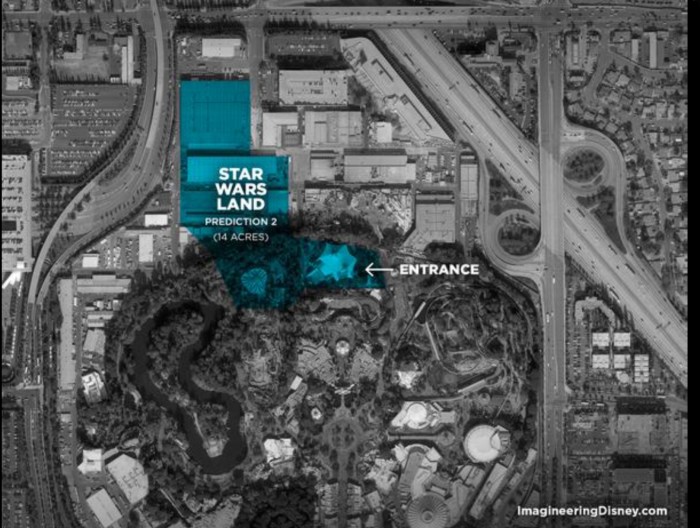 Where Will Star Wars Land Be Located In Disneyland?
Will ToonTown Be Removed From Disneyland? As far back as last year, there were rumors that a new Star Wars-themed land would replace Diseyland's Toon Town. But it looks like ToonTown will survive destruction from Doom and his giant Dip-mixing machine yet again. Disney has confirmed that ToonTown will not be removed for this expansion.Where Will It Be Located? Disney has confirmed that they will build the new land just to the north of Frontierland where the Big Thunder Ranch is currently located. The new construction will not only take over the Big Thunder Ranch area but will also take over some of the space currently used by backstage areas. As we have noted, Disney has purchased a bunch of land across the street from Disneyland which they are expected to partially use for relocated offices and backstage areas, which gives them the new space at the north side of the park. The image below, created by ImagineeringDisney, shows an approximate estimate of where we might expect to see the new land. OCDisney also has a slightly different guess.
Where Will Star Wars Land Be Located In Disney's Hollywood Studios?
We've pretty much known for a while now where things would be going in Disney's Hollywood Studios. Star Wars Land will take up the left side of the park, while the newly announced Toy Story Land will be located above it. ThemeParkWizards have three different estimates of the exact locations on a map, if you want to see them. Does this mean that Muppet-Vision 3D and the Indiana Jones stunt show are going to be demolished? Probably.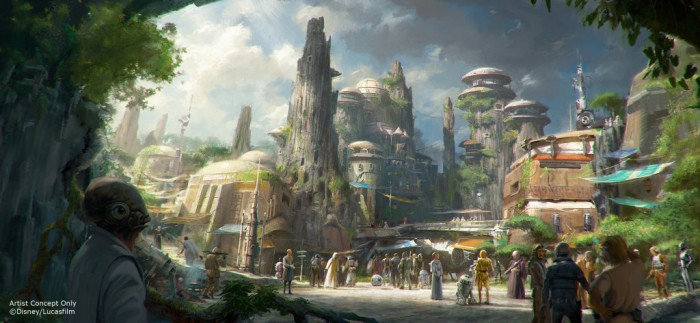 Will Both Star Wars Lands Be Exactly The Same?
This is the biggest question mark. I would assume that much of it will remain the same in both parks which is a shame. It would be great for each park to have a unique Star Wars ride. As the land plots are completely different, I assume the layout will also be different. The concept images presented in the presentations show a lot of trees and greenery at the start of the world, which leads me to believe these images are from the Disneyland version. Remember, park guests will transition from the trees in the north park of the park when entering this new Star Wars land.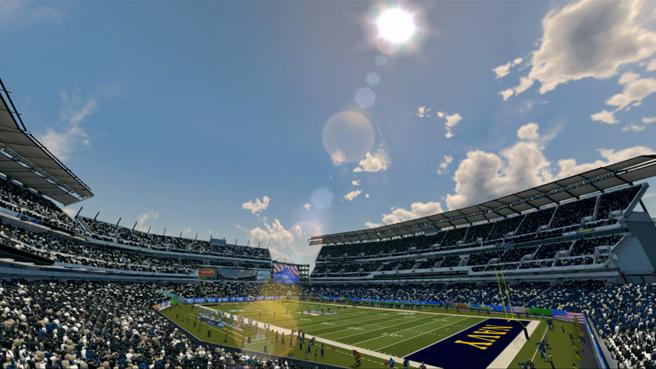 How Big is 14 Acres?
14 acres of land is pretty huge, and the largest-ever expansion to a Disney theme park. Lets explore some facts:
Disney's Hollywood Studio is 135 acres
Disneyland Park is only 85 acres currently (likely to be expanded with the addition of Star Wars Land)
Disney California Adventure's recent Cars Land Expansion takes up 12 acres
One acre of land is 43,560 square feet, and a football field is 48,000 square feet. So 14 acres would be the size of 12 and three quarter football fields.
Its bigger than Walt Disney's initial concept for Disneyland. Walt's original plan was to build a small play park called Mickey Mouse Park with a boat ride and other themed areas across the street from Disney's Burbank Studios on an 8-acre plot of land.
After the jump find out when we can expect Star Warts Land to open and will they serve adult beverages?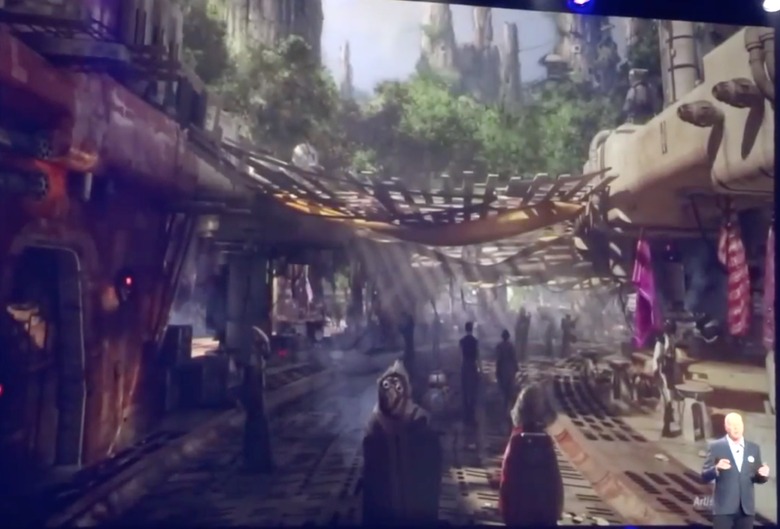 When Will the Star Wars Lands Open to the Public?
This is one of those questions we don't know the definitive answer to. The Star Wars Land teaser trailer ended with "Live Your Adventure at A Disney Park Near You.... Coming Soon". But when is "soon"?
Not So Soon: At the Disney Parks and Resorts presentation, Parks & Resorts chairman Bob Chapek said "Now lands of this scale and detail will obvious take some time to create. And we know they have to be great but our ambition is up for the challenge." This makes it sound like it could be a ways off. Entertainment Weekly's Anthony Breznican has heard that "they have flexible timeline" and "don't want to lock in with an announcement and then have to postpone."Construction Will Begin By 2018: Disney has officially commented that construction on Disneyland's Star Wars Land would start no later than the end of 2017.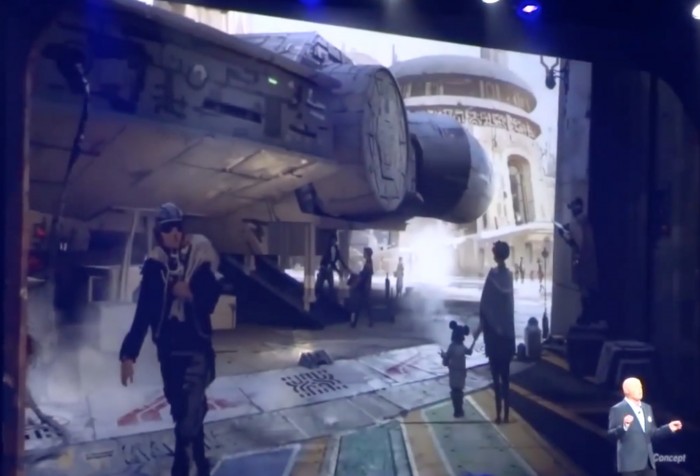 How Long Can We Expect? Cars Land took 5 years from announcement to opening, and as we pointed above, is a similar size of construction.  Universal Orlando's The Wizarding World of Harry Potter's 20 acre Diagon Alley expansion took just over two years to complete, which is an amazing timetable. I've heard the difference between Universal and Disney construction is that Disney tends to employ 9 to 5 construction workers where Universal has construction crews working 24/7. This is why Universal completes their work in at a rate of speed almost three times that of Disney. I'm sure this is a lot more costly, and Disney could take this avenue if they were in a rush to open Star Wars land, but there is no indication that will happen. So if construction begins in mid 2017 in Disneyland, I would expect a 2022 opening date.Will Both Star Wars Lands Open at the Same Time? I expect one of the two theme park lands will open first, likely the Disney Hollywood Studios version as they have already started to clear some of the way for new construction. Construction in Disney's Hollywood Studios could begin much sooner than Disneyland's and thus could open sooner. That said, Disney did open the new Star Tours only two weeks earlier in Orlando, so it could have a duel opening (which would save a lot in the marketing budget — promoting two different parks for the price of one).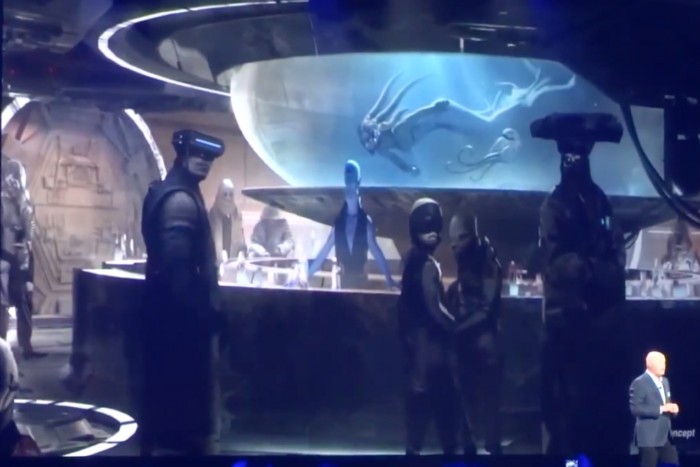 Could Star Wars Land Offer Alcoholic Beverages?
Its very possible, at least in Disney's Hollywood Studios. The Orlando theme park already serves adult beverages, so its probably likely they will offer some kind of unique Star Wars universe alcohol offerings. Because remember, everything in this land will be themed, nothing will be out of story — so don't expect to be able to buy a normal Budweiser.But Disneyland Doesn't Serve Adult Beverages yet. Disneyland officially responded to a fan on twitter asking if the Cantina in Star Wars Land would serve alchol. Disneyland responded that "Disneyland park does not serve alcohol" but added "Stay tuned for more details about Star Wars Land." So it doesn't seem like a definitive statement. When Walt Disney created Disneyland, he decided it would not serve alcohol, except for in his private club, Club 33, which still operates in the park. But neither did Magic Kingdom, until they recently introduced adult beverages in the new Fantasyland restaurant Be Our Guest. In fact, Disneyland recently built a new private dining space called 21 Royal Street where Club 33 members can drink. I think its stupid to think Disneyland will never serve adult beverages in the park, its not a matter of if they ever will, its a matter of when. There is too much money to be made in this area and I can't see the company going another decade as a dry park. Star Wars Land might be the perfect opportunity to introduce the concept of adult beverages outside of Walt's classic lands.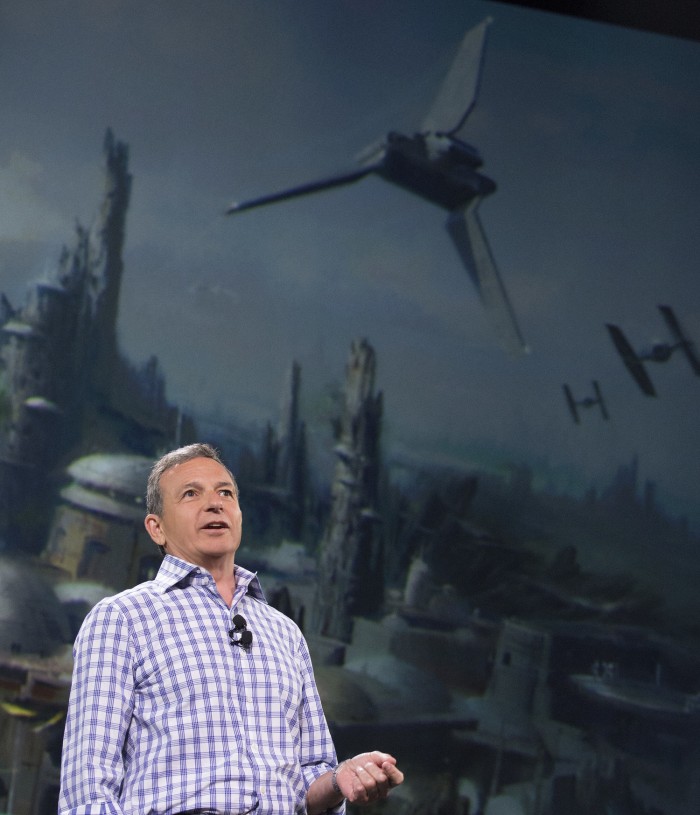 Anything Else?
Have any questions we may have missed? Any details we may have overlooked in the announcements? Leave your thoughts in the comments below!