Star Wars Bits: Captain Phasma, Constable Zuvio, Oscar Isaac, Daisy Ridley, Shattered Empire, More D23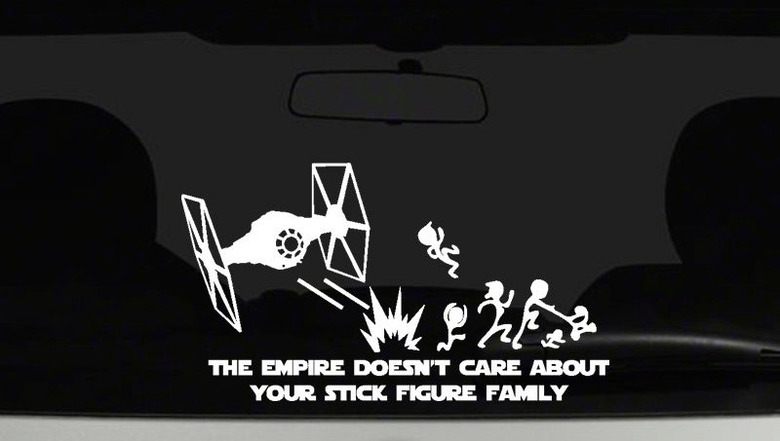 We're not quite done with Star Wars D23 stuff, but there's non-D23 stuff here, too. After the jump:
Find out where to get the cheeky car decal seen above
Watch highlights from the Star Wars D23 panel
J.J. Abrams explains why anyone would even want to join the First Order
... and gushes about Gwendoline Christie as Captain Phasma
Oscar Isaac talks about growing up in a Star Wars-obsessed family
Daisy Ridley looks pleased as punch with her Drew Struzan Episode VII poster
Learn a tiny bit more about Episode VII's Constable Zuvio
Ooh and ahh over Sideshow's deluxe edition Boba Fett figure
Get details on the limited-edition Darth Vader PlayStation 4 console
***
CosmicFrogsCrafts and ThePuzzleBoxMaker offer a Dark Side twist on the usual stick figure family car decal, as seen in the header image. Though the slogan "the Empire doesn't care about your stick figure family" is somewhat undermined by the fact that the Empire apparently cared enough to send a TIE Fighter to destroy it... [via Laughing Squid]
***
As you're no doubt already aware, J.J. Abrams and his Star Wars: The Force Awakens cast were in Anaheim for D23 this weekend. If you missed the event itself, this video reveals some of the highlights from the panel.
And here's the part where they announce the Star Wars Land expansion for Disneyland and Disney World.
Finally, if you want to get more up close and personal with the cast, Flicks and the City has you covered there, too.
***
Given how eeeeevil the Empire turned out to be, why would anyone even want to be part of the First Order in Star Wars: The Force Awakens? J.J. Abrams explains:
I do think the sort of obvious answer is that the Force has a light side and a dark side. It's not just one thing. It's not just that the Force is good, the Force is ... it can be a very dangerous thing. It can be a very seductive thing. I think that the story clearly requires a conflict of some sort. And so if people were rejecting the dark side somehow entirely it would be a hard thing to figure out what we would be up against. It was part of the, what felt like an authentic and true inevitability of what might of happened in the years post Jedi.
[...] I will say that the interesting thing for me, is the history of these characters is these films, is the history that we know. So they're aware of what's come before. And there are, I would argue, those who feel like what the Empire was doing was righteous and had something not gone wrong, as we all know it did, they probably would have succeeded. And it might be worth trying again.
[LA Times]
***
We've still got a while to wait before we can really get to know the cast and characters of Star Wars: The Force Awakens. But J.J. Abrams already knows them inside and out, and he's already picked a favorite new star:
I can only say that Gwendoline Christie is my favorite. She just killed it. You think, "Well, what? It's wearing a costume." But it's a lot to wear and to have a performance when you're wearing that requires a different kind of skill set and an additional talent, and she's got it. It's an incredible thing to work with her. I am glad that a character has been designed that is visually as stunning as that is, because she deserves it and the fans do too. When I first saw that design my mind was blown because it looked so undeniable.
Christie, as we already know, plays Captain Phasma — initially nicknamed the "Chrome Trooper" by fans for her shiny metal armor. In the Star Wars universe, she's an officer of the First Order; in ours, she's a fictional character named after the 1979 horror film Phantasm. [Collider]
***
Star Wars: The Force Awakens star Oscar Isaac discusses growing up in a family of "huge, huge" Star Wars fanatics that would throw themed parties for the prequel releases, complete with Star Wars cosplay.
Isaac previously revealed how he got his uncle a minor role in The Force Awakens, so he's probably everyone's favorite relative right about now. [AOL]
***
On the next page: Daisy Ridley, Constable Zubio, Shattered Empire, Boba Fett, and a Darth Vader-themed PS4.
@DaisyRidleyNews pic.twitter.com/5ApR3LRaGj

— LORD MUPPET (@darth_muppet) August 16, 2015
Daisy Ridley is really, really thrilled to get her hands on a Drew Struzan Star Wars: The Force Awakens poster from D23. And who could blame her? That thing's gorgeous. [Twitter]
***
We still don't know a whole lot about Constable Zuvio, a new character revealed as part of the Star Wars: The Force Awakens action figure lineup. But a photo of the toy card back reveals a tiny bit more about him.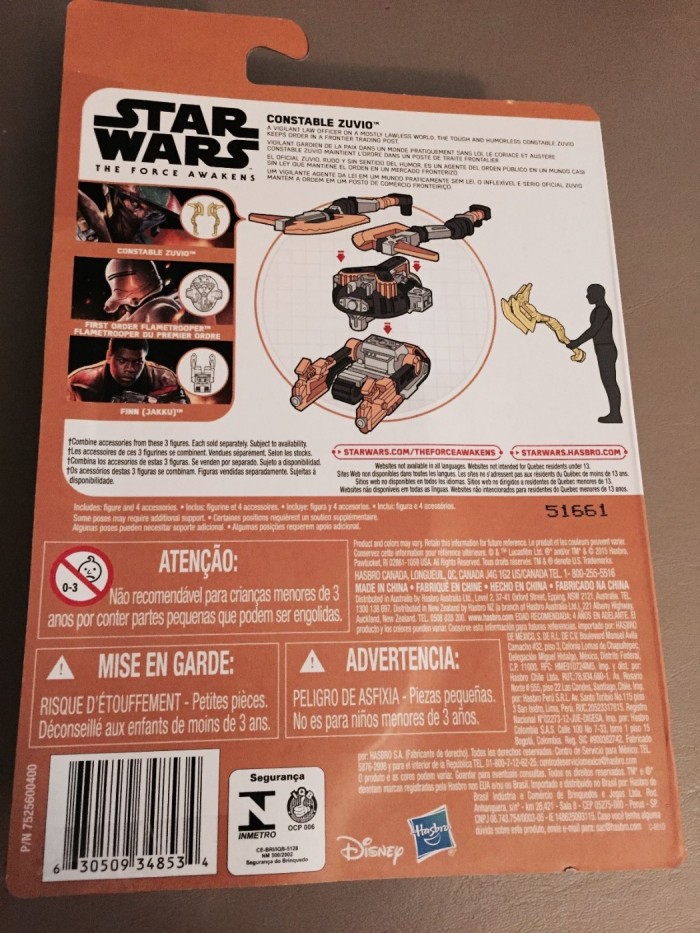 If you don't want to read the tiny print, the character description on the card reads: "A vigilant law officer on a mostly lawless world. The tough and humorless Constable Zuvio keeps order in a frontier trading post." The trading post part we knew last week, but it's interesting to get more details on his general personality and demeanor. And that description of his home actually sounds a lot like the location for the recently-announced Star Wars Land. [Making Star Wars]
***
The recently delayed Star Wars: Shattered Empire #1 unveils a variant cover by Phil Noto, who also drew the very first promo image released in March.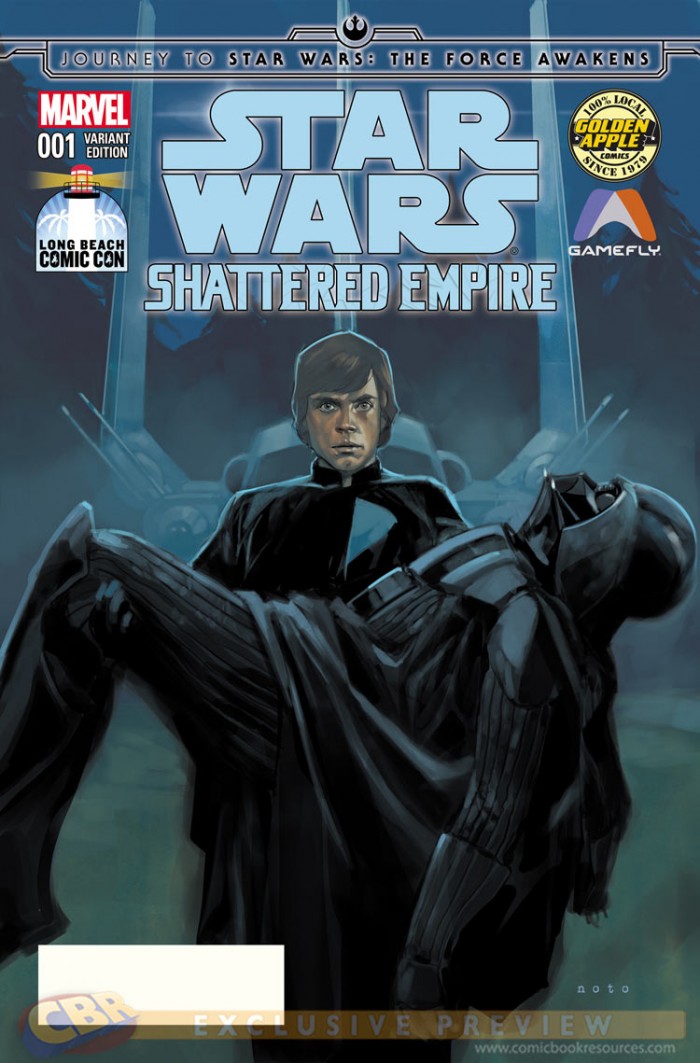 The Shattered Empire #1 Phil Noto variant cover will be available exclusively at the Golden Apple booth at Long Beach Comic-Con (September 12-13). The first issue of the four-part limited series hits September 9. [CBR]
***
Despite being a relatively minor character in the original trilogy, Boba Fett's got a passionate fanbase all his own. Sideshow Collectibles commemorates one of the Mandalorian's most memorable moments with an exquisitely detailed Star Wars: Episode VI – Return of the Jedi sixth-scale collectible figure.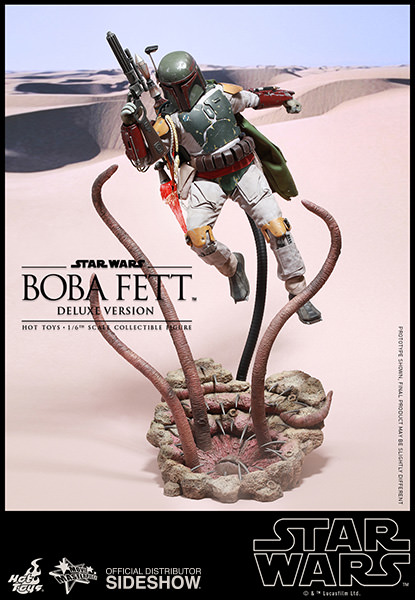 The deluxe edition comes with the Sarlacc pit diorama. Or if you're a fan of Boba Fett's but not the Sarlacc's, you can get a standard edition sans monster. [Sideshow Collectibles]
***
Star Wars Battlefront hits shelves this fall, and what better way to play the game than on a Darth Vader-themed PlayStation 4 console?
The special console is packaged as part of two limited-edition bundles. One includes the Star Wars Battlefront Deluxe Edition and a digital voucher for four other Star Wars game titles (Super Star Wars, Star Wars: Racer Revenge, Star Wars: Jedi Starfighter and Star Wars Bounty Hunter).
The other is available only through Wal-mart and includes the voucher and a physical copy of Disney Infinity 3.0 Edition, plus the Disney Infinity Base, the Rise Against the Empire Play Set Pack, and a PlayStation exclusive Boba Fett figure. Both bundles will be available for sale starting November 17, the same day Battlefront lands. [PlayStation]