Disney's 'Star Wars Land' Will Have A Cantina, Allow Guests To Fly Millennium Falcon [D23 Expo 2015]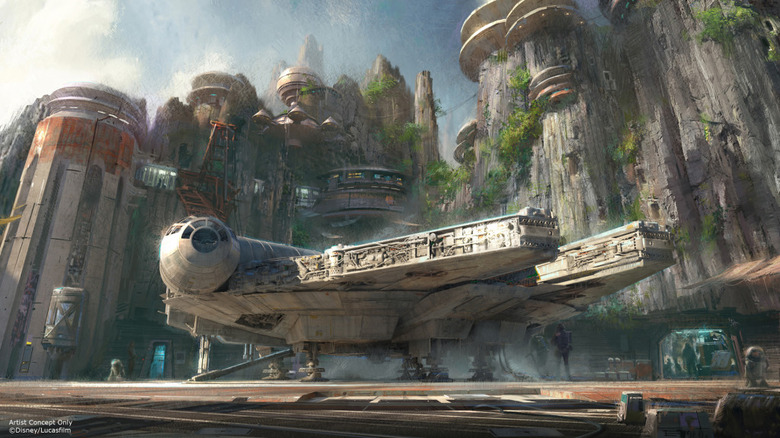 Today at the D23 Expo 2015 Disney announced not one, but two Star Wars Land expansions for Disney parks, one at Disneyland park in Anaheim, CA, and another at Disney's Hollywood Studios at Walt Disney World Resort in Orlando, FL. Both versions will be the largest-ever park expansions, at 14 acres each. (You can find good speculative info here about where these expansions are likely to go.)
But the size is actually less important than the attractions. Star Wars Land will be a wholly in-character experience, with alien servers and workers at all parts of the attraction, including a Cantina. Guests will have the opportunity to enjoy two signature attractions, including one that puts fans inside the cockpit of the Millennium Falcon.
Bob Iger said (bold emphasis ours), "these new lands at Disneyland and Walt Disney World will transport guests to a whole new Star Wars planet, including an epic Star Wars adventure that puts you in the middle of a climactic battle between the First Order and the Resistance." 
Bob Iger also said at the panel,
I am thrilled to announce the next chapter in the long and exciting history between Disney Parks and Star Wars. Through each new attraction and new land we create, we push the boundaries of what is possible. And as you can imagine, with Star Wars, we are taking that to a whole new level, with a whole galaxy to explore.
Here's a gallery of three pieces of concept art, from the Star Wars feed:
The land will feature new characters from The Force Awakens as well as old favorites from previous chapters in the Star Wars Saga, and the park will be staffed entirely with Star Wars characters and aliens. Basically, it sounds like Disney's ambition is to create an area where guests can be completely immersed in Star Wars. Want to smell a Bantha, or learn what that blue stuff Luke drank tastes like? This is the place.
There were hints at the panel of creatures just walking around the land, going about their own business, for guests to encounter. The Cantina concept art showed a water tank with an alien swimming around inside. Lucasfilm, Disney's Imagineers, and ILM are all collaborating on the project, and they're starting to cast actors for roles in the park. 
The setting is "a never-before-seen planet, a remote trading port and one of the last stops before wild space where Star Wars characters and their stories come to life."
Bob Iger claims that "nothing will be out of character or stray from mythology... We're going to transport guests to a whole new planet. It will be real, it will be authentic." This could give guests some hints of where Star Wars is going in further episodes; with Disney making everything part of story canon going forward, we'd expect this park expansion will relate to the core stories in some way.
Official info from Disney says,
These authentic lands will have two signature attractions, including the ability to take the controls of one of the most recognizable ships in the galaxy, the Millennium Falcon, on a customized secret mission, and an epic Star Wars adventure that puts guests in the middle of a climactic battle.
If there's more info from the Disney Parks panel later today at D23 we'll update.