'Doctor Strange' Magic Looks Like Marvel's Riff On 'Inception' [D23 Expo 2015]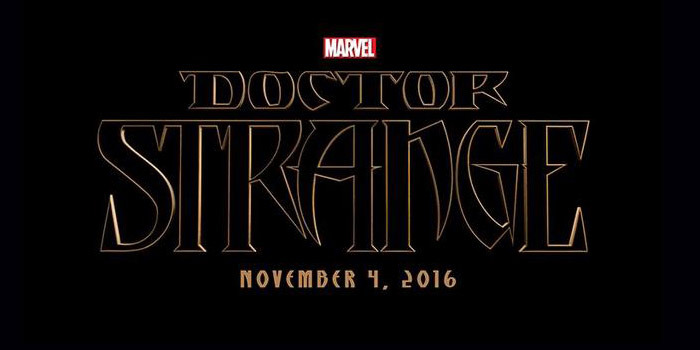 Disney and Marvel kicked off day two of the D23 Expo 2015 with a presentation for Doctor Strange, complete with a video call-in from star Benedict Cumberbatch and a showcase of production art and animatics provided by director Scott Derrickson, who is in London prepping the movie . The film begins shooting in November, but there was enough weird stuff in the early art to wow the crowd, including mock-ups of Cumberbatch in comics-accurate costume.
And while we've heard that Doctor Strange could be Marvel's Fantasia, there were also physics-defying images of cities and cars warped in a manner that immediately bring to mind Christopher Nolan's Inception.
Kevin Feige kicked things off saying that Doctor Strange is a project that predates the inception of the MCU, followed shortly by Benedict Cumberbatch's cheeky video greeting, in which he flashed a Vulcan salute before admitting he's maybe got the wrong movie in mind.
The actor said he is "very lucky and very excited to take on Doctor Strange," an "extraodinary character who brings in a whole other dimension, multiple dimensions to the Marvel Universe." The stated goal for the film is to expand what a comic book or Marvel Cinematic Universe movie can be, which is a pretty big goal.
The big hook here is astral projection into multiple dimensions. In this presentation, "look book" images help establish the story of Strange as a neurosurgeon whose hands are mangled in a car accident, destroying his life as a doctor. His embarks upon a quest to heal and recover, which leads to a meeting with the Ancient One. (Worth noting that this art showed the Ancient One as a man, probably because it dates from before Tilda Swinton was cast in the role.)
And then we got the crazy images, of cars and whole highways of vehicles floating in formation with no pavement, insane-looking buildings moving in warped patterns that recall Inception. There were very surreal-looking visions of planets and other sights that could be intergalactic, or simply other-dimensional. Think of the last major shrinking sequence from Ant-Man, which was clearly a lead-in to Strange, but on an even weirder scale.
And throughout, there are images of Strange, with the big flowing red cape and high collar, grey at his temples, looking very much like the character out of comics.
Doctor Strange looks insane, shades of Inception and Guardians cosmic visuals.

— /Film (@slashfilm) August 15, 2015
Feige shows off concept art for DOCTOR STRANGE. Some weird dimensions, hundreds of cars flying up in a city, and mano a mono action.

— Borys Kit (@Borys_Kit) August 15, 2015
Just saw a reel of production art for Doctor Strange. Design for the character was exactly what you want, red collared cape and all.

— Eric Vespe (@EricVespe) August 15, 2015
***
Doctor Strange opens on December 4, 2016.