Sequel Bits: 'Star Trek Beyond', 'Space Jam 2', 'Hunger Games: Mockingjay', 'Jack Reacher 2', 'Neighbors 2'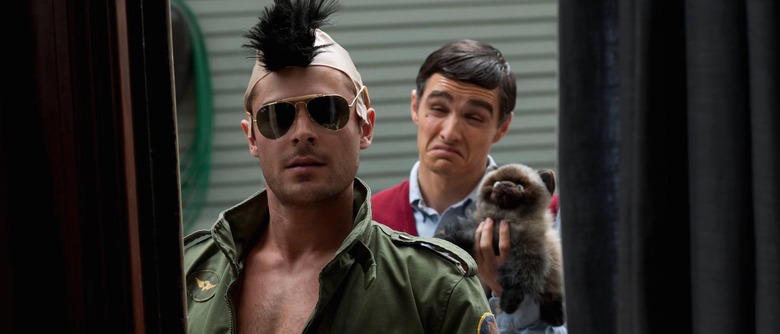 After the jump:
Outlander's Tobias Menzies signs up for Underworld 5
Dave Franco is also moving back in for Neighbors 2
Jack Reacher 2 is gearing up for a fall shoot
Jurassic World returns to IMAX 3D for one week only
My Big Fat Greek Wedding 2 reveals first images; John Stamos joins the cast
Mrs. Doubtfire 2 definitely won't happen without Robin Williams
LeBron James is hoping for a Space Jam 2
Sinister 2 drops a new clip and a featurette
Lionsgate's latest Hunger Games ad is accidentally NSFW
Simon Pegg talks about feeling "pressure" as the writer of Star Trek Beyond
Chris Pine and Idris Elba bicker (for charity) on the set of Star Trek Beyond
***
Underworld 5 is lining up some Lycans. Outlander and Game of Thrones actor Tobias Menzies has been set for a major role as Marius, a mysterious Lycan leader. He joins Theo James and franchise lead Kate Beckinsale. Anna Foerster, who worked with Menzies in episodes of Outlander last season, is directing Underworld 5. The film opens October 21, 2016. [
]
***
Dave Franco is moving into Neighbors 2. He's one of several cast members returning from the original, along with Seth Rogen, Zac Efron, Carla Gallo, Hannibal Buress, and Jerrod Carmichael. Newcomers include Chloë Grace Moretz, Kiersey Clemons, and Beanie Feldstein. Neighbors 2 opens May 20, 2016. Nicholas Stoller returns to direct. [
]
***
Tom Cruise's return as Jack Reacher isn't too far off. Paramount has reportedly finalized plans to shoot the sequel in November, for release in late 2016. Ed Zwick is directing and Cobie Smulders is in talks to play the female lead. The new film will be based on Lee Child's novel Never Go Back. [
]
***
Sure, you've already seen Jurassic World. (Or so I assume, based on those insane box office numbers.) But have you seen it in IMAX 3D? If not, now's your chance to have giant dinos fly at your face. The Colin Trevorrow-directed sequel is returning to IMAX 3D theaters for one week only starting August 28. [
]
***
It's been nearly 15 years since My Big Fat Greek Wedding 2, but you'd hardly know it looking at these new images. The Portokalos family doesn't seem to have changed at all. The sequel sees Toula (Nia Vardalos) and Ian (John Corbett) dealing with "angst and anger" from their teenage daughter, while also struggling with a "lull" in their marriage.
Good thing she's got her family to help out — including Aunt Voula (Andrea Martin), here seen giving Toula some unwanted sex advice. Also joining the cast this time around is John Stamos in a "pivotal cameo." My Big Fat Greek Wedding opens March 25, 2016. [
]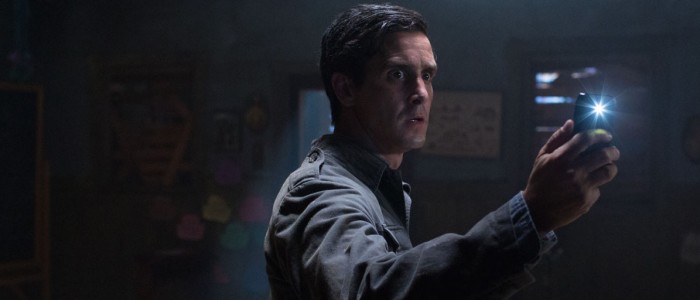 At the time of his passing, Robin Williams was working on Mrs. Doubtfire 2. Now that he's gone, director Chris Columbus confirms, the project is cancelled for good. "That was the last time I saw Robin, sadly, when we were talking about the sequel to Mrs. Doubtfire," he said. "It definitely will never happen now."
Columbus declined to say what the sequel could have been. "It's so delicate, he said. "I'd love to talk about it, but it's really too difficult at this point." [
via
]
***
While Warner Bros. has yet to announce plans for a Space Jam sequel, rumored star LeBron James is making it clear he'd like one to happen. "We hope so," he said when asked about the possibility of a Space Jam 2. "We're definitely missing Bugs and Daffy and Tasmanian Devil and and every last one of them, so hopefully we can do some great things." [
]
***
James Ransone learns all about Bughuul, with some help from Tate Ellington, in the latest clip from Sinister 2.
Once you've brushed up on your Sinister mythology, get to know Bughuul's new family of victims in a new featurette.
Sinister 2 arrives August 21.
***
Lionsgate has been left red-faced after their latest The Hunger Games: Mockingjay – Part 2 turned out to be accidentally NSFW. The image itself is uncontroversial; it's just Katniss' face covered in paint. The problem lies in the way the text is arranged. See it?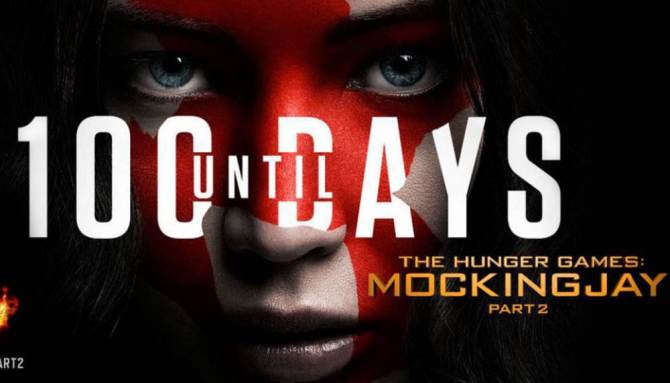 Squeezing the word "until" into the phrase "100 days" accidentally made the second 0 look like a C, which... well, you get it. Anyway, as the poster was trying to tell you, The Hunger Games: Mockingjay Part 2 opens in about 100 days on November 20.
***
Simon Pegg is feeling the heat as the co-writer of Star Trek Beyond:
There is a lot of pressure. The way movie making works these days is that as soon as you have a structure and all the sets, the kind of physical aspects of the film are locked in, the dialogue and stuff is always a moveable feat, so we'll be writing it right up until the edit, I think ... it's a work in progress.
As the co-writer, Pegg could presumably give his character Scotty a much meatier role in the sequel. However, it sounds like he's going the other direction. "I feel like less, because I'm going to have to be on the set all the time anyway as a writer, so I should write myself out," he said. [
]
***
Chris Pine and Idris Elba will be playing enemies in Star Trek Beyond, and it seems that animosity is spilling over into real life. Well, not really — but the two do look like they're having a lot of fun pretending to hate each other in this new charity video for Omaze.
Got to
to help out Make-a-Wish and enter to win a walk-on role in Star Trek Beyond in the process. Directed by Justin Lin, Star Trek Beyond opens July 8, 2016. [
]