'Rock The Kasbah' Trailer: Bill Murray Goes To War For New Talent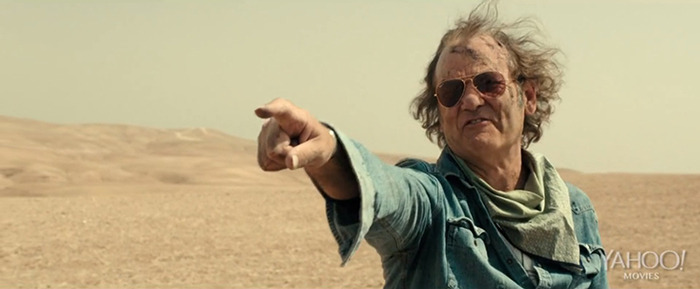 Thanks to the first trailer, people knew a little bit about Rock the Kasbah earlier this year. Then Bill Murray showed up to Comic Con to promote the Barry Levinson movie. After the actor walked around Hall H doing karaoke before the panel, and spent a bunch of time roaming the aisles afterwards to shake hands and pose for pics with fans, the film's profile got a nice bump.
Now here's a new Rock the Kasbah trailer, and it's all about Murray's comic energy and the big supporting cast, which includes Kate Hudson, Zooey Deschanel, Danny McBride, Scott Caan, and Bruce Willis. Have a look below.
This one doesn't look like a firecracker, exactly, but Bill Murray is irresistible, and the idea of seeing him desperate in the desert is pretty great. There's almost certainly a point in the film where Murray's character sets aside his selfish desires to find some heart as he guides his talented discovery (played by Leem Lubany), but that's par for the course in this sort of film.
This is also based at least vaguely on a true story, with the real show Afghan Star competition being a big part of the film's story. There's a documentary about that competition, which you can get info on here.
You can watch some of the Rock the Kasbah panel from Comic Con via the embed below. The same user has more videos, and you can see Murray answering questions on the panel both in character, and as himself. Some of his conversations that morning were great, with a few very touching recollections of the experience of shooting this film, and great observations about his life in show business.
Trailer via Yahoo. Rock the Kasbah opens on October 23.
A has-been rock manager from Van Nuys, California stumbles upon a once-in-a-lifetime voice in a remote Afghan cave in Rock the Kasbah, a dramatic comedy inspired by stranger-than-fiction, real-life events and directed by Oscar winner Barry Levinson. Richie Lanz (Bill Murray), dumped and stranded in war-torn Kabul by his last remaining client (Zooey Deschanel), discovers Salima Khan (Leem Lubany), a Pashtun teenager with a beautiful voice and the courageous dream of becoming the first woman to compete on national television in Afghanistan's version of "American Idol." Richie partners with a savvy hooker (Kate Hudson), a pair of hard-partying war profiteers (Danny McBride and Scott Caan) and a hair-trigger mercenary (Bruce Willis) and, braving dangerous cultural prejudices, manages his new protégée into becoming the "Afghan Star."