'X-Men: Apocalypse' Is Shooting In 3D; Olivia Munn Shows Off Psylocke Moves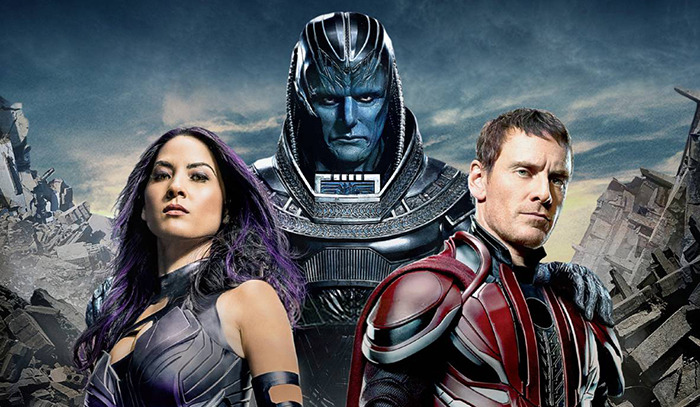 So much of what we've seen from X-Men: Apocalypse has come from Instagram, it almost feels like Fox should be paying them for ad space. Today, Bryan Singer's Instagram account reveals the superhero sequel is shooting in 3D, while Olivia Munn shows off her Psylocke moves and weaponry. More on the X-Men Apocalypse shoot and Psylocke's skills after the jump.
Instagram user @mamapeachsb shared two Instagram videos of Munn doing wire work for X-Men: Apocalypse. Between this and that katana practice video from a few weeks back, it's clear Munn is training hard for her role.
You'll note that in addition to a katana, Munn is also wielding a triangular piece that seems to be a pre-CG psychic knife. What's a psychic knife? As it's usually described in the comics, it's "the focused totality of [Psylocke's] psychic power." It basically looks like a triangle of purple light. You can see a bit of it in that X-Men: Apocalypse EW cover from a few weeks back.
As for Psylocke's other signature weapon, @mamapeachsb also posted a photo of Munn fooling around with a purple katana.
The intricate design on this blade looks a lot like the one from that EW cover, so we're guessing it's an actual prop from the movie and not just some random sword she picked up. It's a pretty sweet piece. That earlier photo definitely didn't do justice to the bright colors.
In any case, whatever Psylocke's moves and weaponry wind up looking like in the movie, we'll get to see it in 3D. Singer shared a photo of the 3D rig, as wielded by former 'NSYNC-er J.C. Chasez of all people.
Singer also shot X-Men: Days of Future Past in native 3D, so this doesn't come as a huge surprise. But it's nice to get a hint of what we can look forward to when X-Men: Apocalypse opens May 27, 2016.