Jonathan Ames Offers 'Bored To Death' Movie Update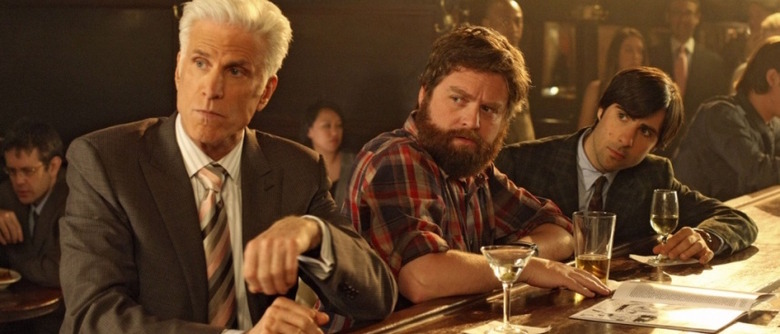 It's been a couple of years since we heard HBO was developing a Bored to Death movie, and we've heard next to nothing about it since. But you can rest assured Bored to Death creator Jonathan Ames hasn't forgotten about it. He recently stated that a film still "could happen," and offered an update on the script. Get the latest Bored to Death movie news after the jump.
For the uninitiated, Bored to Death was an HBO neo-noir comedy that starred Jason Schwartzman as a struggling writer who moonlights as an unlicensed private detective. Ted Danson played Jonathan's boss, and Zach Galifianakis Jonathan's best friend. It was quirky and delightful and oddly sweet, and it lasted three all-too-brief seasons before getting cancelled in 2011.
Zap2it got the chance to ask Ames about a possible Bored to Death movie, and he revealed that he's already put in quite a bit of work.
I actually wrote two Bored to Death movie scripts. Then [Ames' new Starz series Blunt Talk] kind of took over my life. It's not beyond the realm of possibility that it could yet happen. I guess the further time goes on, I guess the chance weakens. I guess if interest remains.
I just have to write a script that I'm really happy with. I thought the first one I wrote I was really happy with, but maybe HBO had issues. I still am contractually obligated to write one more draft, so it could happen.
Ames doesn't sound terribly hopeful there, and he sounded even less optimistic in a different interview with Vogue. "I'm supposed to write one more [draft], but I don't know if it's meant to be or not," he said. Still, it doesn't sound like all hope is lost at this point so we can hope for the best.
Meanwhile, it seems the cast is as eager as we are for Ames and HBO to settle on a good script. Asked whether the central cast might return, Ames responded:
Jason, Ted and Zach, they all wanted to do it. They all love the show, they love the characters. They all, at least initially, were completely on board. Now time has passed, their careers are busy, but it could potentially work. They all wanted to do it. Zach cried. When he saw the email that the show was canceled, he cried onto his keyboard, he said.
In a separate conversation with Zap2it, Danson reiterated his interest in returning. "Oh Lord yes," he said. "He's another writer I'd go anywhere for and do anything. I adore him."