Shane Black's 'Predator' Script Looks At The Franchise In A "Different, Interesting Way"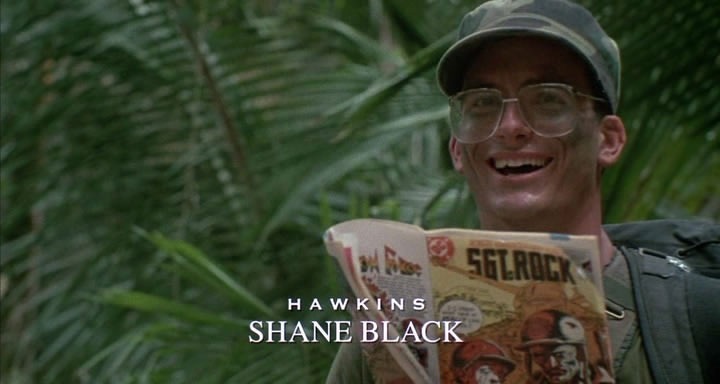 Shane Black, who appeared in the original Predator as Hawkins, is writing a new Predator sequel with his writing partner Fred Dekker, and Black is attached to direct as well. It's been a year since we learned of the deal, and in the meantime Black has directed his next film, The Nice Guys. But his Predator movie is still moving along, and the film's producer has offered an update that keeps us curious about what the screenwriters are cooking up.
Collider spoke to Predator sequel producer John Davis, who says that Shane Black's script is coming along just fine, even though Black also had his own film to direct earlier this year.
Shane shot a movie and he's doing a pilot now, but I've read a lot of his script and I think it's genius. I think it's genius and I think it's entertaining, and what it did is recreate a famous franchise in a different, interesting way; looking at it from a different light. He's just an amazing writer-director. He's got a way of looking at this that makes you excited again.
What's that thing that seems so exciting? Well, last year Black said the approach is more sequel than reboot, explaining "Why start over, when you've all this rich mythology yet to mine?" He said he's more interested in the idea of an "inventive sequel" more than a reboot, detailing that part of the appeal is "the idea of expanding and exploring the existing Predator mythology, rather than hitting the restart button."
Back to the recent interview, Davis went on to say,
Shane's got a writing partner, Fred Dekker. They've been doing it together and Fred's great. The two of them together, they've been in the business for a long time, but the writing is so fresh, the perspective is so fresh. I'm telling you you're going to get something you don't expect and you're going to say, 'This is the most entertaining way to reinvent a franchise.'
We don't have a release date for the Black and Dekker-scripted Predator film, but we'll update with that as soon as the info is made public.