Shakira Joins 'Zootopia' Cast, Brings New Song To The Talking Animal Movie [D23 Expo 2015]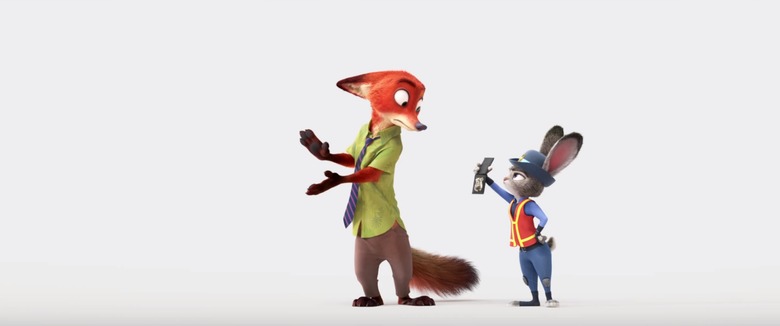 Walt Disney Animation Studios' Zootopia, directed by Rich Moore and Byron Howard, was the first film to get a presentation during the animation panel at the D23 Expo today, with John Lassetere explaining "one of the things I've always loved about Disney Animation is talking animal movies," with Mr. Toad being a favorite character. So, "what if we made one now; what if we made one for today's audience?"
The idea came to life as a cop buddy comedy (think 48 Hours, but with talking animals) that unites a rabbit and a fox. Part of that idea will be brought to life by Shakira, who voices Gazelle, "Zootopia's biggest pop star." She'll also provide the new song 'Try Everything' for the film.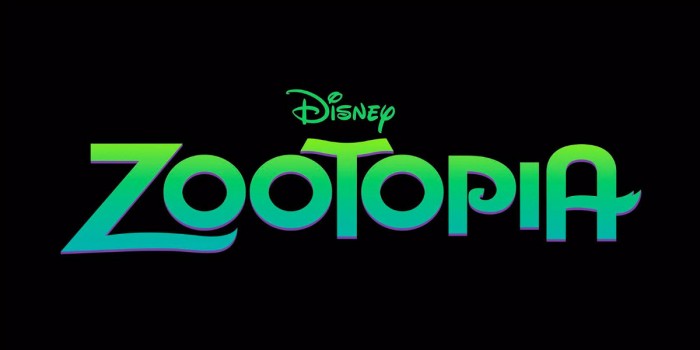 Disney Animation's Zootopia is set in a sprawling metropolis built, run, and populated by non-human animals. You can watch the first Zootopia teaser trailer here.
For Zootopia, directors Rich Moore and Byron Howard went to Animal Kingdom in Orlando to do research, and into wild areas in Kenya to get a real sense of animal movement and their behavior in a natural environment. It was "life-changing," said Byron.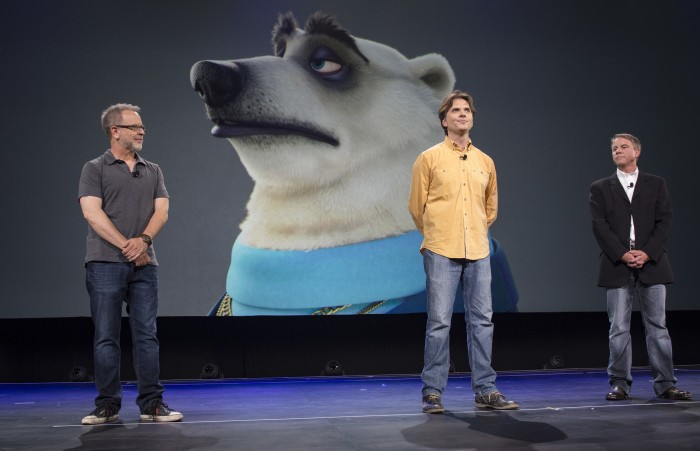 Upon their return they wanted to dig deeper into details of animal biology, movement, and behavior. They researched fur, and realized a polar bear's fur is not white, but clear. That means layering hundreds of thousands of clear hairs on their own CG polar bear character.
And they combined some real movements into their own fictional ones. After all, how do you translate the movement of a camel, which wallks on four legs, into a character who ambles around on two legs? The idea was to capture the animal's essence. How would elephants serve ice cream? A clip from the film reveals that, as done for the movie, they use their trunks. A tiger in Zootopia dances with contemporary, even sexy moves.
There are thousands of animals living in Zootopia. They wanted a city that felt designed for animals, by animals, with neighborhood for every species. So there's Sahara Square, which is upscale like in Dubai or Monte Carlo, and Tundra Town, snowy and almost Russian in appearance. The Rainforest District is humid forrest. The Bunny District has millions of rabbits living in bunny-shaped houses, all built into the land as in Hobbiton. It's a giant animal Metropolis.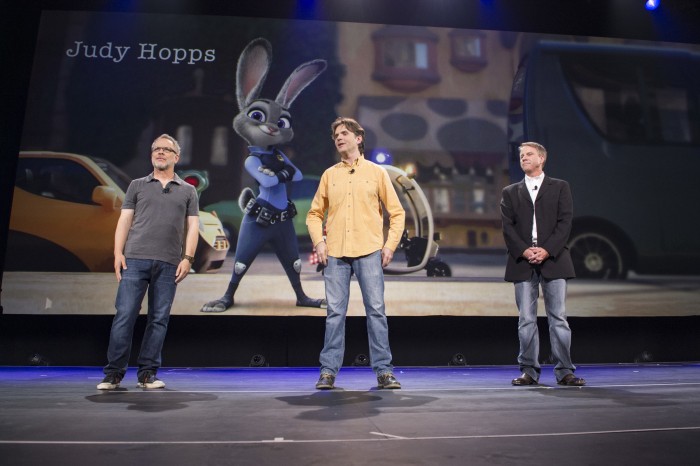 Judy Hopps is the main character that brings us into this world, voiced by Ginnifer Goodwin; she's from the outskirts of town, but moves to the big city to follow her dreams. Her ambition? To become a cop in the Zootopia PD. She rises through the ranks, which are populated mostly with hippos and rhinos, but because of her small size she gets stuck doing parking duty. She wants to be a real cop, however, not a meter maid, but as an enternal optimist she strives to be the best meter maid ever.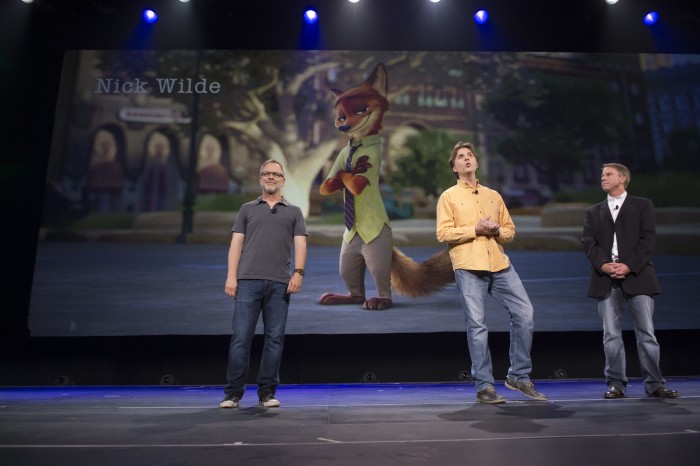 In a clip, D23 audiences saw Judy treat herself to lunch at the local elephant-run ice cream parlor. There, she meets Nick Wilde, a con-man fox voiced by Jason Bateman. He's there with a little white fox, supposedly "his boy," and with some pleading from the kid, a long sob story from Bateman's character, and even a little "hey, be nice to the kid" sort of prodding from Judy, the elephant gives the kid a jumbo pop... which Bateman's character promptly breaks up to sell as many little smaller pops.
Ultimately, the optimistic Judy and the more pessimistic Nick, who believes animals can never change, end up working together despite being natural enemies. He's got info on a missing otter, and Zootopia basically turns into a 48 Hours sort of buddy comedy as the mystery gets bigger.
In a second clip, the pair are shown racing the clock to get paperwork... which unfortunately has to come from the DMV. The DMV workers are all sloths, who move... incredibly... comically... slow. As the pair of heroes prompt one sloth to run info on a license plate, the sloth agrees, but types one letter of the plate every ten seconds or so.
The sloth's name is Flash, by the way. By the time they get the info and manage to get out of the DMV, night has fallen.
Along with the clips, Disney announced Shakira's role in the movie, playing a clip of her song. They also released this character image: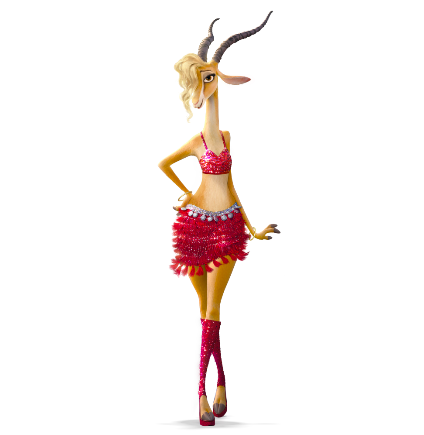 Disney Animation Studios is on a huge winning streak (Tangled, Wreck-It Ralph, Frozen, and Big Hero 6) after playing second fiddle to Pixar in the hearts of moviegoers for the past decade. The film features voice performances from Ginnifer Goodwin and Jason Bateman, who plays an upbeat bunny new to the police force and a slippery scam artist fox she partners with to crack a case. Wreck It Ralph director Rich Moore and Tangled/Bolt director Byron Howard helm this feature which is co-directed by Jared Bush (a head creative on Big Hero 6). Here is the official synopsis for the movie:
The modern mammal metropolis of Zootopia is a city like no other. Comprised of habitat neighborhoods like ritzy Sahara Square and frigid Tundratown, it's a melting pot where animals from every environment live together—a place where no matter what you are, from the biggest elephant to the smallest shrew, you can be anything. But when optimistic Officer Judy Hopps (voice of Ginnifer Goodwin) arrives, she discovers that being the first bunny on a police force of big, tough animals isn't so easy. Determined to prove herself, she jumps at the opportunity to crack a case, even if it means partnering with a fast-talking, scam-artist fox, Nick Wilde (voice of Jason Bateman), to solve the mystery.
Zootopia hits theaters on March 4th, 2016.