Not Even Paul Haggis Thinks 'Crash' Was The Best Film Of 2005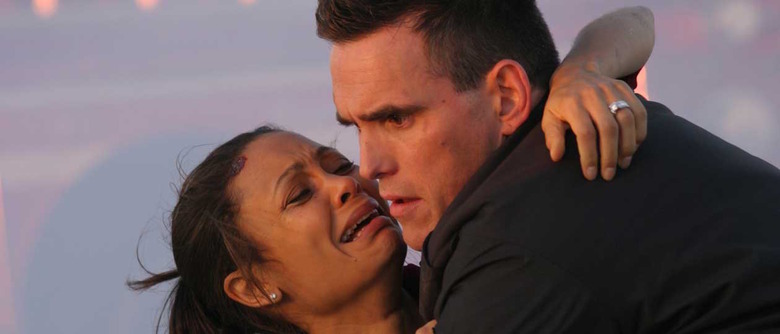 The Academy's choice of Best Picture inspires some grumbling every year, but one of the most controversial upsets in recent memory occurred in 2006, when Crash won over Brokeback Mountain. Ten years later, even director Paul Haggis is willing to concede his film didn't deserve the top prize. "Was it the best film of the year? I don't think so," he said. Read Haggis' Crash Best Picture comments after the jump.
Haggis reflected on the Crash Best Picture win in a conversation with HitFix:
Was it the best film of the year? I don't think so. There were great films that year. Good Night and Good Luck, amazing film. Capote, terrific film. Ang Lee's Brokeback Mountain, great film. And Spielberg's Munich. I mean please, what a year.
Crash for some reason affected people, it touched people. And you can't judge these films like that. I'm very glad to have those Oscars. They're lovely things. But you shouldn't ask me what the best film of the year was because I wouldn't be voting for Crash, only because I saw the artistry that was in the other films.
That said, Haggis stands by his movie, as he emphasized in a follow-up interview with Showbiz 411:
I am very proud of Crash, and am honored to have been chosen as one of the best films of that year – especially in a year where there were so many terrific and daring films that explored real and pressing issues. It is unfair and rather ridiculous to ask a director if his film is "the best"- being a Canadian I am never going to be one who stands up and announces "Yes, my film absolutely deserved to win over all those amazing films." It's not going to happen — and my answers have always been consistent.
One of the many criticisms lobbed at Crash was that despite its well-meaning (if heavy-handed) message, it relied too heavily on racial stereotypes. However, Haggis explained that he only established those stereotypes to subvert them. "I mean I knew it was the social experiment that I wanted, so I think it's a really good social experiment," he said. "Is it a great film?  I don't know."
In any case, Haggis is tackling racial issues again with his new HBO miniseries Show Me a Hero, starring Oscar Isaac as a mayor whose career is destroyed by a federal mandate to incorporate low-income housing in his city's wealthier (and whiter) neighborhoods. And he sounds pretty excited to do so, as he explained to Showbiz 411:
I am proud to have been able to make an independent film [Crash] that got people talking more about issues of race and class, especially at a time when everyone was saying "we don't have these problems in America right now" — as many critics did. And I am proud to now be part of a creative team that is exploring those issues again — because we need to do more than talk about these issues, we need to actually start addressing them.
The six-part miniseries Show Me a Hero premieres this Sunday on HBO.