'The Maze Runner: The Scorch Trials' Set Visit: Drugs, Hallucinations And Making Out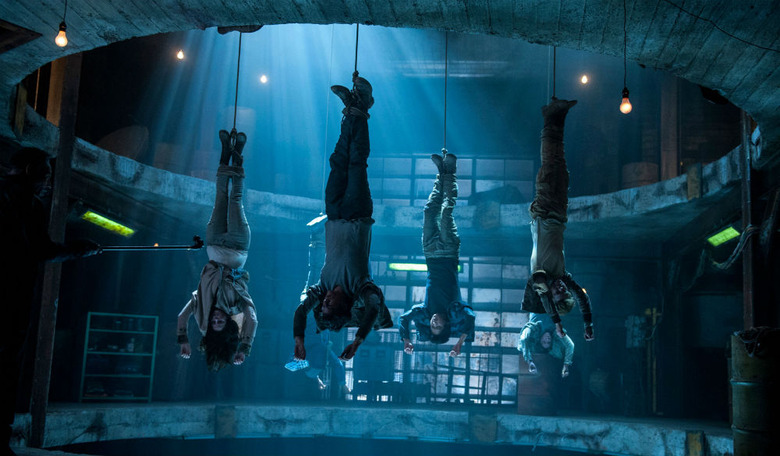 The only thing weirder than the big mansion in the middle of downtown Albuquerque is the post-apocalyptic party going on inside. It's December 16, 2014, and the Gertrude and Zachary Mansion at 2nd and Lead has been transformed to a very important location in The Maze Runner: The Scorch Trials, Wes Ball's follow-up to the 2014 hit The Maze Runner.
From top to bottom, the interior of the mansion has been transformed to the spot where Thomas (Dylan O'Brien) is separated from his fellow Gladers on their epic quest across the scorched Earth they discovered at the end of the last film. Here he'll be drugged, endure (or enjoy) hallucinations, kiss a girl, and eventually be reunited with the group before meeting some incredibly important new characters.
On this day, number 36 of 55 shooting days, the temperature on The Scorch Trials set is near-freezing even as the location doubles for a super-hot environment in the film. Despite that, the camaraderie of all the cast members is particularly noticeable. Each seems incredibly excited to be continuing the story of James Dashner's novels, and especially to be doing it together.
Below, read our full Maze Runner: Scorch Trials set visit report.
A Fast Turnaround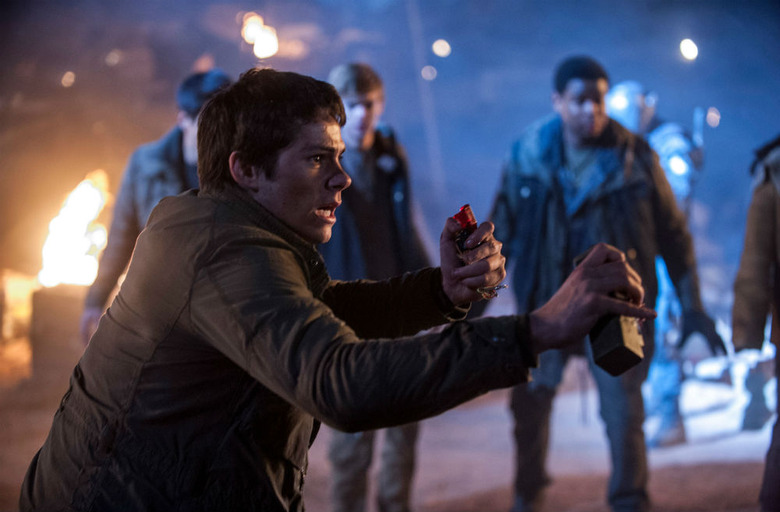 Producer Wyck Godfrey admitted he and his fellow filmmakers were thinking about The Scorch Trials long before the first film came out. They first started writing the script in January 2014 and had a version done in May 2014. Then The Maze Runner was released in September, did well, and five weeks later they were filming the sequel.
Director Wes Ball admitted the pre-production was a rush. "We just finished the last one and we jumped right into this one," he said. That didn't mean, however, that changes weren't going to be made. Ball explained that a straight adaption of the second book in the series wouldn't have quite worked.
"It's not as easy to take that second book and just do a straight adaptation. It won't work basically," Ball said. "So our approach is to take the rest of this story and find the two movies in that. And that required some things from the third book to come into the second and the second into the third. And make that nice, linear trajectory of a cohesive story that's all building to one finale in the next one."
Lifelong Friendships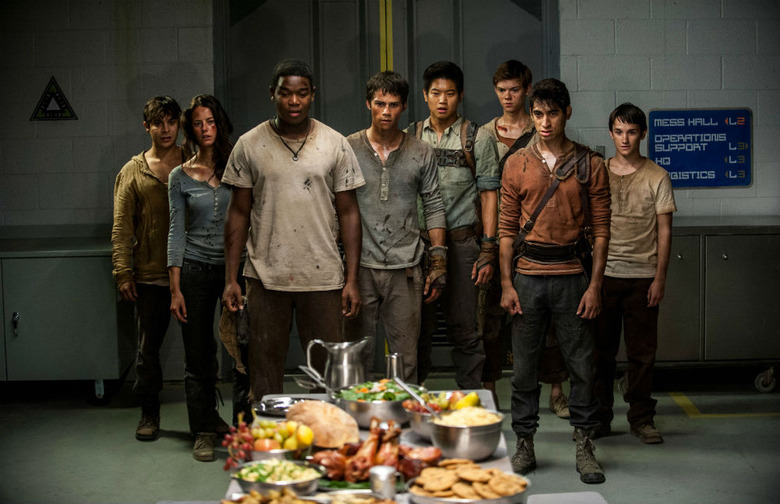 That quick turnaround also meant, for the cast, it was like they never left. They were doing press before the movie came out, it came out, they did international press, and before they knew it, shooting on this one had begun. "We see each other all the time," said Dexter Darden, who plays Frypan. "Whenever the Londoners are in LA or we together in New York, we're always doing something crazy whether it's going to dinner or paintballing or just hanging out playing videogames. That's who we are and being able to come back into work with them again has been great. But it's not like, 'Oh my gosh, I haven't seen you in so long,' because we make time to hang out with each other and really make time to spend quality time"
Every night after filming, almost all of the cast hangs out together. They cook, they drink, they play Mario Kart. It's a rare thing to see on a movie. "Just being with each other every day, our chemistry is so effortless," said O'Brien. We're literally just a big group of buddies. Good, good buddies, like lifelong friendships and it's really cool."
Even some of the new cast members fell right into this. "I'm sort of a hermit. And when I met these guys, it was just so amazing," said Rosa Salazar, who plays Brenda. "I can hang out with these guys all night, and I do, every night! And we play Mario Kart, and even though I'm god awful at it, I have the most fun and I feel safe talking about things. It's like we're family. They are so organic, and they're so sweet, they're some of my best friends for life."
Drugs, Hallucinations and Making Out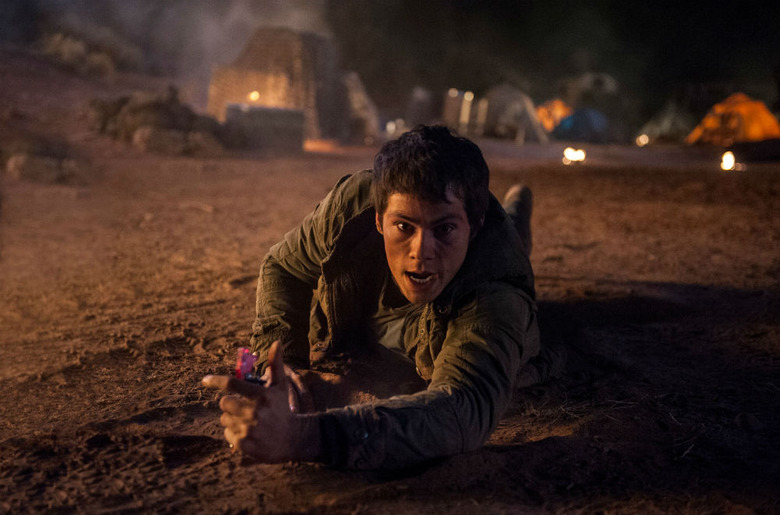 Salazar's character, Brenda, is a crucial addition to the franchise and played a large role in the on Day 36. The first shot of the day was in a crowded room. "As the Rush Comes" by Motorcycle plays as almost 100 extras dance and the background. Amid the chaos, Ball keeps the shot tight on Brenda. She's drugged, just like everyone else in the scene, and slowly approaches Thomas. Ball blasts light in from behind them giving the whole scene a very trippy, ethereal feel. There are lens flares, even some purposeful focus buzzes. It's like they're all moving in slow motion, but they aren't.
Thomas is at this party looking for his friends, but she doesn't care. She tells him his friends are gone and he should just stay here. He needs to relax and she kisses him. Later, an insert is filmed where he's also kissing Kaya Scodelario, who plays Teresa. That'll flash and then there's a stunned look on Thomas' face. Brenda asks what's wrong and Thomas says "You're not her."
It sounds like there's some kind of love triangle afoot, but O'Brien explains its more complicated than that. "Everything I love about this story line is that it's sort of so unromantic and that's what makes it so romantic," he said. "There really is no romance going on. There's kind of just something there, connections there for the audience to root for and I think that's stronger without just throwing it in your face.
There are adults too!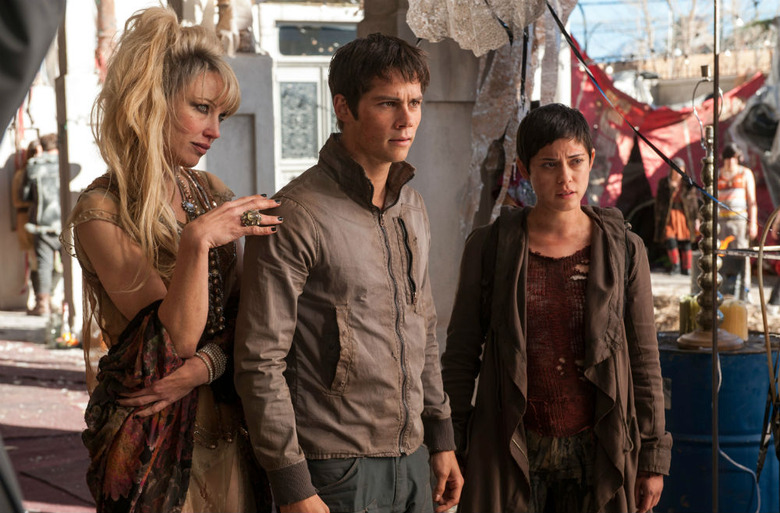 That kind of familiar but still off feeling makes sense in a movie like this where the characters are quickly being introduced to this crazy new world after being locked in a glade for so long. Everything is new to them, including new characters played by Aidan Gillen, Lili Taylor and Barry Pepper. Most of them weren't on set this day but two were around: Jorge, played by Giancarlo Esposito (Breaking Bad), and Blondie, played by Alan Tudyk.
Tudyk was actually only on set two days, and came in to chat with a huge fake shiner on his face, wearing a purple velvet blazer with lots of chest hair exposed underneath. He explained how doing a small role like this was so much fun and how he could bring a whole new energy to it. "It's neat to jump into a world and get to play for a couple of days and then I'll go home and 2 or 3 days will go by and I'll go, 'Wow, was I just in New Mexico? That's weird. I have pictures of me with my face beaten up,' it's wild," he said.
That energy on display in the next shot we saw. It's the next morning. The mansion is empty, but totally wrecked with clothes and debris everywhere. Blondie is tied up and the Gladers have found Thomas. He tries to figure out what happened while Jorge beats up Blondie hoping to find out the location of the Right Arm — a semi-spoilery group in the world. It's a pretty important narrative scene, is being shot with two cameras and includes almost all of the main cast members. Even so, what stands out is the look. Ball has made the whole thing feel burnt, from the lighting to the misty air.
"We're just trying to make something interesting and kind of creepy, but sexual in some strange way," he said. "And, you know, a little bit more kind of fitting with this the vibe of the movie in general. A little bit more mature and sophisticated, growing up a little bit with these kids. Doing something that hopefully we haven't quite seen before."
Five Movies in One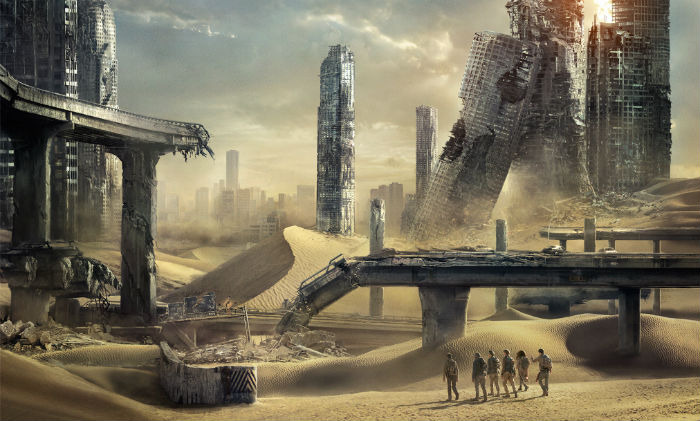 In the realm of sequels, and especially YA sequels, that is for sure. There's so much more to iThe Scorch Trials than just what we saw on day 36. Huge vistas, multiple villains, and then maybe a third movie. "There's like five movies, almost, in one," O'Brien said. "It's really cool." And, if The Maze Runner itself was any indication, there's a good chance all of those will work well. "It's not a blockbuster YA, it's own thing," said Salazar. "But it's also a film and can stand on its own. That's what I said about the first Maze Runner. It can stand on its own as a sci-fi film. A really really great sci-fi film."