'Sicario' Trailer: Don't Try To Make Sense Of The Drug War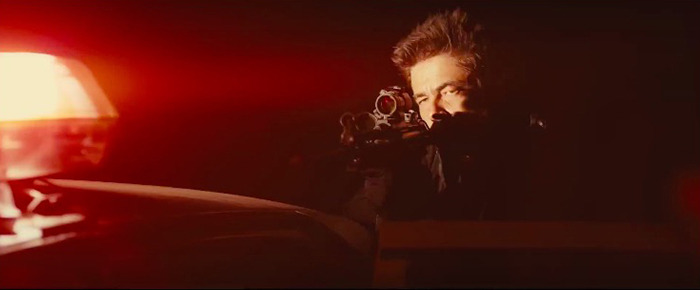 This fall brings the arrival in theaters of Sicario, the latest film from Enemy and Prisoners director Denis Villeneuve, with a cast highlighted by Emily Blunt, Benicio del Toro, and Josh Brolin. The three play corners on a triangle of official and sometimes very unofficial players in the war between law agencies and Mexican drug cartels.
This new Sicario trailer has some of the same footage as the last domestic trailer, but it is a bit shorter, so it reveals less, and it is cut in a slightly more broad manner, presumably to get its ideas across to a larger audience. It is still quite good, and still makes Emily Blunt look like a total badass. 
Where the last trailer went a little more for somber thrills and moral quandries, this one pushes forward a very slightly more conventional tone thanks to the use of 'Saturdays = Celebration' by Big K.R.I.T. And that's just fine, whatever it takes to get people to check out what, by all accounts, is a pretty serious thriller that doesn't have big crowd-pleasing ambitions.
I also love Josh Brolin's line about their objective, "to dramatically overreact," whether it's actually the response to Blunt's question or not. Can't get upset about a little editing manipulation that tweaks around dialogue to make a point in the brief time allotted for the trailer.
Sicario opens on September 25. Trailer via YouTube.
After rising through the ranks of her male-dominated profession, idealistic FBI agent Kate Macer (Emily Blunt) receives a top assignment. Recruited by mysterious government official Matt Graver (Josh Brolin), Kate joins a task force for the escalating war against drugs. Led by the intense and shadow

y Alejandro (Benicio Del Toro), the team travels back-and-forth across the U.S.-Mexican border, using one cartel boss (Bernardo Saracino) to flush out a bigger one (Julio Cesar Cedillo).