'Frozen 2' Details: Director Teases A Different Side Of Elsa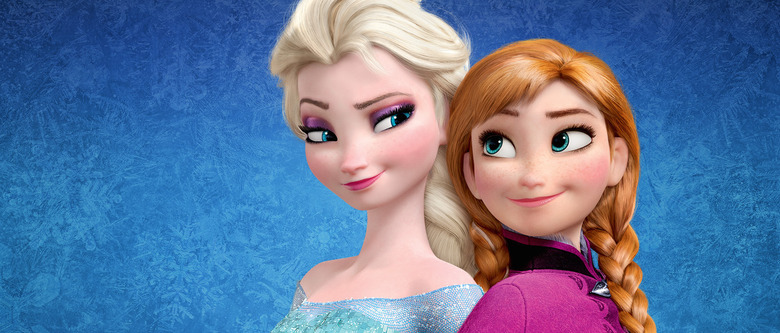 Pretty much the moment Frozen opened in 2013, fans began wondering about a sequel. And earlier this year, Disney finally announced development on Frozen 2. Now the question is what we'll see in the follow-up, and while it'll be some time before we get all the answers, directors Chris Buck and Jennifer Lee have started dropping a few hints.
Among other things, they suggest we'll see a different side of Elsa, who underwent quite an intense emotional arc in the first Frozen. Get the Frozen 2 details after the jump. 
Elsa began the first Frozen as a carefree child before fear of her own powers made her timid, isolated, and angry. But by the end she's come to embrace her abilities and mend her relationship with Anna. In the followup short Frozen Fever, she got to be a more playful, doting sister (albeit one with a severe head cold).
Speaking to Fandango, Buck revealed Elsa will continue to show off her sunny side in Frozen 2.
[In Frozen] she had such a dramatic journey, and at the end she's just starting to feel like she can open up and have some fun again. That's what was really good about the short [Frozen Fever] – we could have fun with Elsa. And that personality ... you will see in the next one.
Rest assured that while we'll be seeing Elsa in a different light, we'll also see much more of Anna as well. In a separate conversation with MTV News, Buck promised that both sisters, and their tight bond, will be at the center of the next film.
We have two very strong female leads in Frozen. We will keep that going in the next one. We will tackle other issues that, I think, are out there today that boys and girls, men and women, are dealing with.
I think we're very aware of what is happening in society. I don't think any of us take [them] lightly, even though they can be very funny and entertaining, the messages that our movies have and the influence they can have on young people. When the kids [watch] them, they watch them over and over again, and if we don't have a decent message in there, I think we've missed an opportunity.
That last part is pretty vague, but it sounds like Frozen 2 will aim to maintain the emotional depth that made the first one such a hit — even if Elsa's a bit cheerier this time around. Frozen 2 does not yet have a release date.