First 'Jungle Book' Footage Brings The House Down; See The First Poster [D23 Expo 2015]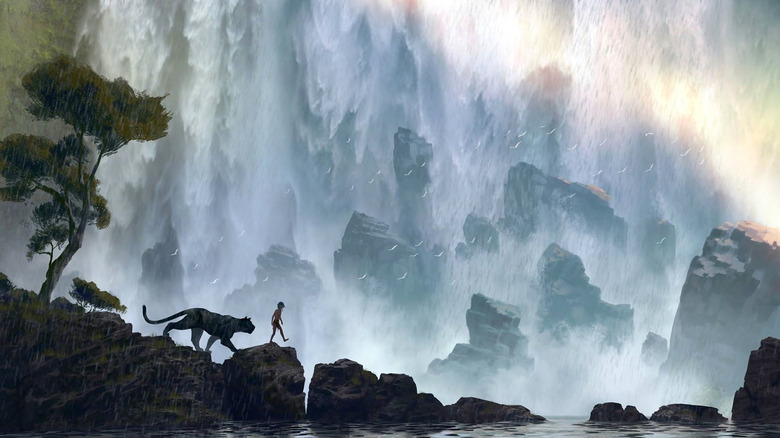 We haven't heard much about Jon Favreau's live-action hybrid adaptation of The Jungle Book since production ended. The studio released a piece of concept art that revealed what the project might look like once it is done, and the filmmaker had Instagrammed a bunch of behind-the-scenes images showing the progress.
Otherwise, however, it's been pretty much radio silence since December of last year. And so, this year's D23 Expo was the public's first major look at the new project. Happily, The Jungle Book did not disappoint. Get our Jungle Book D23 footage and panel recap — and see the first Jungle Book poster — after the jump.
Speaking onstage, Disney's president of production Sean Bailey talked about how The Jungle Book could not have been brought to life earlier, as every aspect needed to be presented in a photorealistic way. Favreau was chosen to direct because the studio needed a filmmaker "who could get the nuance of the source material and the story's legacy in Disney history."
Disney had already turned Rudyard Kipling's The Jungle Book into a successful film once before, with the 1967 animated feature. In early planning meetings, the filmmakers asked each other: "Are we going to be adding anything to this?" But Alan Horn, who'd been brought up on the book, had a different perspective. The result is a live-action reboot that aims to balance Disney's animated film with the source material, offering a fresh look at an old tale.
To that end, Favreau spent time with Richard Sherman, who wrote the music for the earlier movie. And while Favreau's Jungle Book will incorporate ultra-modern CG technology, Favreau points out that "taking the edge of technology and applying it to the old stories" is part of Disney's legacy. "The best CGI for me is the kind that is so good it disappears," he said.
Cast members Ben Kingsley and Lupita Nyong'o were present at D23, along with Neel Sethi, the child actor who plays Mowgli. Because The Jungle Book was filmed with Sethi in live-action, with the animated characters voiced by other actors added in post-production, D23 was the first opportunity Sethi had to meet any of his co-stars.
The Jungle Book D23 Footage
Although The Jungle Book is not yet finished, Favreau brought some unfinished, work-in-progress footage to share at D23. "Everything you're about to see was filmed in downtown LA," said Favreau. Here's a rundown of the footage shown at D23:
Scarlett Johansson (who voices the python Kaa) narrates: "Far from the dark of the jungle, men stay in their village. But sometimes they travel, and their caves breathe in the dark. It brings warmth and light and protection." Onscreen, a panther (probably Bagheera, voiced by Ben Kingsley) finds a little boy.
Cut to years later. A tiger (presumably Shere Khan, voiced by Idris Elba) tells Mowgli, "The jungle is no longer safe, I'll return you to where you belong." The tiger chases the boy, who eventually jumps off of a small cliff.
Another clip showed Bill Murray's Baloo, singing his signature tune "Bare Necessities" to Mowgli, while floating down the river. However, it's not performed like a musical number, but rather hummed as if it's a melody he's remembering. Mowgli doesn't know what a song is, which surprises Baloo. "You've never heard of a song before?"
Also seen in the Jungle Book D23 trailer were Mowgli gripped tightly by Kaa as her head comes toward him, and Shere Khan warning Mowgli against returning. But perhaps the most hype-worthy moment in the footage came at the end, when Christopher Walken's orangutan character introduces himself: "I'm the king. Call me Louie."
The D23 crowd went nuts, giving The Jungle Book D23 trailer a standing ovation. Our own Peter Sciretta was a huge fan:
The CG in Jungle Book is next level.so amazing.

— /Film (@slashfilm) August 15, 2015
And for everyone who wasn't at D23 to see the footage, here's a taste of The Jungle Book in poster form.
Forget about your worries and your strife. #TheJungleBook is in theatres April 2016. #D23EXPO pic.twitter.com/sa8xU05byc

— Disney (@Disney) August 15, 2015
While The Jungle Book features live-action footage, its not necessarily a "live-action" movie. Its also not an animated film, and why would it be — what would the point of that be? The film is a hybrid, like James Cameron's Avatar, a blend of live-action and photorealistic CGI. But instead of alien creatures and fantastical planets, it employs photo realistic CG creatures like Life of Pi or Dawn of the Planet of the Apes.
Fever's Disney adaptation isn't the only adaptation currently in the works. Warner Bros is also working on a dark and gritty adaptation of the book directed by Andy Serkis titled Jungle Book: Origins.
The Jungle Book opens in 3D on April 15, 2016. Also starring are Lupita Nyong'o as mother wolf Raksha, and Giancarlo Esposito as alpha male wolf Akela.
Directed by Jon Favreau ("Chef," "Iron Man," "Elf"), based on Rudyard Kipling's timeless stories and inspired by Disney's classic animated film, "The Jungle Book" is an all-new live-action epic adventure about Mowgli (newcomer Neel Sethi), a man-cub who's been raised by a family of wolves. But Mowgli finds he is no longer welcome in the jungle when fearsome tiger Shere Khan (voice of Idris Elba), who bears the scars of Man, promises to eliminate what he sees as a threat. Urged to abandon the only home he's ever known, Mowgli embarks on a captivating journey of self-discovery, guided by panther-turned-stern mentor Bagheera (voice of Ben Kingsley), and the free-spirited bear Baloo (voice of Bill Murray). Along the way, Mowgli encounters jungle creatures who don't exactly have his best interests at heart, including Kaa (voice of Scarlett Johannsson), a python whose seductive voice and gaze hypnotizes the man-cub, and the smooth-talking King Louie (voice of Christopher Walken), who tries to coerce Mowgli into giving up the secret to the elusive and deadly red flower: fire.