Which Rock Star Might Have A 'Ghostbusters' Cameo?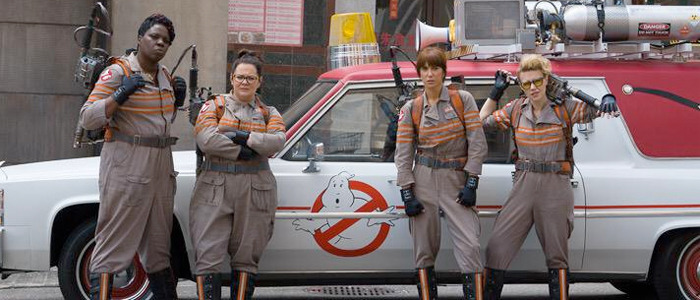 So far we've heard about a couple of classic Ghostbusters stars who'll be dropping by the new Ghostbusters movie. But the cameo list has now extended beyond former cast members to include a certain metal god. Find out who'll be rocking out with Erin, Abby, Jillian, and Patty after the jump. 
The Boston Herald broke the news of a Ghostbusters Ozzy Osbourne cameo. The Black Sabbath frontman is expected to appear as himself. Prop posters have appeared outside the Citi Wang Theatre, transformed into the Stonebrook Theatre for the film, advertising a "Rock Revenge Fest featuring Ozzy Osbourne" as part of a "12 Hour Marathon of Metal."
The publication's spies report crew members talking about Osbourne outside the theater, as Ghostbusters leads Kristen Wiig, Melissa McCarthy, Kate McKinnon, and Leslie Jones filmed inside. Previously, Billboard adds, a Boston-area casting call sought extras with a metalhead look to play the audience members of a heavy metal concert.
The obvious guess is that Osbourne's concert will be disrupted by some kind of supernatural force, causing the Ghostbuster crew to step in. (Though it's hard to imagine Osbourne himself would be too spooked by spirits — we're talking about a guy who once bit off a bat's head onstage, remember.) However, no further details have been confirmed about the scene.
Although shooting on Ghostbusters is currently underway in Boston, the reboot, like the original, will take place in New York City. Wiig and McCarthy play Erin and Abby, who once co-wrote a book about ghosts but have since drifted apart. When Erin is laughed out of academia after her old work resurfaces, she teams with Abby, Jillian, and Patty to save the city from the spirit world.
Ghostbusters is a reboot rather than a sequel, although former Ghostbuster Dan Aykroyd has promised the new film "refers to the first two in a really neat, classy way." Director Paul Feig has a standing invitation for any original Ghostbusters stars to return, albeit in different roles.
The new Ghostbusters opens July 15, 2016. Chris Hemsworth, Andy Garcia, Michael K. Williams, Matt Walsh, and Neil Casey also star.