See Groot's Origin Story In 'Guardians Of The Galaxy' Animated Series Short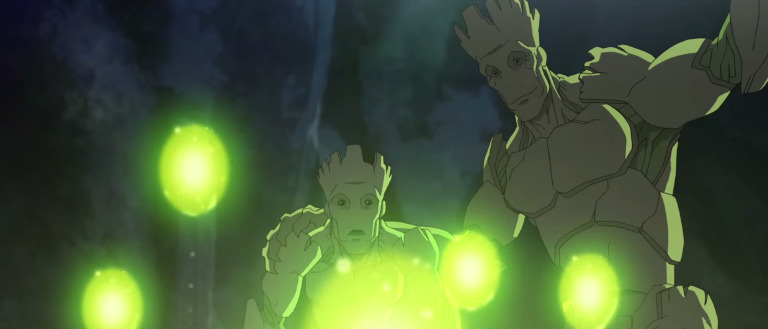 Groot was the breakout favorite from last summer's Guardians of the Galaxy, but for a variety of reasons — including the film's running time, its narrative scope, and the fact that Groot is only capable of saying the words "I am Groot" — we never really got to dig into his backstory. Where did this lovable tree-creature come from? Who taught him how to fight like that? And how did he meet his BFF Rocket?
We'll have to wait and see if any of those questions are answered in Guardians of the Galaxy Vol. 2, but in the meantime his animated counterpart is getting a bit more history. Disney XD has unveiled a Groot origin story short ahead of its new cartoon series Guardians of the Galaxy, delving back into his childhood on an entire planet of Groots. Watch the Groot origin story after the jump. 
Here's the Groot origin story in two parts, via YouTube. Rocket Raccoon narrates, because otherwise 97% of the dialogue would be "I am Groot." It turns out our Groot isn't the only one of his kind with that particular speech impediment.
(If you missed the previously released Star-Lord backstory, you can see it here.)
Keep in mind that the animated Marvel TV series do not belong to the same continuity as the live-action movies. Meaning Groot's story here isn't technically canon in the Marvel Cinematic Universe. That said, there's no doubt the film has influenced the show, and it should be fun to consider this version of Groot the next time James Gunn's Guardians of the Galaxy pops up on TV.
Disney XD's animated Guardians of the Galaxy series premieres September 26. The voice cast includes Will Friedle (Star-Lord), Trevor Devall (Rocket Raccoon), Kevin Michael Richardson (Groot), Vanessa Marshall (Gamora), David Sobolov (Drax the Destroyer), and James Arnold Taylor (Yondu).
Marvel's Guardians of the Galaxy follows the newly-formed team who finds a strange artifact keyed only to the DNA of Peter Quill. Upon opening it, Quill unleashes a treasure map leading to a powerful weapon known as the Cosmic Seed which is capable of giving birth to the next universe. It's up to the Guardians to find, protect and ultimately destroy the Cosmic Seed in order to keep it out of the hands of those who would abuse its power, from galactic big boss Thanos, to the conniving brothers the Collector and the Grandmaster, to a resurrected Ronan, to the ultimate trickster, Loki, in order to save the universe.