'Star Wars: The Force Awakens' Photo Reveals First Order AT-AT?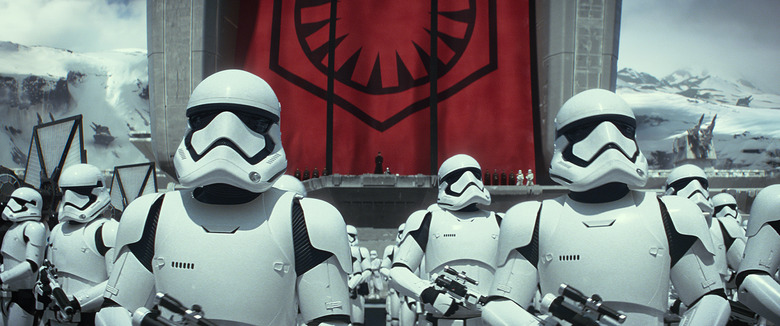 Star Wars: The Force Awakens isn't just looking to conquer the U.S., it wants to dominate the worldwide box office when it opens later this year. So our latest peek at the film comes from the South Korean market, in the form of a new TV spot that reveals a sliver of new footage. Watch the new Star Wars 7 TV spot footage after the jump.
Update from Editor Peter Scrietta: Lucasfilm has officially released a high resolution still of the new Star Wars: The Force Awakens scene. See that below: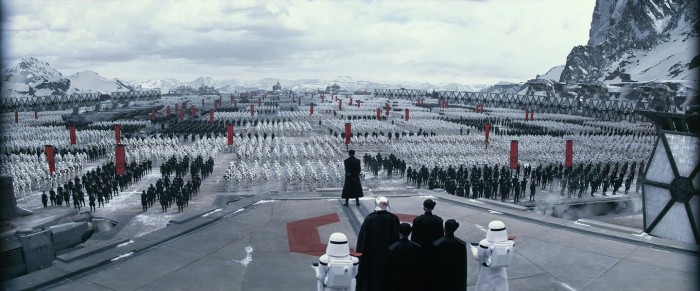 And an observation from Lucasfilm's Matt Martin:
Are those AT-ATs without necks in the back? But that was the AT-ATs only weakness! First Order, you so smart. https://t.co/KfaGeZJh3t

— Matt Martin (@missingwords) August 10, 2015
Here is a close-up: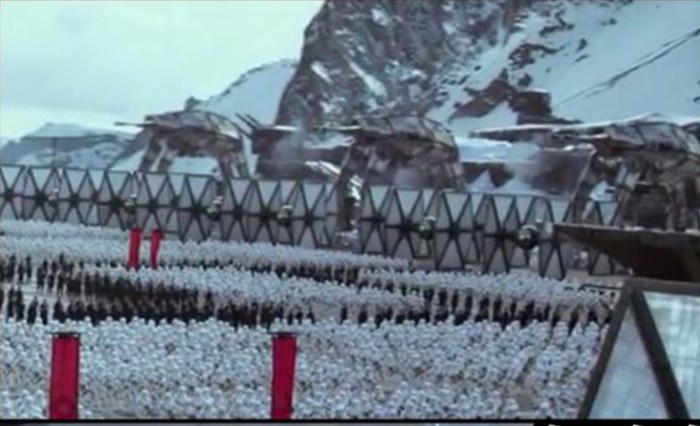 Pretty cool. Can't wait to see these first order AT-ATs up close. /Film reader Hector notes they look more like AT-TEs:
@slashfilm looks more loke an AT-TE ain't it? pic.twitter.com/LXHA9zw9Ye

— Hector Navarro (@imhectornavarro) August 10, 2015
But I don't think they are AT-TEs. Star Wars fans have already nicknamed the new AT-AT's as "Turtle Walkers".
Angie's original story follows below:
Star Wars Korea revealed the new Star Wars 7 TV spot footage on YouTube. (Don't worry — the promo is still in English, it's just the subtitles that are in Korean.)
The new footage doesn't amount to more than a couple seconds. Still, it's nice to get a fresh glimpse of the First Order, which is Episode VII's Empire equivalent. Characters associated with the First Order include Kylo Ren (Adam Driver), Captain Phasma (Gwendoline Christie), and General Hux (Domhnall Gleeson).
That opening scene – which appears to be a reverse shot of the Stormtrooper army shot from earlier trailer, as seen in the header image – gives us a good sense of just how powerful and intimidating that army is. The Resistance (i.e., the Rebels) certainly seem to have their work cut out for them. If you're curious to know more about the First Order Stormtroopers, you can find some details here.
Besides, with the release of Star Wars: The Force Awakens still four months away, we're willing to take whatever we can get in terms of new material. Though we've got our fingers crossed for some cool updates out of Disney's D23 Expo this weekend.
Star Wars: The Force Awakens arrives December 18, 2015. Directed by J.J. Abrams, it stars John Boyega, Daisy Ridley, Oscar Isaac, Adam Driver, Gwendoline Christie, Domhnall Gleeson, Max von Sydow, and Lupita Nyong'o, plus returning actors Harrison Ford, Carrie Fisher, Mark Hamill, Peter Mayhew, and Anthony Daniels.